Making bread machine bread is a very practical and rewarding way of enjoying homemade bread. Using a bread maker streamlines the process and makes it much easier.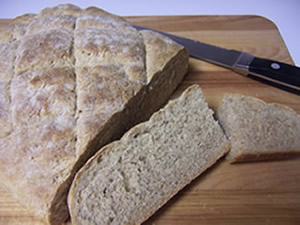 Honey & Beer Bread Machine Rye Bread
Are you new to bread machine baking?
If you're just starting out, it's easy to get overwhelmed by all the different features of your bread machine.
Start with a simple white loaf
and watch what happens when the machine transforms the ingredients into a beautiful loaf of bread.
From there, the possibilities are endless!
Try this basic bread machine Old Fashioned Oatmeal Bread. I started making this bread years ago and my sons still request it. lt's really simple to make and tastes so good.

What kinds of bread can you make in your bread maker?
Many different types of bread can be made in a bread maker. You have the option of making bread completely in the bread pan or making the dough in the machine, then shaping the loaf by hand and baking it in a conventional oven. Either method brings it's own unique rewards and experiences both in taste and texture.
Try one of these bread machine recipes to make bread completely from scratch. Bake it completely in the bread maker pan or use the bread maker to mix and knead the dough, then take the dough out, shape it and bake it in a conventional oven.
Use one of these specialty bread mixes to make things really easy. We have an assortment of mixes for biscuits, gluten-free breads, muffins, quick breads, sourdough breads, whole wheat breads and more. All you do is add the water, yeast and the bread mix in the order specified by the manufacturer and let the machine do the work.
You can also adapt recipes for use in your bread maker. If you have a favorite conventional bread recipe, convert it to use in your bread maker. Just remember to reduce the volume of your original recipe to fit the flour and liquid capacities of your bread machine. Most recipes will need to be reduced by half or two-thirds to suit the machine.

Additional resources for making bread in your bread machine:
We have a variety of other resources available to assist you with baking bread in your bread machine.
Check out these bread machines.
The Bread Experience offers a selection of bread makers to suit your baking needs. Beginning bakers and experienced bread bakers alike can find pleasure using a bread maker to make wonderful bread.
Learn how to make the Honey & Beer Rye Bread Machine Bread featured in the photo.
For more bread machine recipes and instructions, a bread machine cookbook can be a very helpful resource.
The Bread Experience offers a variety of cookbooks to suit your bread-baking needs.