My sons love oatmeal bread. It is one of the first breads I ever made and they still request it. The great thing about this bread, besides the taste, is that it is so easy ! It can be made completely in the bread machine or you can use the bread machine or a stand mixer to mix the dough and then bake it in a conventional oven.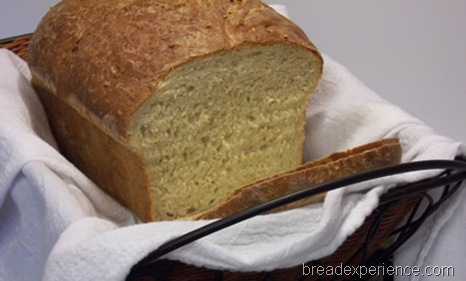 One year when my youngest son was home for Spring Break, about mid-way through the week, he said, "I'm thinking some oatmeal bread would taste really good!"  Hint, hint!
My oldest son and his girlfriend were coming by for a visit as well so I took the opportunity to bake their favorite oatmeal bread.  However, this time, I changed things by adding some Einkorn flour and steel cut oats.
I usually make this bread completely in the bread machine, but this time, I made the dough in the breadmaker and baked the loaf in a conventional oven.  I liked the results. So did my sons.
Einkorn Oatmeal Bread
The original version of this oatmeal bread is one of the first breads I ever made in the bread machine.  It called for molasses, but I substituted honey. It has a milder flavor so we like it better.
Makes: One 2-pound loaf
Adapted from this recipe: http://www.breadexperience.com/oatmeal-bread-recipe.html
Ingredients:
1 and 1/3 cups water
1/4 cup honey
2 tablespoons margarine or butter, softened
1 cup Einkorn flour
3 cups bread flour
1/2 cup quick cooking or regular oats
1/8 cup steel cut oats
2 tablespoons dry milk
1 and 1/4 teaspoons salt
2 teaspoons yeast
Directions:
Measure and add liquid ingredients to the bread pan. Measure and add dry ingredients (except yeast) to the bread pan.
Use your finger to form a well (hole) in the flour where you will pour the yeast.  Measure the yeast and carefully pour it into the well. Snap the baking pan into the breadmaker and close the lid.  Remember the yeast should not come into contact with a liquid when you are adding ingredients.
| | |
| --- | --- |
| Einkorn Flour | Bread flour |
| Oatmeal and Steel Cut Oats | Ingredients in bread pan |
To make this bread completely in the breadmaker, press "Select" button to choose the "Sweet" setting. Press the "Crust Color" button to choose light, medium or dark crust. Press the "Start/Stop" button.
To mix the dough in the bread machine and bake it in a conventional oven, press "Select" button to choose the "Dough" setting.  Press "Start/Stop" button.
When the dough is ready, turn it out onto a lightly floured counter and shape it into a loaf.
Place the loaf in a loaf pan and cover it with plastic.  I tested this bread in an 8 1/2" x 4 1/2" loaf pan and a 9" x 5" pan. The dough rose really high over the 8 1/2" x 4 1/2" pan and was a little bit top heavy.  The 9" x 5" loaf pan worked much better.  It produced a more uniform loaf that wasn't top heavy.
Let the bread rise in the pan for about an hour.
Bake the loaf at 350 degrees F. until it is golden brown and sounds hollow when thumped on the bottom.  Remove the loaf from the pan and let it cool on a cooling rack.
Slice and enjoy.  This bread is very light and flavorful and a little bit crunchy due to the steel cut oats.  The Einkorn flour gives it a beautiful color.
This bread has been YeastSpotted.
Happy Baking!
Cathy

Hello, I'm Cathy, the face behind the Bread Experience. I'm a project manager by profession. My job can be very stressful at times and I've found that baking bread is a wonderful stress reliever.

I especially enjoy baking bread on the weekends and allowing the dough to slow ferment to bring out the flavor and nutritional properties of the bread.

Over the years, I've become enamored with grains.So you'll find me experimenting using different types of heritage and ancients grains.Sometimes it works; sometimes it doesn't, but it's all part of the experience.I invite you to join me on this bread-baking journey.