What does a bread baker do with an abundance of homegrown tomatoes?  She makes Tomato Bread, that's what!
As I've mentioned a few times on this blog (and to anyone that will listen), I've had a wonderful harvest of tomatoes from my container and straw bale gardens this year. I've been having lot's of fun making tomato soup, and canning tomato sauce, salsa, pasta sauce and slow-roasted tomatoes. I've even put three quart-size jars (and still counting) of lemon cherry tomatoes in the freezer.
I still have a bunch of tomatoes waiting to be eaten and even more on the bushes waiting to ripen.  So I started looking for different ways to use the tomatoes.
I happened upon this Garden Tomato Bread and thought it would be the perfect match. It is made with homegrown tomatoes and fresh herbs and even includes some pumpkin and sunflower seeds.  When you bite into this bread, it's like eating a slice of garden.  And, when you pair the bread with some homemade classic tomato soup, you've got yourself a delicious and local meal.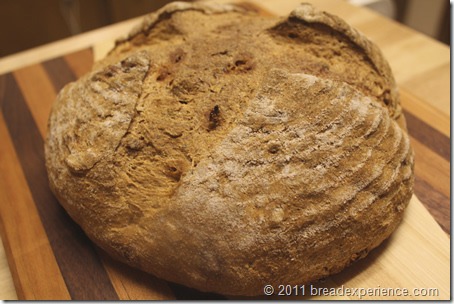 I was really excited to serve a meal made from my urban garden so I invited a friend over for dinner the other night. He liked the combination of this bread and the tomato soup so much that he said I needed to market it. I decided to blog about it instead.
Garden Tomato Bread Recipe
Makes: Two 2-pound loaves
Recipe adapted from: Sunset Magazine, November 2001
Ingredients
3/4 teaspoon active dry yeast (I used instant)
1 1/2 pounds ripe tomatoes (about 3 1/2 cups of tomato chunks)
Biga (recipe below), at room temperature
2 tablespoons tomato paste
1/4 cup chopped parsley (I didn't have any fresh parsley so I used a few teaspoons of dried parsley)
2 tablespoons chopped fresh sage leaves
1 tablespoon minced garlic
1 tablespoon fresh thyme leaves
1/2 teaspoon fresh-ground black pepper
3 1/2 cups whole-wheat flour (I used freshly milled whole wheat flour)
About 3 1/2 cups bread flour
3 1/2 teaspoons salt
1/4 cup raw pumpkin seeds
1/4 cup raw sunflower seeds
About 1/4 cup cornmeal (for sprinkling on the baking sheet)
Directions:
Making the Biga: In a bowl, sprinkle 1/4 teaspoon active dry yeast over 1/4 cup warm (100° to 110°) water. Let stand until foamy, about 5 minutes. Add 1/2 cup cold water. With a wood spoon, stir in 1 1/2 cups bread flour until mixture forms a soft dough. Cover with plastic wrap and chill 12 to 24 hours. Let come to room temperature before using, about 1 hour.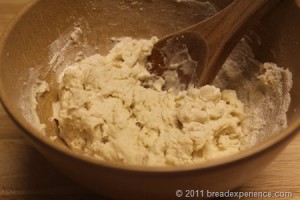 Rinse and Core Tomatoes: Rinse and core tomatoes; cut each in half crosswise. Squeeze juice and seeds into a bowl; cut tomatoes into 1/2-inch chunks. You need 1/4 cup juice with seeds (if you have less than 1/4 cup, add water to make up the difference; if you have more, discard extra) and 3 1/2 cups tomato chunks. I didn't have quite 3 1/2 cups of chopped tomatoes so I used what I had and all of the juice from the tomatoes (about 1/2 cup) instead of 1/4 cup. I omitted the 1/4 cup water.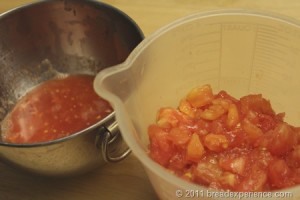 Mixing the Dough: In the bowl of a standing mixer or another large bowl, sprinkle yeast over 1/4 cup warm (100° to 110°) water. Let stand until foamy, about 10 minutes. I used instant yeast so this part wasn't necessary. I just added all of the dry ingredients together, then mixed in the wet ingredients using the mixer.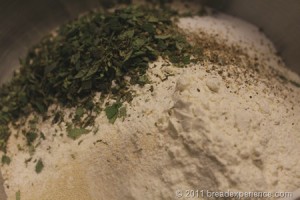 Add biga, tomatoes and juice, tomato paste, parsley, sage, garlic, thyme, pepper, whole-wheat flour, 2 cups bread flour, and salt to yeast mixture. Beat with paddle attachment on low speed, or stir with a heavy spoon,until well blended. Gradually beat or stir in 1 1/2 more cups bread flour, 1/4 cup at a time, until mixture forms a soft dough.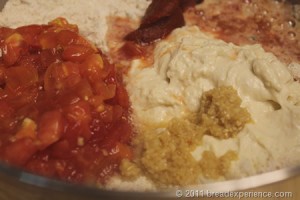 Switch to a dough hook and beat on medium speed until dough is smooth and elastic and pulls cleanly from sides of bowl but is still slightly sticky, 6 to 8 minutes; or scrape dough onto a lightly floured board and knead by hand until smooth and elastic but still slightly sticky, 7 to 10 minutes. Add pumpkin and sunflower seeds and beat in with dough hook or knead in by hand just until incorporated (after mixing in by hand, place dough in a bowl).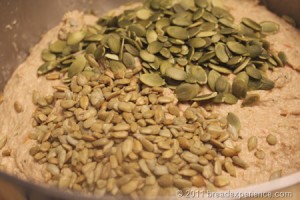 Cover bowl with plastic wrap; let dough rise at room temperature until doubled, 2 to 2 1/2 hours. Punch down with your hand to expel air.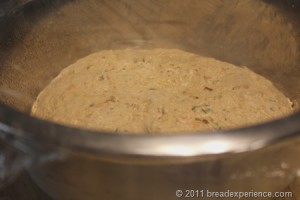 Re-cover dough with plastic wrap and let rise again until doubled, 1 to 1 1/2 hours. Or for a slow rise, chill at least 8 and up to 12 hours; let come to room temperature, about 3 hours.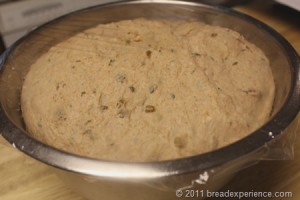 Scrape dough onto a well-floured board (or counter) and knead briefly to expel air.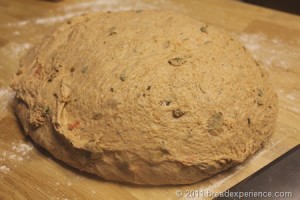 Divide in half.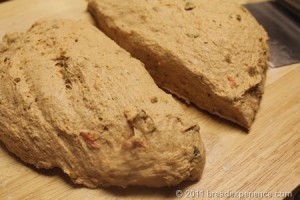 With lightly floured hands, gather each half into a ball, then stretch and tuck edges under to shape into a smooth round ball. Place loaves on a well-floured surface, dust lightly with flour, cover loosely with plastic wrap, and let rise at room temperature until they're slightly puffy and hold the imprint of a finger when lightly pressed, about 1 1/2 hours. I placed the balls into banneton baskets to proof.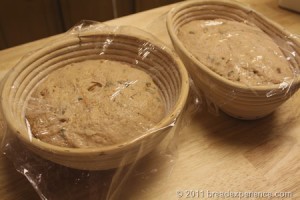 Sprinkle a 13- by 17-inch baking sheet generously with cornmeal. Transfer loaves, one at a time, to sheet, spacing 2 to 3 inches apart. With a sharp knife, slash a 1-inch-deep X on top of each loaf. Place sheet on rack in lower third of a 450° regular or convection oven.
Or, if using a baking stone, gently slide edge of cornmeal-covered baking sheet under one loaf and lift it onto end of sheet. Slash as directed above, then gently slide loaf onto one side of stone in oven, leaving room for second loaf. Repeat to slash and transfer second loaf.  I used a baking stone so I placed the loaves on the parchment paper and used a baking sheet to transfer the loaves to the preheated stone.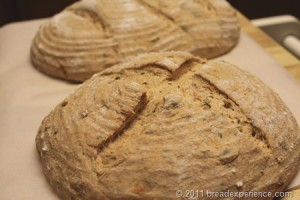 Spray 3 to 4 squirts of water on floor or sides of oven, taking care not to spray near heating element or light bulb, then quickly close door.
Bake bread, spraying twice more at 5-minute intervals during the first 10 minutes of baking, until crust is well browned, 35 to 45 minutes total.
Transfer loaves to a rack to cool for at least 1 hour.
Store in paper bags at room temperature up to 2 days. To recrisp the crust, place loaves directly on a rack in a 400° oven and bake for about 5 minutes.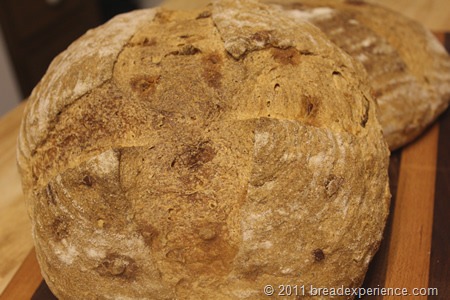 This bread has been YeastSpotted. Please visit Wild Yeast to view all of the lovely breads in the roundup.
Happy Baking!
Cathy
Nutritional Information
Nutritional analysis per ounce.
Amount per serving
Calories: 82
Calories from fat: 7.7%
Protein: 2.9g
Fat: 0.7g
Saturated fat: 0.1g
Carbohydrate: 16g
Fiber: 1.5g
Sodium: 152mg
Cholesterol: 0.0mg

Hello, I'm Cathy, the face behind the Bread Experience. I'm a project manager by profession. My job can be very stressful at times and I've found that baking bread is a wonderful stress reliever.

I especially enjoy baking bread on the weekends and allowing the dough to slow ferment to bring out the flavor and nutritional properties of the bread.

Over the years, I've become enamored with grains.So you'll find me experimenting using different types of heritage and ancients grains.Sometimes it works; sometimes it doesn't, but it's all part of the experience.I invite you to join me on this bread-baking journey.