by Rod
(Texas, USA)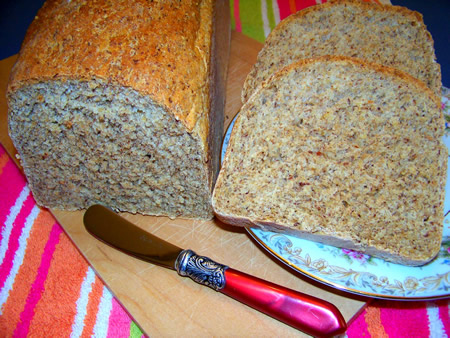 This is an updated version of a popular Oat Bran Health Bread which was described on one site as "nutty, but not heavy like some multigrain bread" – this description still applies!
Use of the "3,2,1" bread preparation method creates a smoother, moist chewiness, making this recipe a pleasing compromise between a dense multigrain bread and a lighter, less complex bread.
The flaxseed meal adds good nutrition, flavor and fiber, but does not dominate the nicely blended flavors and textures of the ingredients. Add a tablespoon or two of caraway seeds to the final kneading to create a taste surprisingly similar to rye bread.
Oat Bran and Flax Bread
Ingredients: (more listed in Proof, Soak)
1 3/4 cups bread flour
1 3/4 cups whole wheat flour
1 tbsp wheat gluten
1/3 cup flaxseed meal or hulled sesame seeds
3/4 tsp salt
1/2 cup additional bread flour for kneading and to coat bread pan
Proof: (15 min.)
1 cup warm water
3 tbsp honey
2 1/2 tsp active dry yeast
1/4 cup bread flour
2 tbsp extra virgin olive oil
Soak: (5 min.)
1 cup warm water
1 cup coarse oat bran
Directions:
In a medium bowl, create a Proof by combining warm water, honey, yeast and 1/4 cup bread flour. Stir well, cover and allow to set 15 min. in a warm place.
In a large bowl, combine 1 3/4 cups bread flour, whole wheat flour, wheat gluten, flaxseed meal and salt in a large bowl; mix well and set aside.
When Proof has set 10 min., combine oat bran and warm water in a small bowl. Stir briefly, then cover and allow oat bran to moisten 5 min.
When oat bran is ready, add olive oil to yeast mixture and stir to combine. Add moistened oat bran, stir, then pour into prepared flour. Stir to combine, then knead with a large wooden spoon for 5 min. Cover dough and allow to rise 45 min. in a warm place.
Lightly oil a large bread pan, then sprinkle it with flour for use during the final rise. Tap pan to remove excess flour.
After the first rise, sprinkle flour onto a flat surface, remove dough from bowl and knead 5-10 min., adding sprinkles of flour to keep dough from sticking to hands and surface. Form dough into a flat roll with more height than width and place in bread pan. Cover with plastic wrap or a damp cloth and allow to rise 45 min. in a warm place.
15 min. before baking, turn on oven to 350 degrees. Remove cover from dough and bake 40-45 min. Serve while warm. Slice, then refrigerate any remaining bread in a covered container.
Comments for Oat Bran and Flax Bread

---
Feb 27, 2015
Still experimenting
by: Rod
"EZ Oat Bran Bread" (recipe stored on another site) balances oat bran, bread flour, and spelt flour. This recipe might be good with 1/4 cup coarse flax meal.
---
Oct 24, 2014
Oat Bran, Flaxmeal, and Rye
by: Rod
The new Sticky Rye Bread recipe substitutes dark rye flour for whole wheat flour and creates a tasty, soluble/insoluble fiber blend. Refrigerate this bread, then reheat briefly in the microwave for moistness and lively flavor.
---
Feb 18, 2014
yum!
by: Nicole M
Great bread! I amended the recipe for a bread machine dough cycle and didn't use wheat gluten as I didn't have any. I only used one cup of whole wheat because of the lack of wheat gluten, and used half whole oats and half oat bran because I ran out of the bran, but still it turned out slight sweet, nutty, and perfectly soft and fluffy inside.
---
Aug 17, 2013
reply to: can you make this without the oil?
by: Cathy (breadexperience)
Flaxseed meal is a substitute for oil so you could probably omit the oil in this bread. Generally, you substitute 3 tablespoons of flax seed meal for every tablespoon of oil and increase the liquid (water) by 75%.
---
Aug 07, 2013
can you make this without the oil?
by: Anonymous
I wanted to know if anyone had any idea how to make this without the oil? Perhaps substitute it with vinegar, i heard vinegar helps the bread rise?
---

Hello, I'm Cathy, the face behind the Bread Experience. I'm a project manager by profession. My job can be very stressful at times and I've found that baking bread is a wonderful stress reliever.

I especially enjoy baking bread on the weekends and allowing the dough to slow ferment to bring out the flavor and nutritional properties of the bread.

Over the years, I've become enamored with grains.So you'll find me experimenting using different types of heritage and ancients grains.Sometimes it works; sometimes it doesn't, but it's all part of the experience.I invite you to join me on this bread-baking journey.