Home > Rye Breads > Russian Black Bread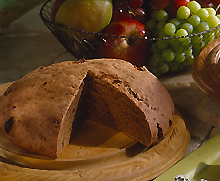 Try this Russian Black Bread recipe for a beautiful and flavorful loaf of dark rye bread.
Russian Black Bread Recipe
Ingredients:
2-1/2 cups warm water (100°F to 110°F)
2 envelopes Active Dry Yeast
1/4 cup butter or margarine, softened
1/4 cup white vinegar
1/4 cup dark molasses
1 (1-ounce) square unsweetened
chocolate, melted
2 teaspoons salt
2 teaspoons instant coffee granules
1 tablespoon Fennel Seed
4-1/4 cups all-purpose flour
5 cups rye flour
3/4 cup imported chopped or snipped pitted dates
Directions:
Makes: 2 round loaves
Place 1/2 cup warm water in large warm bowl. Sprinkle in yeast; stir until dissolved. Add remaining water, butter, and next 6 ingredients. Slowly stir in 3 cups all-purpose flour; blend well. Stir in rye flour and enough remaining all-purpose flour to make soft dough. Remove dough to lightly floured surface. Cover; let rest 15 minutes. Knead dough until smooth and elastic, about 10 to 15 minutes. Place in greased bowl, turning to grease top. Cover; let rise in warm, draft-free place until doubled in size, about 1 to 1-1/2 hours.
Punch dough down. Remove dough to lightly floured surface. Knead in dates. Divide dough in half. Shape each half into 5-inch ball. Place each ball in greased 8-inch round cake pan or on large greased baking sheet. Cover; let rise in warm, draft-free place until doubled in size, about 1 hour.
Bake at 350°F for 45 minutes or until done. Remove from pans; let cool on wire racks.
Nutritional Information:
Per serving:
Serving size: 1 slice; 1 /24 of recipe
Serving weight: 2.6 ounces (74 g)
Calories 170; Total fat 3.5 g; Saturated fat 1 g;
Cholesterol 0 mg; Sodium 250 mg; Carbohydrates 33 g;
Dietary fiber 5 g (1.9 g / oz); Sugars 5 g; Protein 4 g
Used with permission: Photo and recipe courtesy © ACH Foods. All Rights Reserved.

Hello, I'm Cathy, the face behind the Bread Experience. I'm a project manager by profession. My job can be very stressful at times and I've found that baking bread is a wonderful stress reliever.

I especially enjoy baking bread on the weekends and allowing the dough to slow ferment to bring out the flavor and nutritional properties of the bread.

Over the years, I've become enamored with grains.So you'll find me experimenting using different types of heritage and ancients grains.Sometimes it works; sometimes it doesn't, but it's all part of the experience.I invite you to join me on this bread-baking journey.