I'm baking along with the Bread Baking Babes and Friends this month. Elle is the hostess and she chose Soft Pretzels. I love pretzels, especially the soft ones so I'm delighted to be baking along with this talented group of bakers. Elle gives an interesting account of the history behind pretzels on her blog. You might want to check it out.
These pretzels are really easy to make and the dough is great to work with. I've been eating them for snacks. I topped some of them with kosher salt and some with cinnamon sugar. Delicious!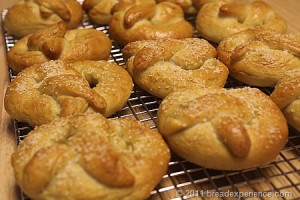 Soft Pretzels
Yield: 12 Pretzels (serving size: 1 pretzel)
Source: Cooking Light OCTOBER 2005: http://www.myrecipes.com/recipe/soft-pretzels
Ingredients:
1 package dry yeast (about 2 1/4 teaspoons)
1 1/2 teaspoons sugar
1 cup warm water (100° to 110°)
3 1/4 cups all-purpose flour, divided (about 14 1/2 ounces)
1 teaspoon salt
Cooking spray
6 cups water
2 tablespoons baking soda
1 teaspoon cornmeal
1 teaspoon water
1 large egg
2 teaspoons kosher salt
Preparation:
Thanks for joining me in the bread-baking blog.
Happy Baking!
Cathy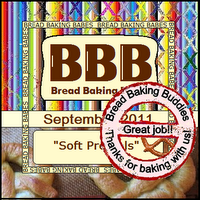 Hello, I'm Cathy, the face behind the Bread Experience. I'm a project manager by profession. My job can be very stressful at times and I've found that baking bread is a wonderful stress reliever.

I especially enjoy baking bread on the weekends and allowing the dough to slow ferment to bring out the flavor and nutritional properties of the bread.

Over the years, I've become enamored with grains.So you'll find me experimenting using different types of heritage and ancients grains.Sometimes it works; sometimes it doesn't, but it's all part of the experience.I invite you to join me on this bread-baking journey.