Home > Bread Making
Making your own bread can help reduce your food costs and relieve stress at the same time. The process of kneading and working the dough is both a thrill and therapy. Plus, homemade bread tastes so much better and is better for you than most bread you can buy in the store.

What methods can be used for mixing and kneading dough?
Kneading dough refers to the process of working the dough by using the heel of your hands. This process strengthens the gluten fibers, and transforms the dough from a wet, soggy mess to a soft, pliable dough.
Dough can be mixed by hand or in a machine. You can knead your dough the conventional way (by hand), in a bread machine, using your mixer or your food processor.
Here is an overview of the different methods for mixing dough. Whatever method you choose, the experience is still rewarding.
Use the conventional method (by hand)
To knead dough by hand, you need a workspace of about 2 feet square. Be sure to keep all of your bread-making ingredients and tools nearby for easy access. Also make sure the workspace or counter top is high enough to allow the palms of your hands to rest on the top surface.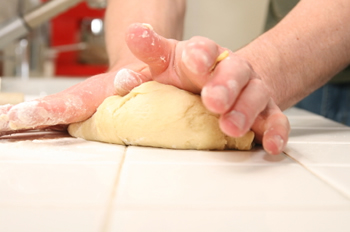 When kneading the dough, add just enough flour to the dough and your hands to keep the dough from sticking. Here are some additional instructions for kneading dough by hand.
Use your bread machine to mix, knead and bake dough
The bread machine can be used for mixing and kneading doughs as well as baking the bread. This is one tool that I really like. This is how I started out making yeast bread and I still love to use the bread machine. The idea of making everything in one pan is just incredible to me.
If you use your bread machine, just make sure you follow the manufacturer's instructions for operation and add ingredients in the order suggested by the bread-machine manual. Keep in mind that the 1 1/2 pound machines will take about 3 cups of flour and the 1 pound machines will knead 2 cups.
Use your electric mixer to mix & knead dough
You can also use an electric mixer with a dough hook to do the kneading for you. I love to make bread by hand, but sometimes, it can be a tiring process. Using a mixer makes the process easier and it does it just as well as by hand. The mixer is definitely a handy tool.
Just make sure you don't try to use a heavy dough in a mixer that is not guaranteed by the company to handle it. Definitely don't use hand-held mixers to mix bread dough. They are not designed to handle heavy doughs and can damage very easily.

Use your food processor to mix & knead dough
You can also use your food processor if you have one and like using kitchen gadgets. The food processor can knead
dough in about 60 seconds or less. That's pretty amazing! Just make sure you use a food processor that is designed to knead dough.
Learn something new & share your passion for making bread
There are so many different types of bread. Part of the enjoyment of bread making is trying different techniques and methods.
Bread-baking resources to get you started:
Sources:
Copyright © 2007 – ACH Food Companies, Inc. All rights reserved.
Clayton, Bernard. Bernard Clayton's New Complete Book of Breads. 2006 Simon & Schuster.
Hensperger, Beth. Bread Made Easy – A Baker's First Bread Book. Ten Speed Press 2000.