I'm the host kitchen for the Bread Baking Babes this month, and I'm delighted to present this Sourdough Beet Challah made with an overnight levain and red beets.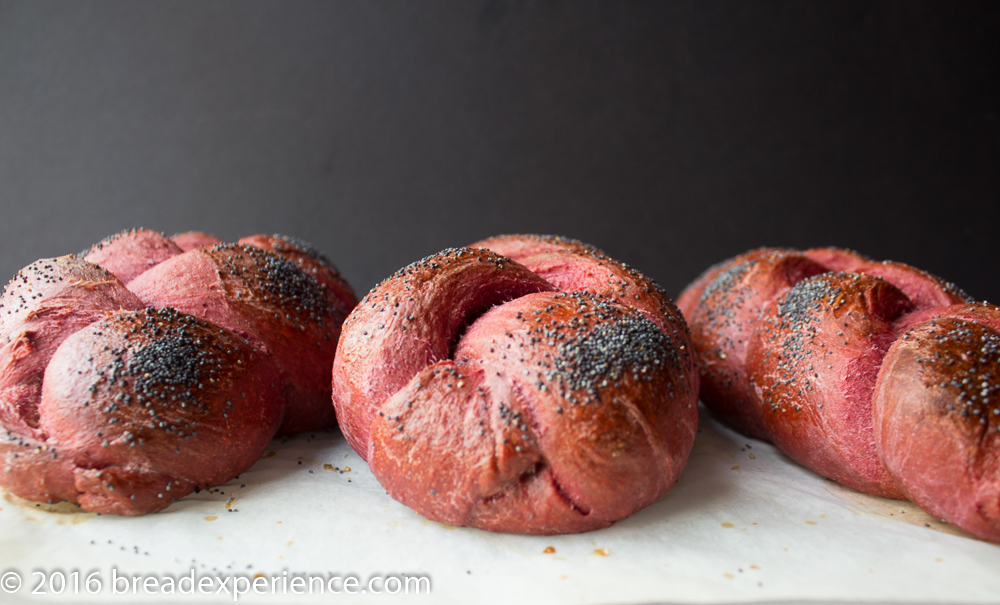 I got the idea for making this bread when colorful breads made with beets started showing up in my FB feed several weeks ago.  I also ran across a Red Beet Challah on Savory Italy and decided a braided beet bread would be fun to try.
1st Attempt: Sourdough Sandwich Bread with Boiled Beets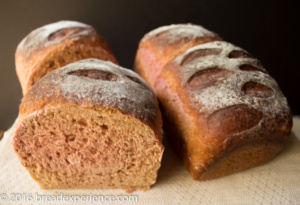 I went through several iterations of this formula before it came out like I wanted.  The first time I made it, I used prepackaged boiled red beets (because that is all the store had) and utilized an adapted version of a different formula.  The dough was too wet to braid so I baked it into a regular loaf instead.  It was okay, but not exactly what I was looking for.  So I went baking to the baking board.
2nd Attempt: Sourdough Beet Challah with Roasted Beets


The second time, I used an adapted version of the challah formula from the Bread Baker's Apprentice. I converted it to sourdough and incorporated beets, but I used roasted beets instead of boiled beets.  I shaped it into a double-decker style braid that looked cool, but it didn't want to stay together even with toothpicks.  The color was very pretty before it was baked, but not so much after baking.  I think I roasted the beets a bit too long.  Still not what I was looking for.
The Charm: Sourdough Beet Challah with Pureed Raw Beets
I tried it again a couple of weeks later.  This time, I incorporated an overnight levain and used pureed raw beets instead of roasted or boiled beets. I also made sure to use really fresh beets as Kelly, one of the Babes, had recommended.  I was very pleased with the results of this loaf. The color of the dough was vibrant and the baked loaf retained its color as well.  This was the charm!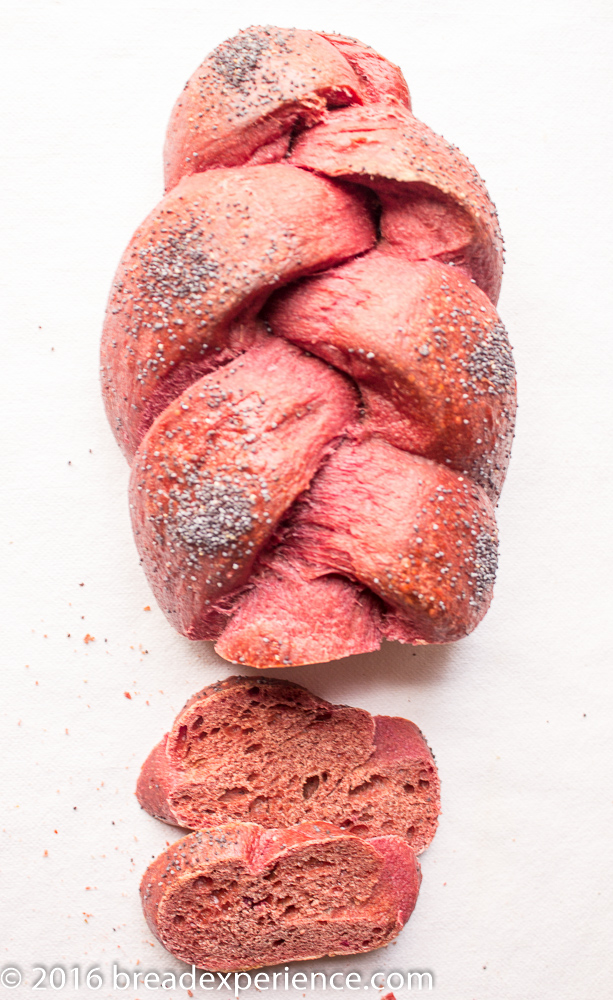 Sourdough Beet Challah
Adapted from The Bread Baker's Apprentice by Peter Reinhart
Notes:
I used 3 beets and pureed them with 100 grams of water.  The total weight of the puree was 380 grams.
This dough makes three smallish 3-strand challahs (452 grams per loaf – 150-152 grams per strand).  I gave a couple away so the small size worked well.
As an alternative, if you use the same amount of dough, you could make a 4-strand, 3-strand and 2-strand challah or two bigger braids or a wreath braid.
This version is a bit sweet and the hint of vanilla helps mask the slightly earthy flavor of the beets.
For a more savory loaf, just omit the vanilla and reduce the sugar.
Overnight Levain:
25-30 grams sourdough starter (or 1/8 teaspoon instant yeast if you don't have a sourdough starter)
100 grams bread flour (or all-purpose flour) [3/4 cup]
40 grams water [40ml]
Put the sourdough starter in a small bowl and pour in the water.  Mix to break up the starter.  Add in the flour and mix until thorough incorporated.  Cover and let it rest at room temperature for 8 -10 hours.  If your house is cold, it might take longer. It was cold in my house this weekend so I put it in a proofer at 70 degrees.
To test if the levain is ready to use in the dough, perform the float test by taking a little bit of sourdough and dropping it in a bowl of water.  If it floats, it is ready. If not, let it rest a while longer and try the test again.  I had to do the float test a couple of times before my levain was ready to use in the final dough.
Final Dough:
700 grams bread flour or all-purpose flour (divided 450, 200, 50) [5 cups]
all of the levain *
3 tablespoons sugar [38 grams]
1 – 1 1/2 teaspoons fine sea salt [6 – 8 grams] **
2 tablespoons oil [27 grams]
2 large eggs, lightly beaten [100 grams]
2 egg yolks, lightly beaten [34 grams]
100 grams water [100ml]
3 raw beets cut into small chunks [~280 grams]
1 teaspoon vanilla, optional [4 grams]
Poppy seeds, optional
* If you used yeast in the overnight levain instead of sourdough starter, you may need to add 1/2 teaspoon of instant yeast to the final dough.
Egg Wash:
Leftover eggs whites mixed with a little water
Puree the beets in a blender, adding the water gradually. Puree until the mixture is completely smooth.  This will take a little while unless you have a high-powered blender.  Weigh the beet puree mixture, if it weighs more or less than 380 grams, you'll either need to add more or less flour.
Mix the flour (reserving 250 grams), sugar and salt together in a large bowl.  In a separate bowl, mix the pureed beet mixture, beaten eggs and egg whites, oil and vanilla, if using.  Add the wet ingredients to the dry ingredients and mix well.  Add the sourdough on top and mix thoroughly.
You can mix by hand or using a stand mixer.  Gradually mix in up to 200 grams of flour.  Let the dough rest for 30 minutes.
Remove the mixture to a lightly floured surface and knead the dough. Add the additional 50 grams of flour if necessary to form a supple and workable dough.
Clean out the bowl, and grease it lightly with oil. Shape the dough into a ball and place it back in the bowl. Cover with a kitchen towel.  Let it proof for 2 -3 hours.  Perform a fold after the 1st hour, place back in the bowl. Repeat at the 2nd hour.  You can let the rest for the final hour or place it in the refrigerator overnight.  I let the dough retard in the refrigerator overnight.
The next day, I took the dough out of the refrigerator and shaped the braids using the cold dough.  It worked really well.  I didn't want to add any additional flour so I spread a light layer of olive oil on the work space instead of flour.  This method worked really well for me.  Just don't put too much oil or you won't be able to roll out the braids.
After the bulk ferment, at room temperature or in the refrigerator, divide the dough into 3 equal pieces and shape them into a ball.  My dough balls were 452 grams each.  Let them rest a few minutes, then divide each ball into 3 equal pieces (150-152 grams each).
To make the braids, I took each piece and flattened and folded them over to remove excess air. Then shaped them into a batard and sealed the seams.  I let the batards rest for a few minutes before rolling out the strands. It took a little while to roll out the strands due to the cold dough.  I had to let them relax a few times to get the length I wanted.  I didn't measure the length but I do know that I rolled out the last braid a bit longer and I liked it the best.  The dough had warmed up a bit by then so perhaps that's why.
Place the braided loaves on a parchment-lined baking sheet and brush with egg wash. Cover gently with oiled plastic wrap so it doesn't stick to the braids and let them proof about 1 1/2 hours, until they have grown to about 1 1/2 times their original size.  If your kitchen is cold, it may take longer.
Preheat the oven to 350 degrees F. (or 325 degrees F. for the double braid) and place the oven rack on the middle shelf.
Brush the loaf again with egg wash and sprinkle the top with poppy seeds.
Bake the loaf for 20 minutes, rotate the pan for even baking, then bake an additional 20 to 35 minutes depending on the size of the loaf. It should register 190 degrees in the center.
Transfer the loaf to a wire rack and let it cool for 1 hour before slicing.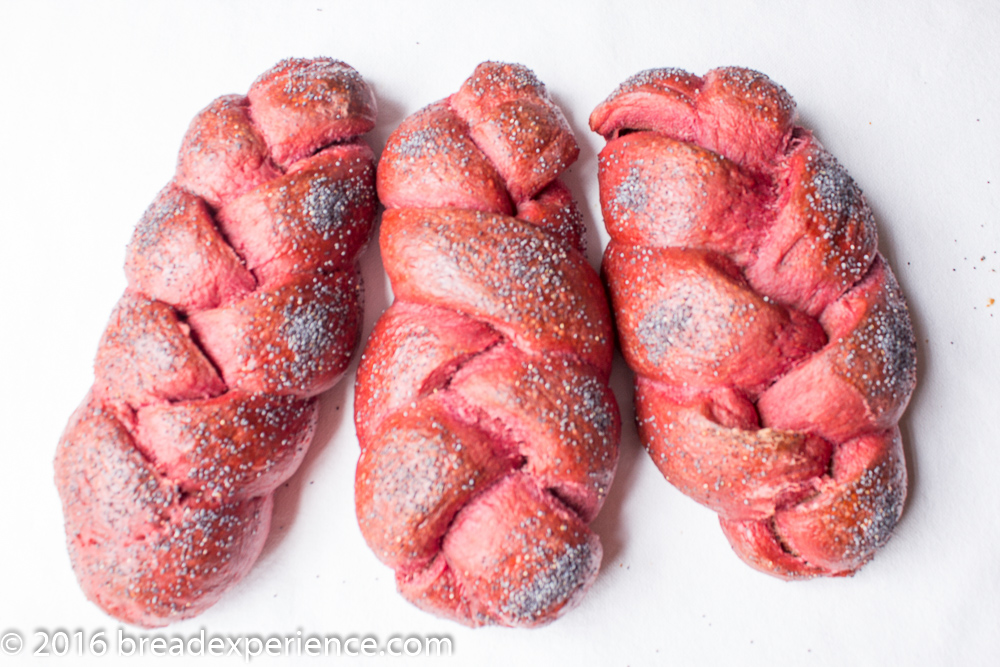 How I braided the 3-Strand Braid
It was a little dark in my kitchen when I was shooting the step-by-step photos so some of the photos look purple.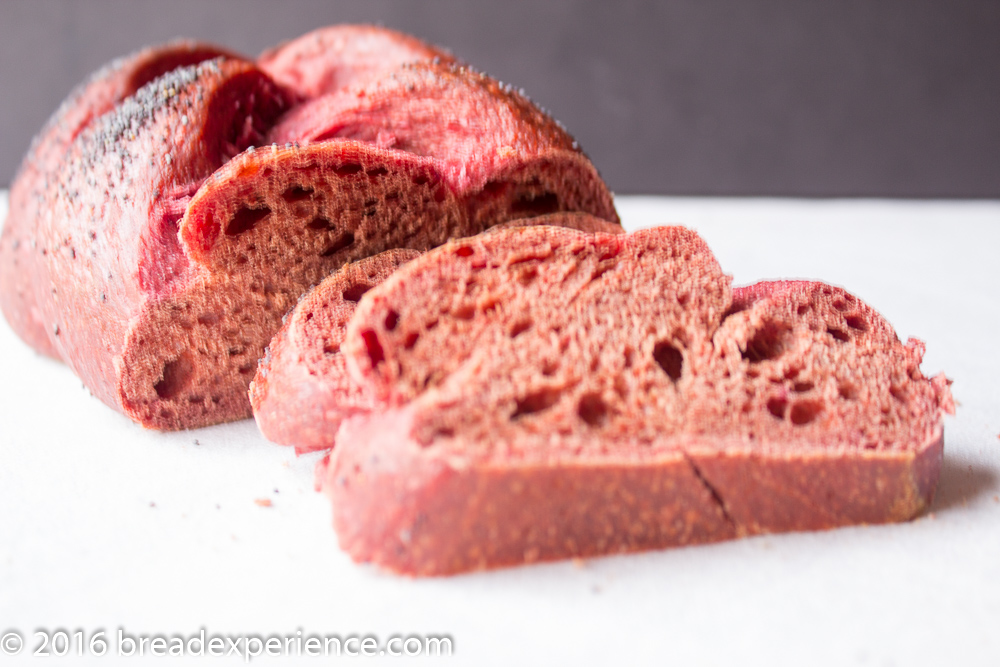 Would you like to bake bread with us this month?
I'm the host kitchen for December and your challenge is to make beet bread. You can use any color beets and make any shape loaf you like, however, I think the braid makes a spectacular presentation.
Just bake some beet bread and post about it on your blog and on the Bread Baking Babes FB page by the 30th of this month.  If you don't have blog, please post a photo of your bread on the BBB FB page.
Send an email to breadexperience at gmail dotcom with BBB December Beet Bread in the subject and I'll send you the Buddy Badge to display on your blog.
I look forward to seeing all of your beet breads.
Happy Baking!
Cathy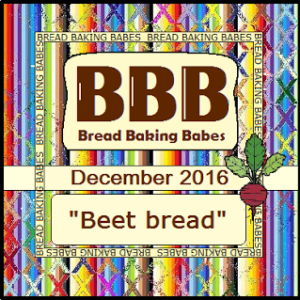 Check out the Beet Bread the other Babes made.
The Bread Baking Babes are:
Bake My Day – Karen
blog from OUR kitchen – Elizabeth
Bread Experience – Cathy
Feeding my Enthusiasms – Elle
Judy's Gross Eats – Judy
Karen's Kitchen Stories – Karen
My Kitchen In Half Cups – Tanna
Notitie Van Lien – Lien
Thyme for Cooking – Katie (Bitchin' Bread Baking Babe Bibliothécaire)
A Messy Kitchen – Kelly

Thank you for following my blog and joining me in my bread baking exploits. I appreciate your comments. You can also find me on Twitter: @breadexperience, Pinterest: breadexperience, Facebook: breadexperience