A Danish dough whisk is a useful tool for mixing artisan breads. I enjoy making breads completely by hand whenever possible and using a whisk makes the process so much easier.
A variety of doughs can be mixed using these whisks. When a wooden spoon is unable to get the job done, you can switch to using one of these tools instead of a stand mixer or your hands.
Danish dough whisks come in two sizes which is very convenient for mixing bread dough and other batters. The small whisk can be used to mix pre-ferments such as poolishes, pate fermentee and overnight sponges and the large whisk is a handy tool for mixing final doughs to ensure all of the ingredients are incorporated fully.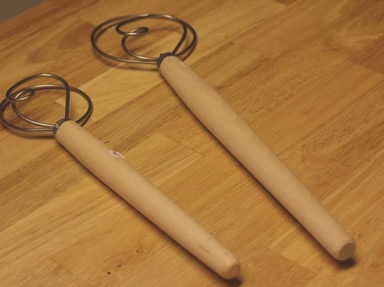 These are well built tools made of stainless wide wire with a handle of natural birch wood. The overall length for the large size is 15 1/4″ and the small size is 11.5″. The whisks are easy to use and clean. If any residue is left on the wire, just run hot water over it and use a dish cloth to remove it.