Home > Quick Breads > Biscuit Recipes
Biscuits are small baked products that originated in Britain. In Europe, the term refers to a hard baked sweet product like a small flat cake (similar to a cookie in North America). In the United States, the term refers to a small form of bread made with baking powder or soda rather than yeast. The tender version we now know and love was perfected in the South using soft white flour and most often buttermilk.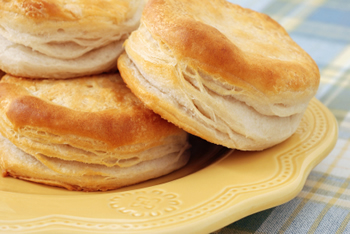 Biscuits are meant to be served piping hot and are often served at breakfast with butter and honey or jam. They can also be served at lunch or dinner with gravy or butter.

How are Biscuits made?
Biscuits are considered quick breads because they do not need to rise before baking. They are prepared and baked shortly before the meal is served. They can be rolled out about 1/2″ to 1″ thick and cut into rounds or dropped by the spoonful onto the baking sheet to form "drop biscuits".
Tips:
To make the perfect biscuit, use a sharp cutter and cut with a straight up and down motion (do not twist the cutter).
If you want soft sides, place them close together on a shiny baking sheet.
If you prefer crisp sides, set them about 2 inches apart on the baking sheet.
Try one of these recipes
If you have a favorite recipe you'd like to share, please submit it here.
---

Baking Powder Biscuits
These fluffy baking powder biscuits just might be some of the best biscuits you'll ever make!
---

Buttermilk Biscuits
Try these rich, tender biscuits for a treat at any meal!
---

Buttermilk Biscuit
This Buttermilk Biscuit Recipe makes soft and fluffy biscuits that have a wonderful buttery flavor.
---

Buttermilk Wheat Biscuits
These nutritious wheat biscuits are made with buttermilk, whole wheat and all-purpose flour.
---

Buttermilk Yeast Biscuits
These Buttermilk Yeast Biscuits are made using a starter made from the buttermilk dry yeast cakes.
---
Breakfast Biscuit
This is an easy and delicious breakfast biscuit recipe. You can use self-rising flour instead of all-purpose to make the preparation even faster.
---

Cheddar Biscuits
This cheddar biscuit recipe will remind you of your favorite restaurant's biscuits.
---

Cinnamon Spelt Tea Biscuits
Crunchy updated version of old-fashioned English tea biscuit.
---

Cranberry Biscuits
These biscuits have the texture of potato rolls and the flavor of orange-cranberry bread.
---

Easy-Bake Cheddar Cheese Biscuits
These Cheese Biscuits are very good and very easy! Don't over knead; add a little garlic powder for extra flavor.
---

Easy Wheat Biscuit
An easy wheat biscuit recipe for biscuits made with whole wheat and all-purpose flour for a lighter texture.
---
KAMUT Cheddar Biscuits
Delicious, melt-in-your-mouth rolls made with KAMUT Khorasan white flour.
---

Maple Biscuits
These subtly flavored biscuits are terrific for breakfast or brunch.
---

Mountaintop Biscuits
This is a simple recipe that can be prepared in a minimum amount of time and the biscuits are a mile high!
---

Potato Biscuits
This Potato Biscuit Recipe is just like Grandma's Potato Biscuits. Try some and see what you think.
---

Pumpkin Biscuits
The pumpkin in this recipe gives the biscuits a unique flavor.
---

Supergrain Cheese Biscuits
A hearty biscuit recipe, combining the lighter supergrain, quinoa, with complementary veggies, herbs, spices and shredded cheese.
---

Sweet Potato Biscuits
Try these tender potato biscuits with a sweet spicy twist!
---

Whole Wheat Biscuits
Recipe for whole wheat buttermilk biscuits. Be sure to use finely ground whole wheat flour and stir it well to lighten it up.
---
Learn how to make a buttermilk plant for use in the buttermilk yeast biscuits.

Sources:
en.wikipedia.org/wiki/Biscuits
Oppenneer, Betsy.
The Bread Book

. HarperCollins 1994.