Home > Bread Recipes > Quick Breads
Quick breads are made without yeast and can be savory or sweet. They use chemical leavening such as baking soda or baking powder.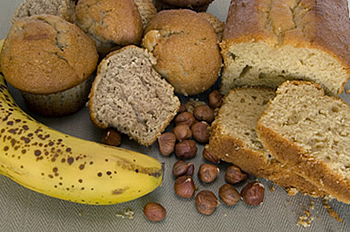 The most common types are biscuits, sweet breads (such as banana bread), muffins, corn bread, popovers, scones, soda breads and pancakes.

Click on the links below to locate recipes for your favorite types of quick breads.
---

Banana Bread Recipes
Bananas make great additions to breads like the Peanut Butter and Banana Bread featured below.
---

Biscuit Recipes
Biscuits are small baked products that originated in Britain. In the United States, the term refers to a small form of bread made with baking powder or soda rather than yeast.
---

Corn Bread Recipes
The most popular recipes for corn bread involve baking or frying the bread. These include: skillet-baked, hoecakes, johnnycakes, and hushpuppies.
---

Muffins Recipes
There is nothing like the aroma of a fresh-baked muffin — except maybe the taste — as you bite into the delicious morsel. Some of the classic recipes include blueberry, apple cinnamon, bran, and banana.
---

Pancake Recipes
Pancakes are one of the oldest form of quick breads. In the United States, pancakes are also referred to as hotcakes, griddlecakes, or flapjacks and are traditionally served for breakfast with butter and syrup. In many other countries, they are enjoyed in different ways.
---

Scones Recipes
A variety of scone recipes to serve for breakfast or brunch or any occasion. Enjoy them with your favorite tea or coffee.
---

Soda Bread Recipes
Soda bread is a type of bread in which baking soda has been substituted for yeast. The ingredients of traditional soda bread are flour, baking soda, salt, and buttermilk.
---

Sweet Bread Recipes
Sweet breads are commonly referred to as a quick type of bread although quick breads can be either sweet or savory in flavor.
---
Tips for using baking soda and baking powder:
Batters made with baking soda should be baked soon after mixing for best results because the leavening starts to work as soon as the wet and dry ingredients are combined.
Batters made with baking power can be allowed to rest for 15 to 20 minutes at room temperature before going in the oven to improve the texture and flavor of the bread.
An open can of baking powder should be used within 4 months. To test for freshness, place 1 teaspoon of baking powder in a small amount of hot water. If it is fresh, it will fizzle rapidly.

What is Your Favorite Quick Bread Recipe?
Do you love to bake a special bread? Share your favorite recipe and we'll highlight it on the site for other home bakers to enjoy.
What Other Visitors Have Said
Click below to see contributions from other visitors to this page…
Sources:
Wikipedia online. 12 June 2008 http://en.wikipedia.org/wiki/Quick_bread
Hensperger, Beth and Williams-Sonoma. Bread. Simon & Schuster, Inc. 2003.