Home > Making Jam > Jam Recipes
We have a variety of delicious jam recipes to top off your bread experience. You'll also find step-by-step instructions for making each of these jams.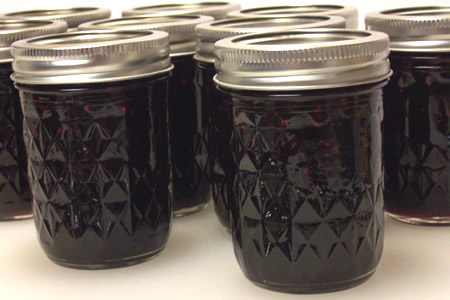 Tips for Making Successful Jam:
Use firm ripe fruit for best flavor and set. Over-ripe fruit makes a soft set. Under-ripe fruit makes a firm set.
Review the recipe and list of ingredients and equipment to be sure you have all of the ingredients on hand and enough jars and lids for canning.
Measure ingredients exactly. Spoon sugar into dry (metal or plastic) measuring cups. Use liquid (glass or plastic) measuring cups with a pour spout to measure prepared fruit. Be sure to use the amount of sugar called for in each recipe. If you alter the recipes or ingredients, the jam might not set properly.
Keep in mind that some jams and jellies may take up to 2 weeks to set.
Resources for Making Jam:
How to Make Jam. Refer to the How to Make Jam section to learn about the different types of jams and what fruits can be used to make jam. You'll also find some tips for successful canning.
Canning Equipment and Supplies. Make sure you have all the canning equipment and canning supplies you need. To find out what equipment you need, refer to the Canning Supplies section. To purchase any necessary supplies, visit our Canning Equipment
section.
For additional canning instruction and recipes, you might enjoy a Canning Cookbook
.
Favorite jam recipes:
What is Your Favorite Jam Recipe?
Do you to make a special jam or jelly? Share your favorite recipe and we'll highlight it on the site for other home bakers to enjoy.
What Other Visitors Have Said
Click below to see contributions from other visitors to this page…
Mona's Sweet Berry Tarts
Long before commercial bakeries filled the store shelves with tempting pastries, family bakers provided equally tempting pastries from the home kitchen. …
Tonica's Dark Raisin Preserve
Most people assumed that I.C. Tonica (pronounced 'tonic' + 'ah') was named after his incessant "I see!" responses during conversations. But they were mystified …
Mona's Mashed Berry Preserve
This is one of Mona's special recipes for good health. Mona prefers this over Greek-style non-fat plain yogurt (strained yogurt), but sometimes serves …