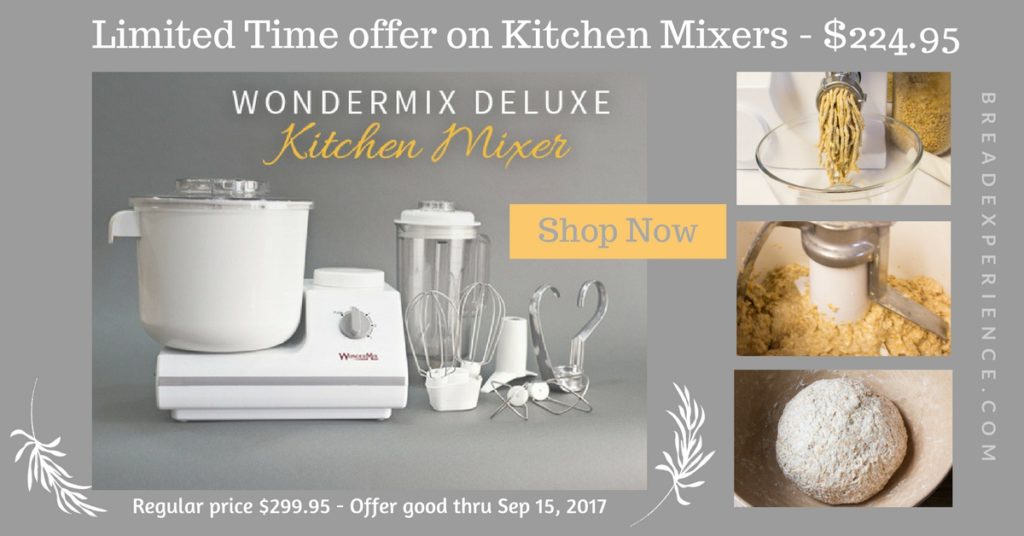 Making sprouted bread is like working on a fun science project. You take the grain, water it, and it sprouts to life. I wasn't into science very much while I was growing up, but I always enjoyed projects that involved seeds and growing. It's so satisfying to nuture a plant and watch it come to life. Although wheat is a grass, when it is sprouted, the body processes it more like a vegetable than a grain.
Using sprouted wheat in breads adds unique texture and crunch to the loaves, and it greatly enhances the nutrition and digestibility of the grains. So not only do these types of breads taste great, but they are better for you, and are generally easier to digest than breads made with just flour. If you haven't tried making bread with sprouted grains before, you're in for a treat.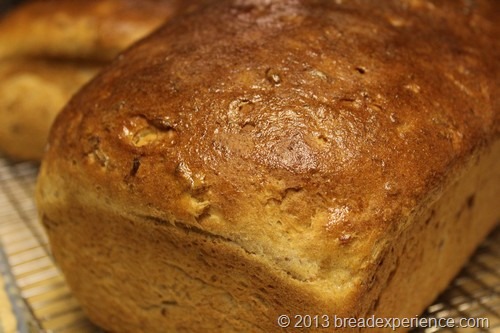 Sprouted Rye and Spelt Bread
Loaves made with sprouted wheat make great sandwich breads. They are the perfect take-along food for a hike in the mountains or for a simple lunch with peanut butter and jelly. There's just something earthy and comforting about these types of breads.

The sprouting process takes a few days so the anticipation heightens while you're waiting for the tiny little sprout to grow and peep out of the tip of the grain. Another cool thing about this seed (or grain rather) is that it doesn't require any sunlight to nuture it. It's best to keep the grains in a cool, dark place during the sprouting process.
Methods for Making Sprouted Bread
If at first you don't succeed, try and try again. Sometimes it is tricky to get the timing down when you're sprouting wheat berries for sprouted bread. You might have the time to bake, but the sprouts aren't ready or the sprouts might be ready when you're not. If the berries sprout too much before you can use them for bread, just enjoy them in a salad or as a side dish and try again. It's worth it!
There are several different methods for making sprouted bread. Try one of the methods below. If you have a different method, please feel free to share it. We appreciate the feedback!
One way to use sprouted wheat in breads is to germinate (or sprout) the wheat berries, dry the sprouts and then grind them into flour. This boosts the vitamin content of the flour. Partially germinated seeds contain considerably more vitamins B and C and dramatically increase carotene levels (commonly known as vitamin A). Many people who are allergic to refined wheat products have been helped by eating germinated grains.
Another method for making sprouted bread is to sprout the wheat berries, chop them up and add them to breads for extra nutrition and added texture. See recipe #1 below.
You can also make sprouted wheat bread with just sprouted wheat and no flour. Germinate the wheat berries using the method outlined in the next section and then use your food processor (or strong arms) to knead the sprouts into dough. See recipe #2 below.
How to Germinate Wheat Berries
Use wide-mouth quart jars and fill them 1/3 full with the grains (wheat berries).
Fill the jar with water and let it rest in a dark place at room temperature for 8-12 hours, or until at least half of the berries are just barely sprouted; drain, rinse with fresh water, and drain again.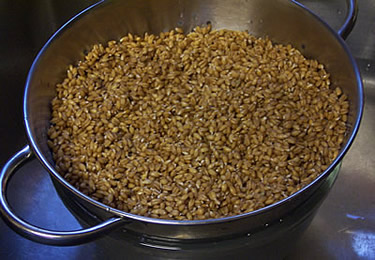 How long should you sprout the berries?
Sprout the berries just until the tiny sprout is barely beginning to show and the grain itself is tender – this could take anywhere from 18 hours to 36 hours, depending on the temperature in your house.
If the grain sprouts develop long enough for diastatic enzymes to get started, the bread will become very gooey and won't bake through. You will end up with a brick.
What if I'm not ready to use the sprouts just yet?
If you sprout the grains, but aren't quite ready to use them, place them in the refrigerator for a day or so. Just remember they will continue germinating in the refrigerator so don't wait too long. When you remove the grains from the refrigerator, let them drain on a paper towel to remove any access moisture.
Use the sprouts in bread at this point or dry them to make flour.
Drying the sprouts for flour:
To dry the sprouts for flour, place a thin layer on baking sheets. Place in oven on low heat overnight or until completely dry. Grind into flour.
Note: If the berries aren't completely dry, they will clog your grinder.
Sprouted Bread Recipes
Here are some recipes for making breads with sprouted wheat and other grains.

Learn more about whole grains & flours:
Types of Wheat – There are six main types of wheat grown in the United States. Within these different types of wheat, there are many varieties and substrains that offer an array of possibilities for millers as well as bakers.
Types of Flour – Flour is the primary ingredient in bread. The kind of flour used will determine the nature of the loaf. The better the flour, the better your bread will taste. In this section, we list the main types of flour that can be used to make bread.
Wheat Flours – Wheat flours are the main ingredient in most bread products. Wheat is rich in gluten, a protein that gives dough its elasticity and strength. Learn more about wheat flours in this section.
Wheat Grains – By-products of milling white flours are unprocessed wheat bran and wheat germ. They add color, nutrition, and fiber to breads. Learn about other types of wheat grains that can be used in breads.
Non-Wheat Flours – There are a number of non-wheat flours that can be used as substitutes for wheat flour in breads. Wheat-free (gluten-free) flour can also be used in breads made with wheat flour to enhance the flavor and provide unique texture.
Organic Bread Flour – If you don't want to get into home milling your own flour, try organic bread flour. It costs a little more than non-organic flour, but it is worth it! The bread baked with organic flour is better for you than most non-organic flour.
Try some of these whole grains for home milling your own flour.