Home > Breakfast Breads > Pancakes

Did you know that pancakes are one of the oldest form of quick breads? Pancake-type foods, in one form or another have been around for thousands of years — dating back to Egyptian and Roman times (see Food Timeline). The version we enjoy today was created in Medieval Europe.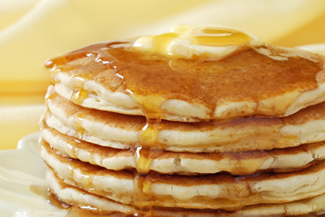 In the United States, pancakes are also referred to as hotcakes, griddlecakes, or flapjacks and are traditionally served for breakfast with butter and syrup. In many other countries, they are enjoyed in different ways. They can be eaten both sweet and savory, flat or rolled with fillings and prepared for breakfast, lunch, dinner or dessert.
We have an assortment of delicious pancake recipes for your enjoyment. It's your choice when you want to serve them.
Try some of these Pancake Recipes