Home > Bread Recipes > Waffles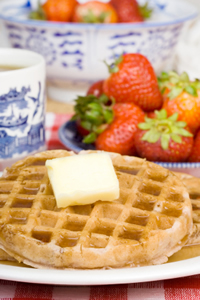 Waffles, as we know them, are typically made with the same ingredients as pancakes with slight modifications to the liquid and fat ratios. To create the unique bee hive shape, they are cooked using a waffle iron.

Belgian Waffles are made with yeast rather than chemical leavening so they are thicker than the regular version.
All types are delicious dusted with powdered sugar and topped with fruit or other toppings.
Enjoy one of these Waffle Recipes
Did you know …?
Waffles, like pancakes and french toast, have been around for thousands of years.
"The ancient Greeks used to cook very flat cakes, which they called obleios, between two hot metal plates. This method of cooking continued to be used in the Middle Ages by the obloyeurs who made all sorts of oublies, which were flat or rolled into coronets. The oublie became the waffle in the 13th century, when a craftsman had the idea of forging some cookie plates reproducing the characteristic pattern of honeycombs, which at that time were called gaufres (from the Old French wafla)."
—Larousse Gastronomique, Completely Revised & Updated [Clarkson Potter:New York] 2001 (p. 1285)
Source: www.foodtimeline.com