Hello and welcome to the Bread Experience!
I'm Cathy, the face behind the site. I work in the corporate world as a project manager and as you can imagine, my job can be very stressful at times. Bread baking is a wonderful stress reliever. I enjoy baking bread on the weekends and allowing the dough to slow ferment to bring out the flavor and nutritional properties of the bread.
I created this site out of my passion for bread-baking and a desire to share that passion with others. This labor of love began as a project for my masters in 2007, but has turned into much more. Along the way, I became enamored with ancient grains and sprouted wheat and home milling my own flour.
If I claimed to be a self-taught baker, this would not give credit to the many mentors I've had through bread baking books and workshops or the lessons and experiences I've shared with baking peers through online baking groups. I've learned so much from the bread community at large and sharing that passion is what this site is about.
The Bread Experience is about so much more than just baking bread, it's about the whole experience … from the wheat field to the table. Where does your bread come from?

What is The Bread Experience?
The Bread Experience was created out of a passion for baking bread and the desire to provide resources for other home bakers who love to bake bread or want to learn how to bake bread but don't have time to search for all the tools and resources they need.
Our mission is to be the one-stop portal for bread-making supplies and resources for new and experienced bakers by offering quality products, delivering exceptional service, and providing a unique experience to enhance our customers' quality of life.
The Bread Experience is about more than just baking wonderful bread. It's about the whole process: beginning with the wheat growing in the field, to the mill where the wheat is ground into flour, and then to the home baker who uses the flour to make loaves of wonderful bread.
The final and most important part of the journey is sharing that loaf of bread with family and friends. Then, the process begins again to create the bread experience.
We look forward to providing you with the resources and tools you need to make great bread and providing some unique content that you won't find on other bread-related sites.
A little background about me…
Like most of you, I have a very stressful day job. I'm a project manager for an international company and I help maintain the content and user experience for one of their Intranet sites. I really like my job because I'm able to help employees find the information they need while doing something I enjoy.
Even though I enjoy my job, it does get stressful at times and baking bread helps me unwind and be creative. Not to mention homemade bread tastes so much better than store bought bread.

My other love is dance. I studied dance for years so it ranks right up there with baking. These days, you'll find me baking bread and dancing around the kitchen.
Did you know that the women of Ancient Greece kneaded their dough around a worktable with a musician playing the flute? They sure did. If you don't believe me, check out Benard Dupaigne's The History of Bread to find out for yourself. I'm just carrying on the tradition by listening to music and dancing a gig.
There's just something about bread
Bread is definitely the staff of life as the saying goes. There's nothing that compares to the aroma of fresh-baked bread or the taste as you bite into a warm, buttered roll or biscuit.
Through The Bread Experience site and the bread baking blog, I want to share with you my passion for baking bread and to provide recipes and techniques to assist you in making great tasting bread.
I also look forward to providing you with some unique content that you won't find on other bread-related sites. So stay tuned…
My favorite bread recipe
One of my favorite recipes is for yeast rolls. I enjoy making these rolls because my sons love them and I love to see the expression on their faces when they know I'm baking them. Actually, these rolls smell so good, my sons usually run downstairs because of the aroma. I don't even have to tell them I'm baking them.
My funny bread story
I like to bake bread on Sundays and one day, I got so caught up making these rolls, I forgot about dinner. My oldest son came in the kitchen to ask what was for dinner and I remember thinking oops! However, I just said, "yeast rolls" like that was what I had been planning all along. He said "sweet" and filled up on the rolls never complaining about not having anything else for dinner. That's how much he loves these rolls.
Yeast Rolls Recipe
(Makes 16 Rolls)
The good thing about this recipe is that you get to handle the dough without all the work. The bread machine does the work and you get to have fun shaping the rolls by hand and then baking them in a conventional oven.
To view the step-by-step process for making these rolls and a printer friendly version, click here.
Ingredients:
1 cup water
2 tablespoons butter or margarine, softened
1 egg
3 1/4 cups bread flour
1/4 cup sugar
1 teaspoon salt
3 teaspoons bread machine or active dry yeast
Butter or margarine, melted, if desired
Directions:
Measure the ingredients and place all ingredients (except the melted butter) in the bread machine pan in the order recommended by the manufacturer.
Select Dough/Manual cycle. Do not use Delay cycle.
When the bread machine is finished, remove the dough from pan, using lightly floured hands.
Cover and let rest 10 minutes on lightly floured surface. Grease a large baking sheet with shortening or cooking spray.
Divide the dough into 16 equal pieces. Shape each piece into a ball, using floured hands. Place 2 inches apart on the baking sheet.
Cover and let rise in warm place 30 to 40 minutes or until double. (Dough is ready if indentation remains when touched.)
Heat oven to 375

°F

. Uncover, bake 12 to 15 minutes or until golden brown. Brush tops of rolls with melted butter. Serve warm, or cool on wire rack.
Enjoy! If you're lucky, your family will actually save a roll for you.
Discover the art of bread making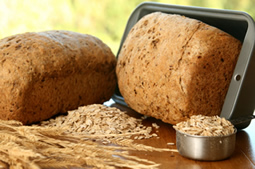 Discover the art of bread making
Learn how to make bread: whole wheat, artisan loaves, bread machine, gluten-free, no-knead, quick breads, yeast breads and even sandwich breads.
We invite you to learn something new and to share your passion, tips and techniques for preparing great bread.
We're sure you'll agree that nothing quite compares to the bread-making experience.
Come enjoy your bread …. the experience is on us!