Home > Making Scones > Recipes for Scones

Here are a variety of scone recipes to serve for breakfast or brunch or any occasion. Enjoy them with your favorite tea or coffee.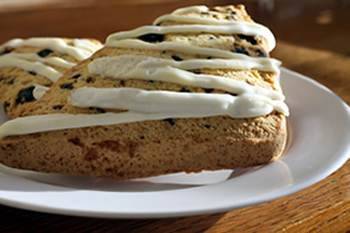 Try some of these scones recipes
Methods of making scones
The traditional method of making scones is to rub butter, vegetable shortening, or lard into the dry ingredients by hand to form flakelike particles. More modern methods incorporate the fats using either an electric mixer with the paddle attachment or a food processor. Each of these methods can produce excellent results, but care should be taken to follow the directions carefully for incorporating the fats into the flour.
Learn more about making scones
Source:
Walter, Carole. Great Coffee Cakes, Sticky Buns, Muffins & More. Clarkson Potter/ Publishers, an imprint of the Crown Publishing Group, a division of Random House, Inc., New York. Copyright 2007.