Home > Bread Recipes > Breads of Ireland
The traditional bread of Ireland is soda bread. Soda bread can be made with white or whole wheat flour.
Early Irish cooks bypassed yeast and used "bread soda" or "baking soda" because Irish flour was too soft to make yeast bread. The bread was cooked on a griddle set over the fire or in a bastable, which is a type of Dutch oven. In many parts of Ireland, soda bread is still shaped and baked as a round loaf with a cross marked on top.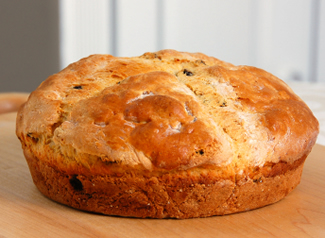 What is Soda Bread?
Soda bread is a type of quick bread in which baking soda has been substituted for yeast. The ingredients of traditional soda bread are flour, baking soda, salt, and buttermilk. Other ingredients can be added such as raisins or nuts.
Tip: Soda bread can dry out quickly and is typically good for two to three days; it is best served warm or toasted.
Try one of these Irish Bread Recipes
| | |
| --- | --- |
| | Basic Brown Soda Bread – This Basic Brown Soda Bread is made with buttermilk from a buttermilk plant. This is a simple, wholesome loaf that is delicious eaten fresh with butter, cheese or with a bowl of homemade soup. |
| | Buttermilk Walnut Scones – The buttermilk provides the moisture, the walnuts add a little crunchiness and the creamy cinnamon sugar topping puts these scones over the edge. |
| | Irish Bread – This Irish Bread uses yeast rather than baking soda as the rising agent. The quick oats add moistness and the honey provides a hint of sweetness. |
| | Irish Brown Bread – This is a traditional recipe that is made with just flour, baking soda, salt and buttermilk. It is very simple to make. Try it with a steaming cup of Irish Tea and enjoy! |
| | Irish Freckle Bread – This is a very tender and flavorful loaf due to the combination of mashed potato, potato water, and eggs. It is great for toast and freezes well. |

| | |
| --- | --- |
| | Irish Raisin Scones – An authentic recipe for Irish Raisin Scones. Enjoy this unique bread experience. |
| | Irish Soda Bread with raisins – This recipe is a variation of the traditional soda bread but delicious just the same. For a satisfying bread experience, eat this bread fresh in the morning with butter and a steaming cup of Irish Tea. |
| | Irish Soda Bread without raisins – This Irish Bread was baked in a casserole dish to provide structure to the bread. |
| | Irish Soda Bread Recipe – This Irish Soda Bread is delicious. For an extra treat, add caraway seeds along with the currants. |
| | Irish Soda Bread with caraway seeds – Traditional Irish soda bread with the flavors of caraway and raisins-best served fresh from the oven! |
| | Potato Bread – This is a recipe for Irish Potato Bread. You make the dough into pie slices and fry in a hot pan or grill. |
| | Soda Bread Recipe – This Irish Soda Bread Recipe is one of the easiest breads to make. Prepare it for St. Patrick's Day, or anytime of the year for teatime or breakfast. |
| | Wheaten Bread – This wheaten bread is a yeast-raised version of traditional Irish brown soda bread that requires no kneading. |
| | Make your own buttermilk dry yeast – This recipe makes a bunch of yeast cakes so you'll have some left over for the next time you want to make a starter for delicious Alaskan Sourdough Pancakes or biscuits. |
Make Your Own Buttermilk Plant
Buttermilk is an essential ingredient in traditional soda breads. It can be cultured very easily using a buttermilk plant. Here is a recipe to make a buttermilk plant for use in Irish Soda Breads and other recipes that call for buttermilk.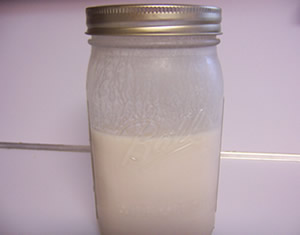 Sources:
http://en.wikipedia.org/wiki/Soda_bread
Campbell, Georgina. The Best of Irish Breads & Baking. Epicure Press 2006.