Home > How to make Jams and Jellies
Would you like to learn how to make jam? It's really easy and fun! The Bread Experience is pleased to offer this section on making jam to go with all that wonderful bread you're baking.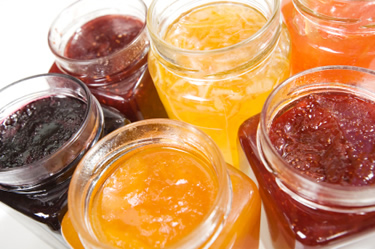 What types of fruit can be used to make Jams and Jellies?
Jams and jellies can be made from any fruit or berry, and also from tomatoes, wine, and herbs. You can make jams using freshly picked in-season fruit, or canned or frozen fruits and fruit juices when fresh fruit is unavailable.

What is the difference between jam and jelly?
Jam is a mixture of fruit and sugar made either from fruits that are high in pectin cotnent or with added pectin. The fruit is usually chopped very finely, or crushed.
Jelly is the same as jam except that the cooked fruit has been strained to give a clear spread. Jellies are usually made from fruits high in pectin or with added pectin.
Other types of sweet spreads that can be made with fruit:
Preserves are the same as jams but the fruit is in larger pieces.
Marmalade is a jam made from citrus fruit. Marmalades generally do not have pectin added since citrus rind and seeds contain enough pectin to form a soft gel.
Conserve is a jam with the addition of nuts, dried fruits and often spices.
Fruit Butter is a sweet spread made by cooking cooking fruit pulp with sugar until it has a thick, smooth consistency with no liquid remaining. Spices are often added.
Fruit Curd is a sweet spread made from citrus fruit, sugar, butter and eggs cooked gently until thickened.
Chutney is a spicy mixture of fruits and spices cooked with sugar and vinegar.
Resources for Making Jam:
How to Make Jam. Refer to the How to Make Jam section to learn about the different types of jams and what fruits can be used to make jam. You'll also find some tips for successful canning.
Delicious Jam Recipes.
Choose a recipe from our collection of jam recipes. You'll find step-by-step instructions in the bread-baking blog.
Canning Equipment and Supplies. Make sure you have all the canning equipment and canning supplies you need. To find out what equipment you need, refer to the Canning Supplies section. To purchase any necessary supplies, please visit our Canning Equipment section
For additional canning instruction and recipes, you might enjoy a canning cookbook. We have a variety of Canning Cookbooks for making jam, pickles and other canned products.
Tips for Successful Canning and Storing:
Have all of the equipment you need ready before you start.
Always use clean jars. Thoroughly wash jars or containers before starting.
Always label your canned foods with the date, product, variety, and method or recipe used. This is important because food should be eaten within one year of canning to ensure good quality.
Store preserved foods in a cold, dark, dry place. Temperatures should be between 32 degrees and 52 degrees to preserve flavor, color, and the nutrients that light will destroy, and to prevent the growth of molds and bacteria.
Sources:
Chioffi, Nancy and Mead, Gretchen. Keeping the Harvest. 2002 Storey Publishing.
Greene, Janet, Hertzberg, Ruth & Vaughan, Beatrice. Putting Food By. 2010 Penguin Group (USA).
Topp, Ellie & Howard, Margaret. The Complete Book of Small-Batch Canning. 2007 Firefly Books.
Ziedrich, Linda. The Joy of Jams, Jellies, and Other Sweet Preserves. 2009 Harvard Common Press.