Home > Bread Recipes > Rolls
Rolls are easy and fun to make. You can shape them into round balls, knotted shapes, crescent-shapes, and even pull-apart rolls that melt in your mouth.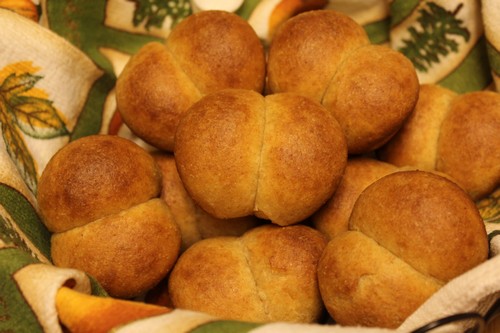 If you are looking for a roll recipe for Holiday or dinner gatherings, we have an assortment of recipes for croissants, crescent rolls, yeast rolls, cloverleaf rolls and even sticky buns.
Learn How to Shape Different Roll Types
If you need a little inspiration to get started shaping rolls, check out this photo tutorial which shows you how to shape three different types of dinner rolls: Single Knot Rolls, Crescent Rolls and Butterfly Rolls.

Try some of these Roll recipes
Several of these roll recipes include instructions for making a variety of different types of rolls using the same
dough.
Bread RollsThis is an easy and fast bread rolls recipe. Try a batch of these yummy rolls with dinner tonight!
Caramel Sticky Nut BunsThese Honey & Caramel Sticky Nut Buns are made with the Healthy Bread in Five Minutes Pumpkin Pie Brioche Dough,
Cheddar Twists These flavorful cheese twists add a festive flair to Holiday dinner gatherings but are special any time.
Cheese Rolls (from Marienne in Atlanta)In Brazil, "cheese rolls" are very famous and I have a successful recipe that can be prepared in a blender and baked in mini muffin baking pans.
Cheesy Onion RollsThe combination of garlic, onion and cheese gives the rolls a unique burst of flavor.
Cinnamon Pumpkin Crescent RollsThese delicious Cinnamon Pumpkin Crescent Rolls are made with Healthy Bread in Five Minutes Pumpkin Pie Brioche dough!
Cinnamon Sticky Buns – Rich, gooey and delicious! These simple-to-make breakfast buns are topped with the perfect blend of cinnamon, brown sugar and pecans.
Classic Croissants – Serve a batch of these classic croissants for dinner with family or friends. They'll love you for it!
Cloverleaf Refrigerator Rolls – This recipe uses the refrigerator method of allowing the dough to rise, making it flexible to suit your schedule.
Cornstalk Rolls (photo at the top) – This bread resembles a cornstalk, where each roll, or "ear of corn" is torn off the stalk and eaten as you would a roll.
Cranberry Biscuits – These biscuits have the texture of potato rolls and the flavor of orange-cranberry bread. The neatest thing about them is that the dough can be made in the bread machine.
Cranberry Pumpkin Rolls – These deep-gold rolls will look lovely in your Holiday breadbasket.
Good Ole American White Rolls – These rich and delicious rolls are a good accompaniment to your next meal – whether breakfast, lunch, or dinner.
Kaiser RollsThis version utilizes a pâte fermentée to improve flavor, texture, and color. It also utilizes diastatic malt powder to improve coloring.
Kimmelweck RollsA Kimmelweck or "Weck" Roll as they are commonly referred to, is a hard roll that resembles a crusty Kaiser roll, but is topped with caraway and coarse salt instead of poppy seeds.
Light Wheat Sourdough & Poppy Seed RollsThese Light Wheat Sourdough & Poppy Seed Rolls make a good addition to summer picnics.
Orange Buttermilk Dinner Rolls – These Orange Buttermilk Dinner Rolls are easy to make and taste great. They have a hint of orange zest which adds a delicious burst of flavor.
Parker House Rolls – Try these puffy, light-as-air, rolls made famous from the Parker House Hotel in Boston.
Pepperoni Pizza RollsThese pepperoni pizza rolls are delicious and easy! They melt in your mouth like cinnamon rolls, but are savory rather than sweet
Potato Rosemary Rolls – These basic potato rolls can be topped with a variety of spices! Use potato flakes or buds for added flavor and easy preparation.
Pumpkin Crescent Rolls – The canned pumpkin adds a wonderful, deep color to the rolls and pumpkin pie spice provides just a hint of flavor.
Pumpkin Yeast Rolls – These rolls can be shaped in a variety of shapes. Check out the photo tutorial for shaping crescent rolls, knots, and butterfly rolls.
Pumpkin Yeast Biscuits – Here is a recipe for festive Pumpkin Biscuits. Sorghum or molasses may be used instead of the sugar.
Refrigerator Pan Rolls – This is a batter recipe for soft and tender pan rolls. These rich, buttery rolls are very easy to make; the batter requires no kneading.
Whole Wheat Orange Cinnamon Rolls – Check out this healthier recipe for cinnamon rolls. This version uses whole wheat flour and honey.
Savory Whole Wheat Rolls – These savory herb rolls are made with whole wheat flour so they provide a good source of fiber. Wheat gluten is added to help the rolls rise.
Soft Butter Cloverleaf and Dinner Rolls –
These Soft Butter Rolls go down really easy and are really easy to make.
Sweet Potato Rolls – Pureed vegetables give a lovely moistness to bread and rolls. This simple recipe calls for half a cup of pureed sweet potato, but you may also use yams, squash, pumpkin or mashed potato (in which case you'll lose the distinctive orange color).
Sweet Potato Cloverleaf Buns – These deep orange yeasted buns are memorable, both in appearance and taste. The flavor of the potatoes, combined with just a touch of honey, give these buns a natural sweetness which is truly delicious.
Yeast Rolls – This yeast roll recipe makes a variety of classic dinner rolls including knots, crescents, coils, twists, and cloverleaf rolls.
My Favorite Yeast Roll Recipe – The good thing about this recipe is that you get to handle the dough without all the work. The bread machine does the work and you get to have fun shaping the rolls by hand and then baking them in a conventional oven.
White Bread Recipe (can be made into dinner rolls) – The dough for this white bread recipe can be made in your bread machine, using a stand mixer or by hand.This recipe can also be used to make white dinner rolls.
What Other Visitors Have Said
Click below to see contributions from other visitors to this page…
Herbed Oat Bran Rolls
An easy oat bran bread recipe that creates savory rolls, chewy inside and crunchy outside – substitute herbs and spices as desired. Briefly pre-moistening …
Mainville Family Bread Recipe
This recipe works perfectly if you use exactly the ingredients I do. But will do nicely even if you substitute a bit on the flour ratios. I am not …
Cheese Rolls In Brazil, "cheese rolls" are very famous and I have a successful recipe that can be prepared in a blender and baked in mini muffin baking pans. I have …