Home > Bread Recipes > Corn Bread Recipes
Corn bread is the generic name for quick breads made with cornmeal. We take corn for granted these days, but bread made from cornmeal was a mainstay of colonial diets, in both the North and the South, for almost two centuries.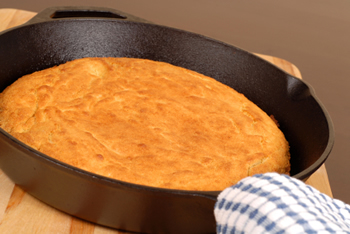 Typically, Southern cooks prefer to use white cornmeal, while Northern cooks tend to use yellow cornmeal and add sweetening to their breads. You can decide which type of cornmeal and method you prefer.
You might enjoy some of these Corn Bread Recipes
The most popular corn bread recipes involve baking or frying the bread. These include: skillet-baked, hoecakes, johnnycakes, and hush puppies.
---

Anadama Corn Bread
This version used the Healthy Bread in Five Minutes list of ingredients (sort of) and the soaker, sponge and dough methods from the Bread Baker's Apprentice method.
---

Baked Corn Bread
Here is a moist and sweet recipe for baked corn bread. Sour cream is what gives it the moist texture.
---

Blueberry Cornbread
Contrasting flavors and textures highlight this blueberry dessert cornbread from Rod in Dallas.
---

Buttermilk Cornbread from the Old Mill
This is Aunt Martha's Buttermilk Cornbread and it's made with freshly milled corn meal.
---

Corn Cake Recipe
Here is a Southern recipe for corn cake. Try these for breakfast or brunch with butter and syrup.
---

Corn Muffins
This is an easy corn bread recipe to make when you're too busy to bake from scratch. Spice up packaged corn muffin mix with chili powder and green chiles–a perfect complement to your chili dinner.
---

Crusty Cornstalk Rolls
This bread resembles a cornstalk, where each roll, or "ear of corn" is torn off the stalk and eaten as you would a roll.
---

---

Diane's Veggie Cornbread
This recipe for veggie cornbread is from Rod in Dallas.
---

Dutch Oven Corn Bread
This is not your typical cornbread, it's made with an overnight poolish and yeast. It's really good!
---

Easy Broccoli Cornbread
An easy cornbread recipe that can be enjoyed at any meal of the day. For greater richness, add 2/3 cup of cheddar cheese to the batter as well as sprinkling cheese on top.
---

Hoe Cake Recipe
A hoe cake is a type of thin cornbread made of cornmeal, salt, and water and is baked on a griddle.
---

Hushpuppies
Hushpuppies are a distinctly Southern food. They are small cornmeal breads that are deep fried in a round or oblong shape.
---

Jalapeño Cornbread
A flavorful cornbread filled with sweet onions, jalapeño peppers and cheddar cheese.
---

No Knead Batter Corn Bread
This type of corn bread is brown and golden and similar in texture to a quick corn bread. However, the batter is beaten, not kneaded and it rises once in the pan before baking.
---

Semolina Bread with Wholegrain Soaker
This Semolina bread includes a flying sponge and a grain-and-seed soaker.
---

Southern Corn Bread
This is a traditional Southern corn bread recipe that uses corn meal mix for easy preparation. Try this bread with chili or a hearty stew.
---

Steamed Boston Brown Bread
This particular brown bread is made with rye, corn, and whole wheat. It tastes great warm, sliced into rounds. Serve it for your next cookout with baked beans.
---

Steamed Corn Bread
Steamed Corn Bread has the color and texture of Boston Brown Bread, but it's made with cornmeal and all-purpose flour rather than a blend of several flours. It's also made with molasses rather than maple syrup so of course, the flavor is different!
---

Togus Steamed Bread
Togus Bread is a sweet, rich bread that the colonists adapted from the steamed cornmeal bread of the Algonquian-speaking peoples, who dominated most of northeastern America.
---

Yeasted Cornbread
This yeasted corn bread is made using the Kneadlessly Simple method.
---
Tip: To retain more of the nutrients and flavor in your corn bread, use good-quality, stone-ground cornmeal.
What is Your Favorite Corn Bread Recipe?
Do you love to bake a special bread? Share your favorite recipe and we'll highlight it on the site for other home bakers to enjoy.
What Other Visitors Have Said
Click below to see contributions from other visitors to this page…
Sources:
en.wikipedia.org/wiki/Cornbread
Miller, Mark and Maclauchlan, Andrew with John Harrisson. Flavored Breads: Recipes from Mark Miller's Coyote Cafe. 1996 Ten Speed Press.