Home > Bread Recipes > French Toast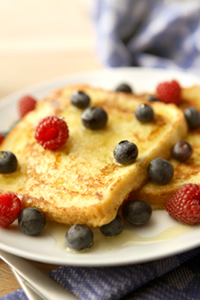 French toast is made with bread and eggs and some type of milk or cream. It is a basic dish that can be made as simple or as fancy as you desire. It is often topped with butter, fruit, syrup, or other items.
French toast recipes exist in many cultures. Recipes have been traced back to the Ancient Roman times (see Food Timeline). It is also known as German toast, American toast, Spanish toast, Nun's toast, Cream toast, Amarilla, and Poor Knights of Windsor. This dish is most often eaten for breakfast although it is sometimes eaten as a dessert.

We have a variety of french toast recipes — cinnamon, berry, french vanilla, stuffed and more.
Try some of these French Toast recipes
French Toast with Maple-Apple Compote
Sausage and French Toast Casserole
French Toast with KAMUT, Oatmeal Date Bread
Raspberry Stuffed French Toast