Home > Yeast Bread Recipes
Are you afraid of yeast? We can help you get over your fear of working with yeast.
Learning how to make yeast bread may seem like an overwhelming task, but the steps are not really complicated. The process becomes familiar and rewarding each time you try it. It's an experience you don't want to miss!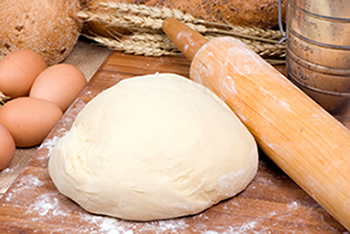 Yeast bread is made from a dough that consists of basically four ingredients – flour, water or milk, salt and yeast. The dough may also contain eggs, shortening, sugar, or other ingredients.

Yeast breads include artisan breads, pan breads, hearth breads, and other yeast-leavened goods.
Pan bread is baked in a container, such as a loaf pan, and includes bread made with white wheat flour and specialty breads such as cinnamon raisin bread and whole-wheat bread.
Hearth bread such as French bread, rye bread and other artisan breads, is baked on a flat pan or placed directly on the hearth (floor) of an oven.
Other yeast-leavened goods include hamburger and hotdog buns, bagels, and rolls.
Yeast bread recipes for your bread-baking enjoyment
Try one of these recipes or feel free to share yeast bread recipes.
---
Artisan Breads are hand-crafted, hearth-baked loaves of yeast bread.
---
Enjoy homemade bread or pizza; let the bread machine do the work for you.
---

Coffee Cakes Recipes
Choose from a variety of delicious coffee cake recipes for your bread baking enjoyment.
---

Cranberry Breads
Cranberries add beautiful color and tartness to breads for a lovely presentation.
---

Fat-Free Yogurt Bread
Yogurt replaces the fat in this fat-free bread. One basic recipe can be used with a variety of ingredients.
---

Fennel and Orange Peel Bread
This Fennel and Orange Peel Bread is from J. Root in Ontario, Canada.
---

Festive Breads
A variety of festive recipes for your Fall and Holiday bread baking enjoyment.
---
Flower Pot Bread
This easy and basic yeast bread, baked in a food-grade flower pot, makes a whimsical presentation for any special occasion.
---

French Breads
Recipes for making baguettes and round French Country Bread.
---
Hokkaido Milk Bread
This delicious and fluffy bread is made using the Tangzhong method.
---

Holiday Breads
Holiday bread recipes to give as gifts or bring to Holiday celebrations.
---

Italian Breads
Different types of Italian breads such as Ciabatta, Focaccia and Panettone.
---

Kaiser Rolls
This version utilizes a pâte fermentée to improve flavor, texture, and color. It also utilizes diastatic malt powder to improve coloring.
---

Kimmelweck Rolls
A Kimmelweck or "Weck" Roll as they are commonly referred to, is a hard roll that resembles a crusty Kaiser roll, but is topped with caraway and coarse salt instead of poppy seeds.
---

No Knead Breads
Yeast-risen loaves that are not kneaded; but fermented overnight to develop the gluten.
---
Monkey Bread Recipes
Making Monkey Bread, also known as pull-apart bread, is a good way to introduce your kids to the pleasure of baking yeast bread.
---

Oatmeal Breads
Oats are sweet, earthy-flavored grains; easily digestible and provide protein.
---

Pretzels (soft)
Easy soft pretzel recipe. Sprinkle with coarse salt, grated Parmesan cheese, poppy seeds or sesame seeds.
---

Pretzels (Sourdough)
These sourdough pretzels are a good excuse to use up a cup of sourdough when it's time to feed your starter.
---

Pumpkin Breads (yeast breads & quick breads)
Pumpkins, squash, & sweet potatoes are used for added flavor & texture in breads.
---
Roll Recipes
Croissants, crescent rolls, yeast rolls, cloverleaf rolls and even sticky buns.
---

Rye Bread Recipes
Rye breads are denser & darker, with better keeping quality than all-wheat breads.
---

Sandwich Breads
A variety of sandwich bread recipes, from basic white bread to hearty rye breads.
---

Shepherd's Bread
Shepherd's Bread is a simple loaf that can be baked in a clay baker, a cast iron Dutch oven, or even freeform on a baking stone.
---

Sourdough Breads
Sourdough gets its name from the acids that build up in the culture during fermentation.
---

Upcountry Carrot Bread
This home-style Upcountry Carrot Bread recipe makes good use of this popular root vegetable, caressing it with a touch of cinnamon, gentle sweetness and orange essence.
---

Whole Wheat Breads
Whole grain breads that incorporate a portion or all whole wheat flour.
---

Zucchini Yeast Bread
This is a savory zucchini bread with chopped green onions, red peppers and grated Romano cheese.
---

Resources for making yeast bread:
What is Your Favorite Yeast Bread Recipe?
Do you love to bake a special bread? Share your favorite recipe and we'll highlight it on the site for other home bakers to enjoy.
What Other Visitors Have Said
Click below to see contributions from other visitors to this page…
Sources:
Jamieson, Kay Franzen. "Bread." World Book Online Reference Center. 2008. Gwinnett Public Library. http://www.worldbookonline.com/wb/Article?id=ar075000