Home > Bread Recipes > Rye Breads
Rye originated in the region between Turkey and Afghanistan. It looks like an extra tall wheat plant, but it is from the genus Secale cereale.
It is a cool season crop and is hardier and easier to grow than wheat. It is similar to wheat nutritionally, but breads made with rye are denser and darker and have better keeping quality than breads made with all wheat.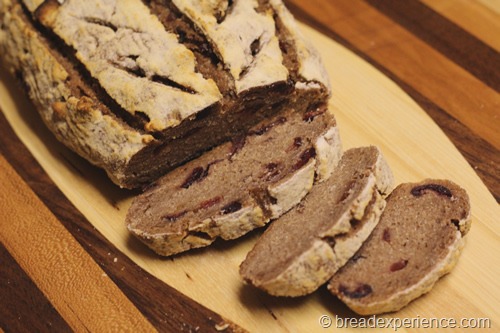 Rye can be used alone in a loaf or mixed with cornmeal, potato, white flour or whole wheat. Rye has a low gluten content so without the addition of wheat flour for body, rye makes a flat, crumbly, and coarse-grained loaf. Popular rye breads — such as Jewish rye, pumpernickel, Swedish rye, Russian rye — all contain some wheat flour.

Rye is high in B vitamins, especially niacin. It contains iron, zinc, and magnesium as well as vitamin E, rutin, antioxidants, and insoluble fiber. It has a bitter-strong, earthy flavor with a pleasant aftertaste.
Rye does particularly well if leavened with sourdough because it breaks down the enzymes that create a sticky dough.
Enjoy one of these rye bread recipes
---

Sourdough Rye Culture
Learn how to develop a sourdough rye culture from an existing white flour sourdough starter.
---

Making a Rye Levain  (sourdough)
Learn how to make a rye sourdough culture using only rye flour.
---

Banana Rye Loaves
This Banana Rye Bread recipe makes two round hearth loaves. Save one for yourself and give the other away.
---

Black Bread
This is an interesting bread made with sourdough and old bread soaked in boiling water and coffee grounds.
---

Classic Pumpernickel Bread
Molasses and a tiny bit of cocoa powder gives this bread its rich, dark color.
---

Country Pumpernickel Bread
This Pumpernickel Bread, like many European loaves, includes a bit of whole grain flour for texture and flavor.
---

Country Rye Bread
This rye bread recipe makes a beautiful country rye hearth loaf to serve with cheeses and cold cuts or warm with butter.
---

Five Grain Rye Sourdough
This Five Grain Sourdough Bread is made with a rye sourdough and a multigrain soaker which gives it a delicious whole-grain flavor.
---
Finnish Full Rye Bread
This is a beautiful bread from an original Finnish recipe. It is made with only rye flour.
---

German Sourdough Rye Bread
Sourdough Rye made with a blend of rye and wheat flours and utilizing a long fermentation process.
---

Honey & Beer Rye Bread (Bread Machine)
This bread is made with a rye starter that sits for a few days in the bread machine.
---

Hutzelbrot with Dried Fruit
Hutzelbrot is a dense, freestanding bread served in Germany usually during Christmastime. It contains dried fruit, but no sugar.
---

Kontinentbrot
A heavy rye bread loaded with lot's of seeds and flavor.
---

Light Rye Bread
This rye bread is made with a sourdough pre-ferment of medium rye flour, water and a mature sourdough starter.
---

Marbled Rye Loaves
These beautiful loaves are made with a combination of light and dark rye doughs.
---

Mustard Rye Sandwich Bread
This soft, moist rye sandwich bread has a hint of mustard, a hint of onion…
---

New York Deli Rye
This is a delicious rye bread recipe made with a rye sponge starter. The caraway seeds are optional.
---

Olde-Style Pumpernickel Bread
An old-style pumpernickel made with stale bread, rye berries, rye chops, rye meal and bread flour.
---

Old World Rye Bread Pumpernickel Bread (Bread Machine)
This Old World Rye Bread is delicious served with cheeses or soups or just serve warm with butter for a special treat.
---

Raisin-Pecan Rye Bread
The subtle, earthy flavor of rye, the nuttiness of the pecans, and the sweetness of raisins combine …
---

Raisin-Rosemary Rye Bread
The combination of rye flour, whole wheat flour, bread flour, and cornmeal give the bread a very good shape.
---

Russian Black Bread
Try this Russian Black Bread recipe for a beautiful and flavorful loaf of dark rye bread.
---

Rye and Corn bread (bread machine) Joao (Portugal)
This rye bread recipe is from a reader who adapted the recipe from a very old handmade recipe.
---

Rye Batter Bread
This Rye Batter Bread requires no kneading. Just mix the ingredients, then turn the batter into a loaf pan to rise and bake.
---

---

Rye Bread (Bread Machine)
A simple, relatively sweet rye bread recipe you can make in your bread machine or prepare in your mixer or food processor or by hand.
---

Rye Bread Bowl
This would make a great appetizer: a hearty loaf of pumpernickel bread hollowed out to become a bowl for the spread you eat it with.
---

Rye Bread with Beer (Jeff in New Bern, US)
Recipe for rye bread with beer from a reader in the U.S.
---

Rye Fennel Molasses Cranberry Bread
This Rye Fennel Molasses Cranberry Bread is not too sweet, with just a hint of fennel flavor.
---

Seeded Rye Loaf
This Seeded Rye Loaf has tangy undertones due to the rye levain. The seeds in the dough and on the crust provide a unique texture and flavor.
---

Sourdough Pumpernickel
This bread, made without the help of commercial yeast, is a great accompaniment to Borscht or any other hearty soup.
---

66 Percent Sourdough Rye Bread
As the name suggests, this Sourdough Rye Bread is made with 66 percent rye flour.
---

Sourdough Rye and Rice Bread
This is a wheatless bread made with a rye sourdough and rye and rice flours.
---
Sourdough Rye with Raisins and Walnuts
This Sourdough Rye with Raisins and Walnuts is very light in texture. The raisins and walnuts give it a wonderful flavor.
---

Sprouted Rye and Spelt Bread
A wholesome and tasty bread made with sprouted rye berries, rye flour and all-purpose spelt flour.
---

Swedish Rye Bread with Sprouted Wheat Flour
Swedish Rye Bread is flavored with honey, grated orange peel, anise seeds, and caraway seeds.
---

Whole Wheat and Rye Sourdough
The whole wheat flour enhances the flavor of this bread and when it's combined with the rye sourdough, provides good moisture retention as well as good keeping quality.
---
Tips for working with sticky rye breads
In the early stages of kneading the dough, use a dough scraper or blade, or the side of a metal spatula to work and knead the dough.
In the later stages of kneading, use sprinkles of rye or white flour between your hands and the dough and work surface.
If using a mixer, use sprinkles of flour with the dough hook to keep the dough from sticking to the sides of the bowl.
What is Your Favorite Rye Bread Recipe?
Do you love to bake a special Rye Bread? Share your favorite recipe and we'll highlight it on the site for other home bakers to enjoy.
What Other Visitors Have Said
Click below to see contributions from other visitors to this page…
Sources:
Clayton, Bernard. New Complete Book of Breads. 2003. Simon & Schuster.
Hensperger, Beth. The Pleasure of Whole Grain Breads. 2000. Chronicle Books.
Robertson, Carol; Flinders, Carol and Godfrey, Bronwen. The Laurel's Kitchen Bread Book: A Guide to Whole-Grain Breadmaking. 2003. Random House.