Home > Bread Recipes > KAMUT Breads
Khorasan is a beautiful grain. When ground into flour, it is buttery, smooth and creamy. I really enjoy baking with it. Just look at these big, beautiful grains! What's not to like about it?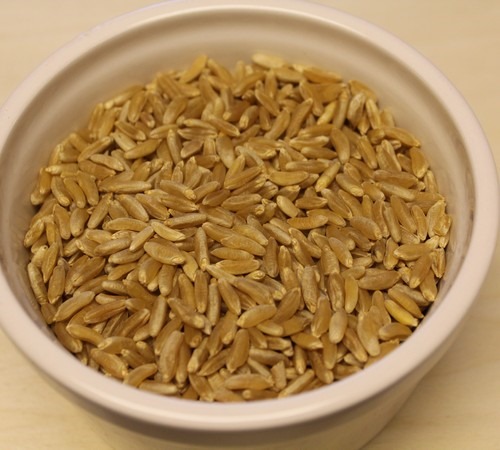 Is it called KAMUT or Khorasan Wheat?
Khorasan wheat is a heritage grain from the species Triticum turgidum ssp.turanicum. KAMUT® is the trademarked name. When you see this brandname used, you can be assured that the khorasan wheat meets the standards of KAMUT International.
Khorasan wheat is a tetraploid wheat with 24 chromosomes. Modern wheat is hexaploid with 42 chromosomes. Khorasan was originally cultivated as a land race – i.e a mixture of closely-related grains – which provided protection against disease and insects.
The KAMUT® brand khorasan wheat which is grown today also contains a diversity of grains and enjoys the same benefit as its ancestors.

Where did Khorasan Wheat come from?
Khorasan wheat has an interesting past. It is a direct descendant of emmer. Emmer wheat originated by the hybridization of two wild grasses (naturally) about 2000 years after einkorn. This hybridization added two new sets of chromosomes.
It is a giant wheat and was called "King Tut's Wheat" when it first arrived in America because of the story that it came from a tomb in Egypt. (It was actually einkorn that was found in the tombs.)
The story originated from an American airman who obtained the wheat in Egypt in 1949. Since this wheat is not originally from Egypt, the grains were probably purchased from a street vendor and then made their way to the airman who gave them to a fellow airman. The second airman sent the grains home to his family, and the rest is history, as they say.
Read more about the origins of khorasan wheat here.
How Does it Compare to Modern Bread Flour?
Khorasan wheat has better absorption properties than regular bread flour as well as good elasticity and extensibility. These are all great qualities for bread baking. As a general rule, you'll need to add more liquid to doughs made from this grain. It just soaks the liquid up like a thirsty man who needs a drink of water.
I've done a good bit of testing with all-purpose khorasan flour and it's a dream to work with. The dough just melts in your hands and submits to almost any shape you gently prod it into. The whole wheat flour is easy to work with as well and tastes wonderful.
I think of einkorn as the ancient forbearer full of wisdom and vitality, and KAMUT as the sexy kid on the block who displays strength and flexibility and commands attention. Once you start working with this grain, it's hard to stop.

What type of breads can be made with KAMUT?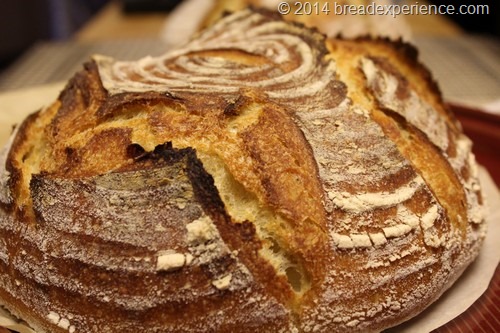 Here are some breads made with this flour. This is another one of those grains that I can't seem to get enough of so look for more breads in the future.
Ancient Grain Tartine – Made with Spelt, Einkorn & KAMUT
Bread with Sprouted Grain Flour – Made with sprouted wheat flour and whole grain and white KAMUT flour.
Cheddar Cheese Biscuits – The flavor and texture of these biscuits draws you in.
Fougasse – Made with bread flour, all-purpose flour and KAMUT.
French Toast – made from KAMUT, Oatmeal Date Bread
Mini Baguettes – Made with an overnight Pâte Fermentée and KAMUT flour.
Sourdough Bread for all seasons and flours – Sourdough bread made with 3 different types of flour.
Sourdough KAMUT & Rye Levain – Made with sourdough, heritage wheat and rye.
Pain au Levain – 75% Hydration Artisan Loaf made completely with heritage wheat.
Pain de Mie – Bread with a delicious, melt-in-your-mouth crumb that's great for toasting.
Pretzel Croissants – You'll smile when you make these delicious croissants.
Rgaïf – Moroccan Flatbread made with KAMUT.
Savory Sesame Bread Rings – Easy to make bread rings made with bread flour and whole grain flour.
Sourdough Crackers – Made with sourdough starter and KAMUT flour.
Sourdough Focaccia – Made with sourdough starter and heritage wheat.
Sprouted KAMUT bread with no flour – made completely with the sprouted berries and no flour.
Sprouted KAMUT bread – made with chopped, sprouted berries and bread flour.
Water-Proofed Bread – Sandwich loaves made with KAMUT white flour.
Sources:
www.kamut.com/en/origin.html
www.jovialfoods.com