Home > Bread Recipes > No Knead Breads
No knead breads are yeast-risen loaves that are not kneaded; the dough is placed in the refrigerator overnight to develop the gluten.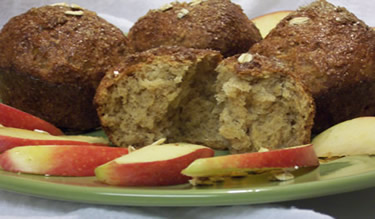 No-Knead Breads are a great alternative if you're not comfortable making kneaded breads or if you want a dough that can be prepared in advance and left in the refrigerator to ferment. No knead doughs ferment for a longer period of time to develop the gluten. This longer fermentation process allows you to do a lot of the work ahead of time. All you need to do on bake day (depending on the recipe) is to shape the dough, put it in the pan, let it rise, then bake it.

No Knead Bread Recipes
---

7-Grain Bread has a crusty outside and a chewy inside with a somewhat nutty flavor.Be sure to include this recipe if you plan to give the 7-Grain Bread Mix (below) as a gift.
---

7-Grain Bread Mix is a healthy, no knead bread mix, made with a mixture of seven seeds and grains, makes a perfect gift for experienced and aspiring bread-bakers alike. Be sure to give the 7-Grain Bread Recipe (above) with the mix.
---

Artisan Free-Form Loaf (Boule) – This no knead bread is shaped as a free form loaf. It is made from the Artisan Bread in Five Minutes master dough.
---

Baguettes: Artisan Bread in 5 Minutes – These baguettes are made from Artisan Bread in Five Minutes dough that has been fermenting in the refrigerator for the past week.
---

Batter Breads If you don't have time to prepare a kneaded bread, try a batter bread. It rises once, then bakes.
---

Blitz Bread – Focaccia is a warm, aromatic yeasted, no-knead bread.
---

Braided Holiday Pumpkin Wreath – This Holiday braided wreath is made with the Healthy Bread in Five Minutes Pumpkin Pie Brioche dough.
---

Brioche – Traditional – With this traditional brioche recipe, the dough is baked in a fluted pan and includes a topknot.
---

Brioche: Rich Man's Version – This Brioche recipe utilizes a 70 percent butter-to-flour ratio so it would definitely be considered a "rich man's brioche".
---

Buttermilk Dutch Oven Bread
An easy no knead yeast bread made in a lidded dutch oven.
---

Challah
This no knead Challah recipe has been reworked from a traditional challah recipe to reduce the time spent baking.
---

No Knead Ciabatta
This is a no knead version of Ciabatta. It doesn't require kneading, but it does require a little bit of shaping.
---

Cinnamon Pumpkin Crescent Rolls – These rolls are a healthier alternative to canned cinnamon rolls because they're made with 40% whole wheat flour.
---

Coconut Chocolate Bread – This No-Knead Coconut Chocolate Bread is similar to the coconut-chocolate combo in Mounds bars. It melts in your mouth!
---

Couronne: Artisan Bread in 5 Minutes
A couronne is a beautiful ring or crown-shaped loaf that is a specialty of Lyon.
---

Cranberry Pecan Bread
A delicious and beautiful yeast bread that would make a lovely gift.
---

Cranberry Harvest Bread
Easy no knead bread—an overnight or all-day rise gives it terrific flavor.
---

Crusty Yeasted Cornbread
This yeasted corn bread is made using the Kneadlessly Simple method.
---

Deep Dish Semolina Pizza
This is my version of a no knead deep dish pizza made with Artisan Bread in Five Minutes Italian Semolina Bread dough and topped with pepperoni.
---

Fruit-Filled Pinwheels (Whole Grain)
This dough, made with a large percentage of whole wheat flour, is very flavorful with the addition of dried cranberries and orange zest.
---

Four-Grain Pot Bread
This rustic, crisp-crusted pot bread is a no-knead bread that has a light color and a subtle, grain taste. It goes with most anything.
---

---

Grilled BBQ Pizza with Whole Wheat Olive Oil Crust
This grilled pizza is made with the HBinFive no knead whole wheat and olive oil dough.
---

A hearty yeast bread especially good for dipping in seasoned olive oil.
---

Herbed Cheese Pizza – This delicious herb pizza is made with the Artisan Bread in Five Minutes Olive OIl Pizza dough and topped with homemade pizza sauce.
---

Msemmen (Algerian Flatbread) – This Algerian Flatbread can be made with a variety of Healthy Bread in Five Minutes doughs.
---

No Knead Anadama Corn Bread – This bread used the list of ingredients (sort of) from Healthy Bread in Five Minutes and the soaker, sponge and dough methods from the Bread Baker's Apprentice method.
---

No Knead Holiday Spelt Loaves with Anise
The combination of flavors in this no knead bread are delightful; olive oil, anise, vanilla, and lemon. Your family and friends will enjoy this bread during the holidays or for any special occasion.
---

No Knead Pizza Dough
This pizza is made with No-Knead Pizza Dough using Jim Lahey's no knead method.
---

Pepperoni Pizza Bread
Enjoy the warm, moist, cheese- and pepperoni-scented bread with a bowl of pasta or a salad.
---

Pesto & Pine Nut Focaccia
Pesto and pine nuts make the perfect combination for this no knead Focaccia.
---

Pumpkin Pie Brioche
The Healthy Bread in Five Minutes' brioche dough can be used to make a regular loaf or a variety of delicious and festive breads.
---

Rosemary Flax Baguettes
This is not your typical baguette. The combination of grains — whole wheat flour, ground flax seed, wheat germ and all-purpose flour– gives it a very unique texture and flavor.
---

Italian Semolina Bread
In these free-form loaves, the semolina flour is paired perfectly with the sesame seeds to provide a wonderful aroma and flavor.
---

Sourdough Bread in Pot – This Easy No Knead Sourdough Bread in a Pot takes a couple of days to make from start-to-finish, but doesn't require much hands on time.
---

Spelt Bread
This no knead dough is very versatile. It can be made into a freeform loaf, a sandwich loaf or Pizza.
---

Spiced Cranberry Bundt-Style Coffeecake
This cranberry bread is made with an all-purpose enriched sweet dough. The dough is very versatile. It is slightly sweet and suitable for making coffeecakes, various enriched loaves, and dessert breads.
---

Whole Grain Challah w/Cranberries
(5-Strand) – Enjoy this Whole Grain Challah with Cranberries and Orange Zest.
---

Whole Grain Cinnamon Raisin Bagels These bagels are made with the Artisan Bread in Five Minutes master dough.
---

Whole Wheat Olive Oil Bread
No knead whole wheat and olive oil dough that can be used for bread and pizza.
---

100% Whole Wheat No-Knead Bread
This 100% Whole Wheat Bread isn't kneaded; instead, the soft dough is simply beaten in a bowl for several minutes, then scooped into a bread pan.