Home > Bread Recipes > Italian Breads
There are many different kinds of Italian breads. Italy was once made up of a number of independent states, and each developed its own favorite bread. The distinguishing characteristic of most Italian bread is not with the dough itself, but in the shaping, slashing and baking of the bread.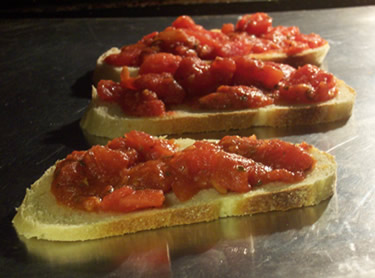 Tuscan Bread with Bruschetta

Try some Italian Bread recipes
Try one of these recipes or feel free to submit a recipe.
| | |
| --- | --- |
| | BatardsThis Italian Bread is made with a biga. A biga is the Italian version of a firm pre-ferment. This formula also incorporates diastatic malt powder to give the loaves a beautiful color. |
| | Biscotti Picanti (aka Sicilian Spicy Rusks)A twice-baked bread made with all-purpose and semolina flours and flavored with dry white wine, white sesame seeds, anise seed and olive oil. |
| | Chocolate Almond PanettoneThis easy and tasty Panettone recipe is a batter bread that requires no kneading and is baked in coffee cans. |
| | Ciabatta Ciabatta is an Italian bread made in the shape of a slipper. |
| | Ciabatta with Olive Oil & Wheat GermCiabatta dough is very wet and slack so you typically don't shape this bread, you just divide the dough and stretch out the pieces a little bit. |
| | CrostiniThis Crostini is made with Jim Lahey's No Knead Method and topped with homemade Roasted Red Pepper Spread. |
| | European-Style BreadThese batards (or Italian-style loaves), feature a crunchy crust and chewy interior marked by irregular holes and are a perfect accompaniment to any meal. |
| | Focaccia – Grilled HerbFocaccia can be flat, raised, round, oblong or freeform. Make it with plain dough or dough with added oil and herbs. |
| | Focaccia – Popped AmaranthPopped Amaranth enhances the flavor of this focaccia and gives it a lighter texture. |
| | Focaccia – Rosemary and Pine NutThe rosemary aroma is heavenly and the toasted pine nuts give this focaccia an exceptional flavor. |
| | Italian BreadThis Italian Bread is made with a biga. A biga is the Italian version of a firm pre-ferment. |
| | Italian Bread 101 (Bread Machine)You know that Italian bread you get at the supermarket? This Italian bread recipe will create that loaf… |
| | Italian Bread BowlsThese bread bowls are made using Italian Bread dough. |
| | Italian ChallahInstead of being shaped in the traditional freeform 3-strand braid, this challah is baked in a loaf pan. |
| | Italian Easter BraidsThis traditional Italian Easter Bread, shaped into small braids and formed into rings, makes a beautiful presentation. |
| | Italian Easter BreadThis bread is known as Colomba Pasquale, Easter dove bread, a native of Lombardy in the north, but available everywhere when Easter rolls around. |
| | Italian Herb Bread (Gluten-Free)This gluten free Italian Bread recipe is also milk-free. |
| | Italian Olive Oil Bread Pane Allo'Ollio (Bread Machine)The dough for this Italian Olive Oil Bread or PANE ALL'OLIO is made in the bread machine and then baked on a baking stone to create a crisp, golden crust with a chewy interior. |
| | Italian Panettone (Bread Machine)Italian Panettone is a traditional, rich Christmas bread originating in Milan. This bread machine version is from the book "Bread Machine Magic" (Lois Conway & Linda Rehberg). |

| | |
| --- | --- |
| | No Knead CiabattaThis is a no knead version of Ciabatta. It doesn't require kneading, but it does require a little bit of shaping. |
| | No Knead Italian Spelt BreadThis bread is adapted from one of the Healthy Bread in Five Minutes' breads: Il Bollo, an Italian Challah shaped like a ball. |
| | No Knead Pizza DoughThis pizza is made with No-Knead Pizza Dough using Jim Lahey's no knead method. |
| | Pain RustiquePain Rustique, as the name suggests, is a rustic loaf of bread. It is made with an overnight poolish and shaped free form in a fashion similar to Ciabatta. |
| | PanettoneThis bread is made with an enriched dough with butter and sugar and filled with dried and brandied candy and almonds. |
| | Pizza RecipesThere are numerous methods and techniques for making delicious pizza. We invite you try a few and decide which recipe and method you like the best. |
| | Potato Rosemary BreadIf you're looking for a good use for leftover mashed potatoes, this is about as good as it gets. |
| | PugliesePugliese is similar to ciabatta but Pugliese is usually baked in rounds rather than in the slipper shape of ciabatta. |
| | Rustic European Whole Wheat BreadThis bread is round shaped and slightly porous. It is a rather wet dough so it's best to form it by the sink so you can wet your hands frequently to keep the dough from sticking. |
| | Semolina BreadsSemolina provides a sweetness and almost winey aroma to breads. |
| | StollenThis version of Stollen can be made in a fairly reasonable amount of time, about 4 hours from start to finish due to the strong sponge that leavens the dough at a brisk pace. |
| | Stollen – ChristmasThis Stollen is a Healthy Bread in Five Christmas Stollen BBA-Style. |
| | Tuscan BreadThis Tuscan Bread is a saltless bread but it's not dull or flat tasting. It has a wonderful, slightly sweet flavor. |
| | Tuscan Bread (Pane Toscano)The legend goes that Italians created this bread without salt because of the high tariffs on salt generations ago. |
Source:
Ingram, Christine and Shapter, Jennie. Bread: The breads of the world and how to bake them at home. 2006 Hermes House.