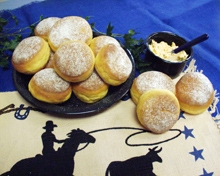 This Potato Biscuit Recipe is just like Grandma's Potato Biscuits. Try some and see what you think.
Potato Biscuit Recipe
Ingredients:
4-1 / 2 cups all-purpose flour
1 tablespoon sugar
1- 1 / 2 teaspoons salt
3 tablespoons shortening
1 / 4 cup warm water (100o to 110oF)
1 envelope Active Dry Yeast
3 / 4 cup warm milk (100o to 110oF)
1 cup potato, boiled and mashed
2 large eggs
Directions:
Makes: 24 biscuits
In a large bowl, combine 1 cup flour, sugar, and salt. With pastry blender, cut in shortening until mixture resembles coarse crumbs; set aside.
Place warm water in bowl. Sprinkle in yeast; stir until dissolved. Add yeast mixture, milk and mashed potato to flour mixture. Beat 2 minutes at medium speed of electric mixer, scraping bowl occasionally. Add eggs and 1 cup flour; beat 2 minutes at high speed. Stir in remaining flour to make a stiff batter. Cover tightly with plastic wrap; refrigerate 2 hours.
Remove dough from refrigerator; roll on lightly floured surface to 1 / 2-inch thickness. Cut with 2-1 / 2-inch biscuit cutter; place on lightly greased baking sheet. Cover; let rise in warm, draft-free place until doubled in size, about 1 hour.
Bake at 400°F for 15 minutes or until golden. Remove from sheet; serve warm.
Nutritional Information:
Per Serving:
Serving size: 1 biscuit
Serving weight: 1.8 ounces (50 grams) Calories 120; Total fat 2.5 g; Saturated fat 0.5 g;
Cholesterol 20 mg; Sodium 180 mg; Carbohydrates 21 g; Dietary fiber less than 1 g; Sugars 1 g;
Protein 4 g
Used with permission: © 2009 ACH Foods. All Rights Reserved.

Hello, I'm Cathy, the face behind the Bread Experience. I'm a project manager by profession. My job can be very stressful at times and I've found that baking bread is a wonderful stress reliever.

I especially enjoy baking bread on the weekends and allowing the dough to slow ferment to bring out the flavor and nutritional properties of the bread.

Over the years, I've become enamored with grains.So you'll find me experimenting using different types of heritage and ancients grains.Sometimes it works; sometimes it doesn't, but it's all part of the experience.I invite you to join me on this bread-baking journey.