When making artisan loaves, using a proofing basket helps support the dough and prevent it from spreading out during the final rise.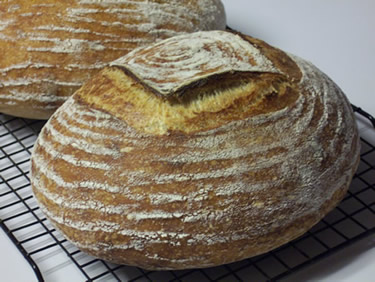 Types of baskets used for proofing
Bread proofing baskets, also known as bannetons or brotforms, can be made out of plastic, cane or wicker. A natural wood or rattan basket is a coiled cane basket that supports the dough and imprints a beautiful spiral pattern on the crust giving it a rustic appeal. You can also make your own basket to proof dough by using a bowl and a kitchen towel.
Some baskets include a non-removable liner to make it easy to release the loaf before baking and some baskets include a removable liner which gives you the option of making a plain loaf or one that has the imprint from the coils.
Using a Brotform
Before using your cane basket for the first time, wipe it out with a clean cloth and spray the inside lightly with baking oil. Dust it with flour and then gently tap the back of the basket to remove the excess flour.
For daily (or normal) use,generously coat the inside of the basket with a mixture of rice flour and wheat flour. This keeps the dough from sticking to the basket. Then place the dough seamside up in the basket to rise.
After the dough has finished rising, remove the dough from the basket to a baking sheet or baking stone for baking. Do not put the brotform in the oven. It is not to be used for baking.
To clean the basket, after each use, shake and brush out the excess flour. You may rinse it lightly, but remember to hand dry it with a towel right away after rinsing. Let your Brotform air dry thoroughly before storing the basket.
Do not store your baskets in plastic, they need to be able to breathe. Take time to brush the baskets and let them dry completely before storing. This will keep the baskets in good shape and prevent a grey mold from developing on the basket.
Try a proofing basket
We offer a variety of different types and sizes of proofing baskets. Some include liners, and some are made of cane or plastic. Click on the image below to view our selection of baskets in the Baking Store.