Home > Roll Recipes > Pumpkin Rolls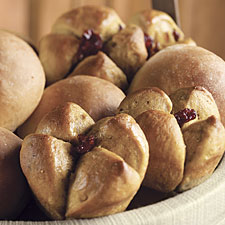 Try this Cranberry Pumpkin Roll recipe. These deep-gold rolls will look lovely in your Holiday breadbasket.
Pumpkin Rolls
Makes: 16 rolls
Ingredients:
4 3/4 cups (20 ounces) Unbleached All-Purpose Flour
1 teaspoon ground cinnamon
1/2 teaspoon ground ginger
1/4 teaspoon ground cloves (optional)
1/4 cup (1 3/4 ounces) firmly packed brown sugar, light or dark
1 1/2 teaspoons salt
1 tablespoon instant yeast
1 cup (8 ounces) canned pumpkin or squash
2 large eggs
1/4 cup (2 ounces) water
1/4 cup (2 ounces) soft butter
3/4 cup (4 1/2 ounces) dried cranberries or golden raisins
1/4 cup (1 1/2 ounces) diced crystallized ginger
Directions:
Mix and knead all of the dough ingredients except the fruit and crystallized ginger—by hand, mixer, or bread machine—until you've made a soft, fairly smooth dough. Right at the end, knead in the fruit and crystallized ginger; save out 16 cranberries, to use as a garnish. Place the dough in a lightly greased bowl, cover the bowl, and allow the dough to rise for 1 1/2 hours, until it's almost double in bulk.
Turn the dough out onto a lightly greased surface, gently deflate it, and divide it into 16 pieces. Roll each piece into a ball. Place rolls onto a greased or parchment-lined baking sheet. Set aside, covered lightly, to rise for 1 hour, or until the rolls look puffy.
Use a pair of scissors to gently snip an "X" into the top of each roll; be careful, as you don't want to totally deflate the rolls (they'll inevitably settle a bit as you snip). Set a dried cranberry into each opening. Bake the rolls in a preheated 375°F oven for 20 to 25 minutes, until they're lightly browned and a cake tester inserted in the center of one comes out clean. Remove them from the oven, set them on a rack, and brush with melted butter, if desired.
Used with permission: ©2008 The King Arthur Flour Company, Inc. All Rights Reserved.

Hello, I'm Cathy, the face behind the Bread Experience. I'm a project manager by profession. My job can be very stressful at times and I've found that baking bread is a wonderful stress reliever.

I especially enjoy baking bread on the weekends and allowing the dough to slow ferment to bring out the flavor and nutritional properties of the bread.

Over the years, I've become enamored with grains.So you'll find me experimenting using different types of heritage and ancients grains.Sometimes it works; sometimes it doesn't, but it's all part of the experience.I invite you to join me on this bread-baking journey.