These fluffy baking powder biscuits just might be some of the best biscuits you'll ever make!.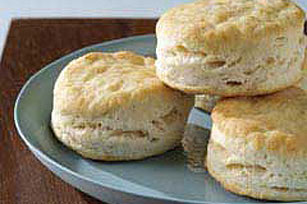 Baking Powder Biscuits
Ingredients:
1-3/4 cups flour
1 Tbsp. CALUMET Baking Powder
1/2 tsp. salt
1/3 cup margarine
3/4 cup milk
Directions:
Prep Time: 20 minutes
Total Time: 30 minutes
Makes: 16 biscuits or 8 servings, 2 biscuits each
PREHEAT oven to 450°F.
Mix flour, baking powder and salt in large bowl. Cut in margarine until mixture resembles coarse crumbs. Add milk; stir with fork until soft dough forms.
PLACE on lightly floured surface; knead 20 times or until smooth. Pat or roll lightly until dough is 1/2-inch thick. Cut with floured 2-inch cookie cutter to make 16 biscuits, rerolling dough scraps as necessary. Place on ungreased baking sheet.
BAKE 10 minutes or until golden brown.
Great Substitute
Substitute shortening or butter for the margarine.
Larger Biscuits
If using a 3-inch cookie cutter, you will be able to cut out 8 biscuits. Bake as directed. Makes 8 servings, 1 biscuit each.
Crustier Biscuits
For a crustier biscuit, roll dough 1/4-inch-thickness; cut with 2-1/4-inch cutter. Continue as directed, increasing baking time to 12 minutes. Makes about 8 servings, 3 biscuits each.
Nutrition Information:
Calories: 180
Total fat: 8 g
Saturated fat: 1.5 g
Cholesterol: 0 mg
Sodium: 420 mg
Carbohydrate: 22 g
Dietary fiber: 1 g
Sugars: 2 g
Protein: 4 g
Vitamin A: 8 %DV
Vitamin C: 0 %DV
Calcium: 15 %DV
Iron: 8 %DV
Used with permission of Kraft Foods. Visit www.kraftfoods.com for more recipes.
I'm Cathy, the face behind the site.I work in the corporate world as a project manager and as you can imagine, my job can be very stressful at times. Baking bread is a wonderful stress reliever. I especially enjoy baking bread on the weekends and allowing the dough to slow ferment to bring out the flavor and nutritional properties of the bread.
Latest posts by Cathy Warner (see all)