Home > Festive Breads > Harvest Wheat Sheaf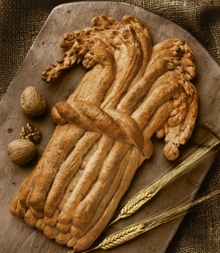 Here is a recipe for a Harvest Wheat Sheaf. This harvest bread is made using the sponge method.
Harvest Wheat Sheaf
Dough
1 cup warm water (100° to 110°F)
1 envelope Active Dry Yeast
1- 1 / 2 to 2 cups all-purpose flour
1 / 4 cup warm milk (100° to 110° F)
1 / 4 cup butter or margarine, softened
1 / 4 cup sugar
1 teaspoon salt
1 cup whole wheat flour
1 / 4 cup finely chopped walnuts
Egg Glaze
1 egg white
1 tablespoon water
Directions:
Makes 1 Sheaf
Place water in a large bowl. Sprinkle in yeast; stir until dissolved. Add 1 cup all-purpose flour; stir until smooth. Cover; let rise in warm, draft-free place until light and spongy, about 1 hour.
Stir sponge down. Add milk, butter, sugar, salt, and whole wheat flour. Beat 2 minutes at medium speed of electric mixer, scraping bowl occasionally. Stir in nuts and enough remaining all-purpose flour to make a soft dough. Knead on lightly floured surface until smooth and elastic, about 8 to 10 minutes. Place in greased bowl, turning to grease top. Cover; let rise in warm, draft-free place until doubled in size, about 45 minutes.
Punch dough down; turn out on to lightly floured surface. Divide dough into 20 equal pieces. Roll 8 pieces to 16-inch ropes. Place one of the ropes at the center of a greased baking sheet, bending the top of the rope to the left to resemble heads of wheat. Place a second rope on sheet touching the first one but bending the top off to the right. Repeat with other 6 ropes.
Roll 10 pieces to 13-inch ropes; arrange 6 of them in the same manner as the first 8 ropes, but lay them on top of the first layer. Arrange remaining 4 ropes on top of the second layer. Roll remaining 2 pieces to 6-inch ropes; twist ropes together. Lay twisted rope across middle of sheaf; tuck ends under.
Cover; let rise in warm, draft-free place until doubled in size, about 30 to 45 minutes. With scissors, snip bent portion of stalks diagonally to make details in wheat head.
Beat egg white and water together; brush on sheaf. Bake at 350° F for 25 to 30 minutes or until done. Remove from sheet; cool on wire rack.
Nutritional Information:
Serving size:
1 slice (1 / 12 of recipe)
Serving weight: 2.3 ounces (65.5 grams)
Calories 170; Total fat 6 g; Saturated fat 2.5;
Cholesterol 10 mg; Sodium 240 mg; Carbohydrates 26 g;
Dietary fiber 2 g; Sugars 5 g; Protein 4 g
Source: Photo and recipe courtesy of © 2008 ACH Foods. All Rights Reserved.

Hello, I'm Cathy, the face behind the Bread Experience. I'm a project manager by profession. My job can be very stressful at times and I've found that baking bread is a wonderful stress reliever.

I especially enjoy baking bread on the weekends and allowing the dough to slow ferment to bring out the flavor and nutritional properties of the bread.

Over the years, I've become enamored with grains.So you'll find me experimenting using different types of heritage and ancients grains.Sometimes it works; sometimes it doesn't, but it's all part of the experience.I invite you to join me on this bread-baking journey.