I decided to make something festive to celebrate Spring and Easter. I've been wanting to make Carrot Marmalade for several months but just hadn't gotten around to it. I almost made it for the February Tigress CanJam, but I ran out of time and decided to make pickled carrots instead.
I got inspired to make marmalade again when we made Carrot Bread for the HBinFive April 1st Bread Braid. I had a bunch of carrots just begging to be made into something and this seemed like the perfect way to use some of them.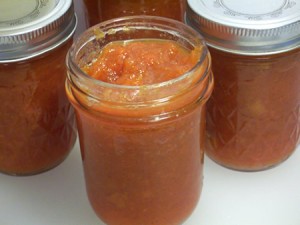 Carrot Marmalade
This recipe makes six half-pints so I'll have enough to give some away for Easter and keep some for myself.
The recipe is from The Joy of Jams, Jellies, and Other Sweet Preserves
The author likes this marmalade with chicken or pork so she added a teaspoon of salt. I plan to eat it on bread so I reduced the salt and added some cinnamon and vanilla for a delicious flavor.
Ingredients:
2 pounds carrots, cut into 1/4-inch rounds
1 large lemon
1 large orange
3 tablespoons lemon juice
4 cups sugar
1 teaspoon salt
1 teaspoon of cinnamon
Drop of vanilla
Directions:
Steam the carrots until they are tender, about 10 minutes.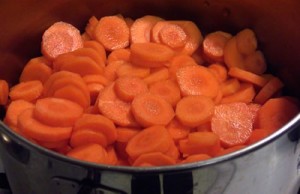 Squeeze the juice from the lemon and orange. Discard the seeds and membranes and reserve the juice and rinds.
Coarsely grind the lemon and orange rinds and the carrots in a food grinder, or mince them with a knife.
Combine the ground rinds and carrots in a preserving pan with the reserved juice, the additional lemon juice, the sugar, and the salt, cinnamon and vanilla.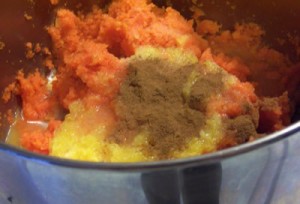 Heat the mixture over low heat, stirring, until the sugar dissolves.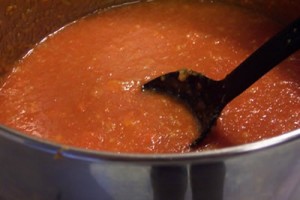 Raise the heat and simmer the mixture for 20 to 30 minutes.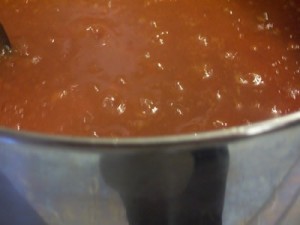 Cook until the syrup no longer separates from the pulp.
Pack the marmalade into pint or half-pint mason jars. Add lids and rings, and process the jars for 15 minutes in a boiling water bath.
If you live in a higher altitude or need more detailed instructions on water-bath canning, please refer to the instructions at the National Center for Home Preservation.
Let the jars rest on the counter overnight or until the marmalade sets. This part took a couple of days, but it finally did set.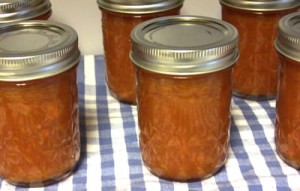 Then, open a jar and taste it. I did. It was delicious! Sweet with a fragrant spice flavor. I ate it plain but it also tastes good with bread. 😉
Be sure to give some away. I'm keeping this one for myself, but I'll give the rest to my family when we get together for Easter. This tastes so good, I want to share!
Thanks for visiting the bread-baking blog. Please come back soon!
Happy Canning and Baking!
Cathy
Some of the references I use in my canning adventures. You might enjoy them as well:

Hello, I'm Cathy, the face behind the Bread Experience. I'm a project manager by profession. My job can be very stressful at times and I've found that baking bread is a wonderful stress reliever.

I especially enjoy baking bread on the weekends and allowing the dough to slow ferment to bring out the flavor and nutritional properties of the bread.

Over the years, I've become enamored with grains.So you'll find me experimenting using different types of heritage and ancients grains.Sometimes it works; sometimes it doesn't, but it's all part of the experience.I invite you to join me on this bread-baking journey.