by Rod
(Dallas, TX)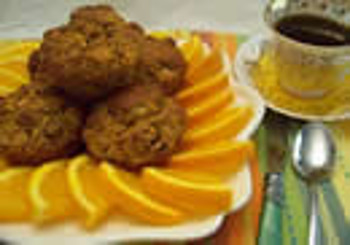 Scottish Oatmeal (fine ground oatmeal) is a good choice for muffins which are complemented with moist ingredients. The temptation to lick the batter spoon is a good hint that this is a tasty (and chunky) muffin recipe. Serve with slices of fresh orange to enrich the presentation.
Orange Pumpkin Muffins
Ingredients:
1 2/3 cups Bob's Scottish Oatmeal
3/4 cup unbleached flour
1 tsp pumpkin pie spice
1/2 tsp cinnamon
2 tsp baking powder
1/2 tsp baking soda
3/4 cup canned pumpkin
1/3 cup dark brown sugar, packed
1/3 cup OJ concentrate, thawed
1/2 cup soy milk or skim milk
1 lg egg, beaten
1 lg egg white, beaten
2 tbsp vegetable oil
1/4 tsp salt
1 1/2 cups diced light red apples
3/4 cup chopped walnuts
2/3 cup dark raisins, soaked
1 tsp orange peel granules, optional
Cooking oil spray
Directions:
Soak raisins in very hot water. Pre-heat oven to 375 degrees.
Spray muffin pans with cooking oil spray (or coat with vegetable oil).
In a large bowl, combine oatmeal, flour, pumpkin pie spice, cinnamon, baking powder and baking soda. Mix well, then make a well in center of mixture.
In a medium bowl, combine pumpkin, brown sugar, orange juice concentrate and milk. Stir well, then whisk in beaten eggs, vegetable oil and salt.
Add pumpkin mixture to dry ingredients, stir to combine, then fold in diced apples, chopped walnuts, drained raisins and orange peel granules.
Fill muffin cups and bake at 375 degrees for 30-35 minutes. Allow muffin pans to cool 5 min., then remove muffins and serve warm.
Makes 12 medium muffins.

Hello, I'm Cathy, the face behind the Bread Experience. I'm a project manager by profession. My job can be very stressful at times and I've found that baking bread is a wonderful stress reliever.

I especially enjoy baking bread on the weekends and allowing the dough to slow ferment to bring out the flavor and nutritional properties of the bread.

Over the years, I've become enamored with grains.So you'll find me experimenting using different types of heritage and ancients grains.Sometimes it works; sometimes it doesn't, but it's all part of the experience.I invite you to join me on this bread-baking journey.