This is it! The final Bread Braid for the HBinFive Bakers. We've spent the past two years baking bread together, making new friends, and sharing our triumphs and mishaps while we mastered the breads in the Healthy Bread in Five Minutes book. To celebrate our two years together, I'm dedicating this post to Michelle of BigBlackDogs and the rest of the HBinFive Bakers.
For the final bread braid, I had planned to make the Sweet Potato & Spelt Bread and the Pain au Potiron: Peppery Pumpkin and Olive Oil Loaf, but I ran out of time. I had a sweet potato and some freshly-milled spelt flour so I decided to combine the two formulas and make a Peppery Sweet Potato and Olive Oil Loaf with Spelt.
HBinFive Bakers, this one is for you…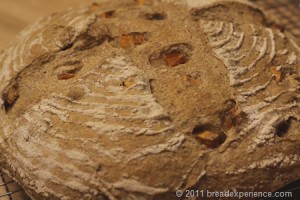 One of the things I really enjoy about the Healthy Bread in Five Minutes method is that the formulas are really flexible. You can use whole-wheat flour or substitute white whole-wheat or use a greater percentage of all-purpose to whole-wheat depending on your preference or your family's tastes. Or, in the case of this Pain au Potiron – Peppery Pumpkin (or Sweet Potato) and Olive Oil Loaf with Spelt, you can substitute spelt for the whole wheat flour, combine the recipes, change the ratios, and still make a delicious loaf.
Another thing I really like about the HBin5 method is how easy it is to fit making healthy breads into your daily schedule. With this method, you just mix up the dough, let it ferment a couple of hours, then refrigerate it and use a portion of the dough each time you want to bake bread. The dough will last in the refrigerator anywhere from 5 to 10 days or so depending on the formula. Once you mix up the dough, all you have to do is take the amount of dough you need out of the refrigerator, shape it, let it rise, then bake it. How easy is that?
Even though this is the end of the HBinFive adventure, I'm sure I'll be making some of the Healthy Bread in Five Minutes' breads again.
For now, I leave you with…
Pain au Potiron: Peppery Pumpkin (or Sweet Potato) and Olive Oil Loaf with Spelt
Makes: 2 medium loaves (about 1.5 pounds each) or 1 large (2 pound) loaf
Adapted from Healthy Bread in Five Minutes by Jeff Hertzberg and Zoe Francois
Ingredients:
2 cups Spelt
2 cups all-purpose flour
3/4 tablespoon instant yeast
1/2 tablespoon kosher salt
2 tablespoons vital wheat gluten
1 cup peeled, 1/4-inch-dice raw pie pumpkin, squash or sweet potato (I used a large sweet potato)
Fresh ground black pepper
1 3/4 cups lukewarm water
1/8 cup olive oil
Directions:
Mix together the flours, yeast, salt, and vital wheat gluten in a large bowl using a whisk or a wooden spoon.
Generously season the pumpkin, squash, or sweet potato with the pepper; then combine the liquid ingredients with the dry ingredients using a wooden spoon or Danish Dough Whisk.

Cover the bowl and allow the dough to rest at room temperature until it rises and collapses, about 2 hours. Refrigerate the dough for at least 24 hours and up to 5 days.
On bake day, remove the dough from the refrigerator, dust it lightly with flour and shape it into a ball. Let the ball rest for about 5 minutes before further shaping. The dough was really wet and I was having a little trouble shaping it, so I placed it seam-side up in a banneton basket to proof. I used my larger size basket that can hold 2 pounds of dough.

Allow the dough to rest (proof), loosely covered with plastic wrap in the basket for 90 minutes or so. It won't double in size but it should rise noticeably.

About 30 minutes before you're ready to bake the loaf, preheat the oven to 450 degrees F, with a baking stone on the middle rack and a steam pan underneath.
Gently invert the loaf onto parchment paper that has been sprinkled with cornmeal. Just before baking, use a pastry brush to paint the top crust with water. Then score the loaf with the pattern of your choice using a serrated knife or a lame. I used a lame to score an X in this loaf.

Transfer the loaf (on the parchment paper) to the hot baking stone using a bakers peel or the back of a baking sheet. Pour 1 cup of hot water into the steam pan and quickly close the oven door.
Bake the loaf for about 30 to 40 minutes, until richly browned and firm. About two-thirds through the baking cycle, remove the parchment paper so that the loaf will be crisp (not soggy) on the bottom.
Allow the loaf to cool completely on a wire rack before slicing and serving.

This bread has been YeastSpotted. Please visit Wild Yeast to view all of the lovely breads in the roundup.

Slice and enjoy!

This was a huge loaf so I cut it in thirds and gave some to my mom and my sister. I've been enjoying the rest of the loaf with homemade soup.


Thank you Michelle of BigBlackDogs for hosting the HBinFive Baking Group for the past two years. And, thanks also to all of the HBinFive Bakers. I learned a lot from this wonderful and creative group of bakers. I hope to bake with you guys again.

Happy Baking!

Cathy

Hello, I'm Cathy, the face behind the Bread Experience. I'm a project manager by profession. My job can be very stressful at times and I've found that baking bread is a wonderful stress reliever.

I especially enjoy baking bread on the weekends and allowing the dough to slow ferment to bring out the flavor and nutritional properties of the bread.

Over the years, I've become enamored with grains.So you'll find me experimenting using different types of heritage and ancients grains.Sometimes it works; sometimes it doesn't, but it's all part of the experience.I invite you to join me on this bread-baking journey.