Home > Making Sourdough Bread > Creating a Sourdough Starter
Bread starters provide additional flavor and texture to breads, particularly sourdough and European breads. These starters, also known
as "wild yeast", are used instead of commercial yeast in sourdough breads.

It's fun to try different methods and techniques for creating your own sour dough starter. The starter in the photo below was created using "hazy" apples picked right off the tree in an apple orchard. It smelled like apple cider while it was fermenting and made for a very interesting experiment.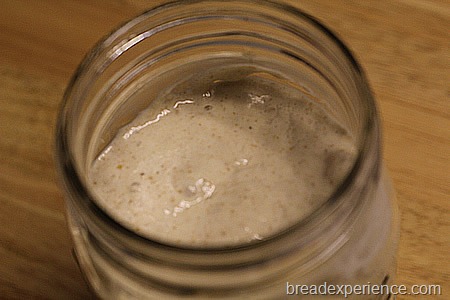 Create your own sourdough starter:
Tips for using Sour Dough Starters
What container should I use for the starter?
Use a container at least three times bigger than the volume of the starter ingredients. This will allow the starter to grow. Cover the starter with a lid or plastic wrap while it's working.
What types of flour can be used for starters?
Use organic flour and spring water because chemical additives inhibit the growth of starters.
How do I know if my starter is working?
A lively starter should be light tan in color, bubbly, and have a sweet/sour aroma and taste.
Check the starter a few times a day. It should be bubbly and light within a few hours.

How fast will the starter grow?
This depends on how warm the mixture is, how warm the room is, how much yeast has been introduced, and how much airborne mold the mixture
picks up. It could be hours or it could be days.
How do you store a starter?
After you've made the starter and waited several hours or days for it to become bubbly and ready to use or store, you can place it in a large glass jar, cover, and refrigerate.
How often should I feed the starter?
Starters should be fed equal parts flour and water (unless the recipe specifies otherwise), about a half a cup each, every three to five days. Wait about 2 hours after you've fed a starter before using or refrigerating.
How do I know if my starter has gone bad?
Discard any starter that has a spoiled smell or a pinkish tinged liquid on top.
Sources:
Eckhardt, Linda West and Butts, Diana Collingwood. Rustic European Bread from Your Bread Machine. 1995 Doubleday a division of Bantam Doubleday Dell Publishing Group, Inc.
Leader, Daniel. Local Breads. 2007 W. W. Norton & Company, Inc.
Reinhart, Peter. The Bread Baker's Apprentice. 2001 Ten Speed Press.