The bread of the month for the Bread Baking Babes is Fouace Nantaise, a soft, brioche-type bread with a splash of rum and a hint of orange.
Created in the 19th Century by winegrowers in La Haie-Fouassière (a town near Nantes, France), this delightful bread is formed in the shape of a six-pointed star and is featured every year during the annual grape harvest festival.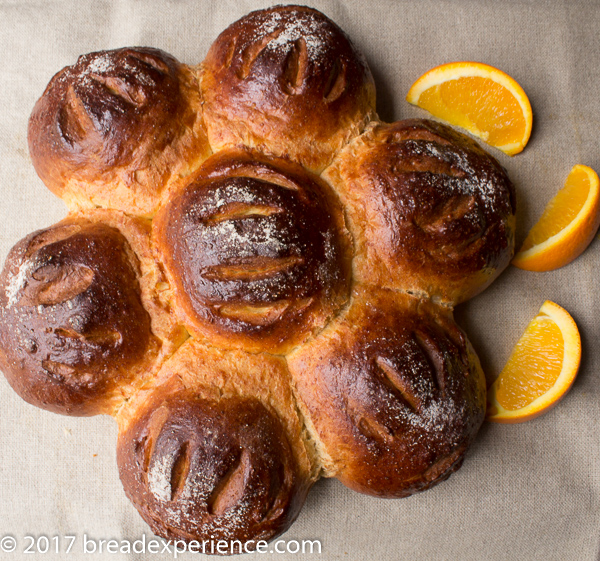 Elizabeth, the host kitchen this month, had the honor of testing this orange-flavored brioche for Jamie of Life's a Feast's upcoming Orange cookbook.  Look for the cookbook on the shelves next September.
Jamie, an alumni Bread Baking Babe, graciously allowed us to make this loaf and even baked along with us this month.  The bread didn't make the final cut for her book, but that doesn't make it any less awesome.
I used a mashup of Elizabeth's adapted version and Jamie's original version and plugged in the ingredients I had on hand.
I would say my version is more like an orange blossom than a star, but I'm okay with that.  I really like the orange-tinted color of the crust.
Before I baked the loaf, I thought it looked rather plain so I added different scoring patterns on the points (petals) to give it some more character.  I'm not sure that it needed any extra character, but it does makes for an interesting looking bread.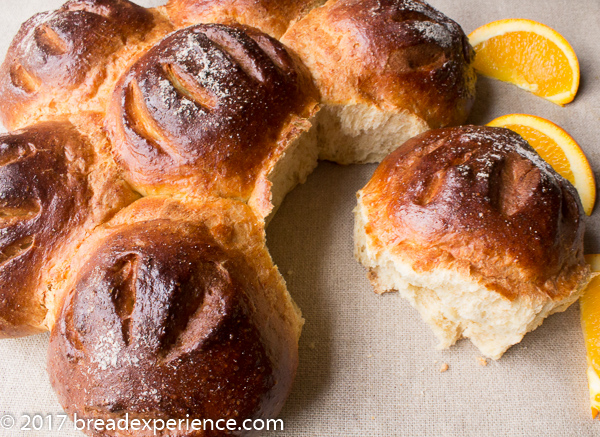 One of the unique ingredients in this bread is orange blossom water.  Unfortunately, I couldn't find any.  I'm sure there must be a place (or two) that carries it in the Metro Area, but the two stores I checked didn't have any so I went with orange extract instead. I did have a bit of rum so I included that instead of orange liqueur.
Elizabeth also included some wheat germ in her version along with some all-purpose and whole grain flour. I used all purpose spelt flour and home-milled whole grain spelt, which already includes the bran and germ, so I didn't need to add any additional wheat germ.
FOUACE NANTAISE with Spelt
adapted from Fouace Nantaise by Jamie of Life's a Feast
450 grams all-purpose spelt flour, divided, plus more for kneading *
125 grams whole grain spelt (I used home-milled)
1 3/4 teaspoons instant dry yeast
1/2 cup (115 ml) milk, warmed to body temperature
1/2 teaspoon fine sea salt
1/4 cup (50 g) sugar
7 tablespoons (100 grams) unsalted butter, softened to room temperature
1 small juice or wine glass of rum, about 3 ounces (90 ml)  (I only had 10 grams left in the bottle so that's what I used)
1 tablespoon (11 grams) orange extract
4 eggs, lightly beaten
1 additional egg for egg wash, lightly beaten
* Spelt typically absorbs less water and since I didn't adjust the hydration, I increased the amount of flour used from 500 to 575.
In a large bowl, whisk together the dry ingredients (375 grams all-purpose spelt, 125 grams whole grain spelt, yeast, salt, sugar).
In a separate bowl, stir together the warm milk, eggs, extract and rum.  Add the wet ingredients to the dry ingredients and mix with a Danish dough whisk or wooden spoon until the mixture is well blended.
Let the mixture rest for 15 minutes, then thoroughly incorporate the softened butter into the dough using your fingers.
The dough will be very sticky.
Remove the dough to a floured work surface. Knead the dough, adding enough extra flour until the dough is no longer sticky and is soft, smooth, and homogenous.
Shape the dough into a ball and place it back in the bowl. Cover with a kitchen towel and let it proof for 1 hour at a warm room temperature.
Carefully divide the dough into 7 equal parts. My dough weighed 2 1/2 pounds/1052 grams so each piece was around 150 grams. Form into balls and place one in the center of a parchment-lined baking/cookie tray. Place the other balls of dough closely around the outside of the center ball to form a star shape. Don't worry if there are gaps between the balls of dough.
Cover lightly with a piece of plastic wrap then a clean kitchen towel and allow to rise until doubled in size, 30-45 minutes.
Preheat the oven to 350°F (180°C).
Brush the dough with the beaten egg and bake for 25-30 minutes.The fouace will have risen and be a deep golden brown. The "branches" of the star will have just started to pull away from the center ball of brioche.
Note: the original recipe said to bake the loaf for 40 minutes.  I took mine out of the oven after 30 minutes. I think that was still a bit too long so just be sure to watch your loaf.






This brioche is best eaten on the day it is made but will last for another day or two and would make fabulous French Toast.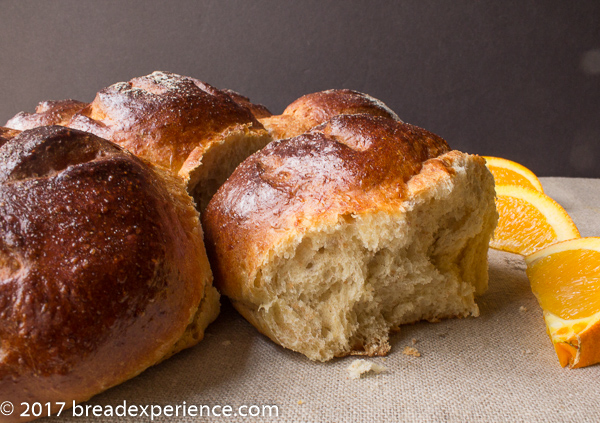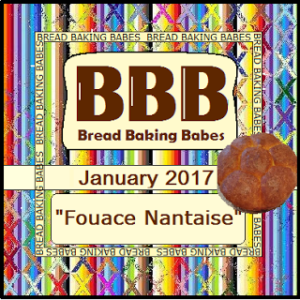 Would you like to bake Fouace Nantaise?
Visit Elizabeth's Blog from OUR Kitchen to learn how you can be a Bread Baking Buddy this month and make the Fouace Nantaise before the end of January.
And please visit all of the Bread Baking Babes and check out their versions of this month's recipe:
Blog from OUR Kitchen – Elizabeth
A Messy Kitchen – Kelly
Bake My Day – Karen
Bread Experience – Cathy
Feeding My Enthusiasms – Elle
Judy's Gross Eats – Judy
Karen's Kitchen Stories – Karen
Life's a Feast – Jamie
My Kitchen in Half Cups – Tanna
Notitie Van Lien – Lien
Thyme for Cooking – Katie
Happy Baking!
Cathy

Thank you for following my blog and joining me in my bread baking exploits. I appreciate your comments. You can also find me on Twitter: @breadexperience, Pinterest: breadexperience, Facebook: breadexperience