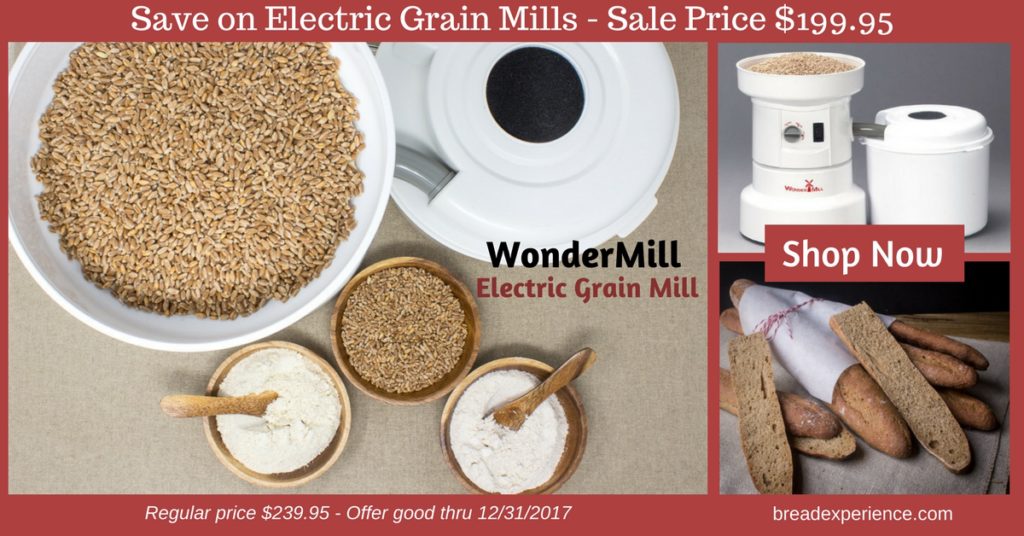 Bread Experience is pleased to offer the WonderMill line of bread mill products. We've been using the WonderMill for a several years and have been very satisfied with the way it performs.
The WonderMill is the World's Cleanest, Quietest, Easy To Use Mill. Imagine your favorite recipes made with the great taste of 100% whole grain goodness and all the nutrition from every grain.
Read more about the WonderMill Electric and Wonder Mill Hand-Cranked Wheat Grinders below.
Click the image below to find out more or to order a grain mill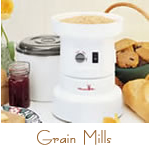 What types of grains can be milled?
The WonderMill electric mill is fast and can grind a variety of items, excluding oily grains, nuts and seeds.
The Wonder Junior hand mill can grind a wide variety of things that even some of the most expensive hand grain mills cannot, including oily grains, nuts and seeds.
To learn more about the types of grains these mills can grind, and to see actual demonstrations, visit www.willitgrind.com.
WonderMill Electric Grain Mill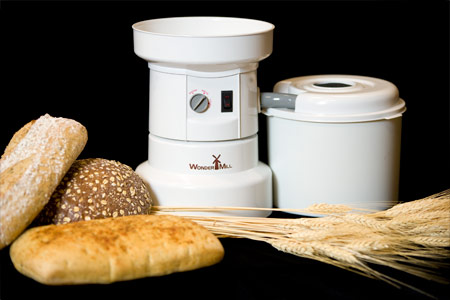 The WonderMill Grain Mill can grind over 100 pounds of flour in an hour. You don't have to worry about overloading the WonderMill because of it's large 1 3/4 hp motor. The WonderMill will not only grind wheat, rice and other small grains, but will also grind legumes and garbanzo beans.
We use the eletric mill on a consistent basis to grind a variety of grains, such as hard red winter and spring wheats, Spelt, Einkorn, Emmer, Kamut, Amaranth, sorghum, as well as dried rice and beans.
The WonderMill Electric Flour Mill is extremely easy to use. Simply fill the hopper and out comes flour. There are no small parts or gaskets to misplace, and the self cleaning WonderMill is quick, easy, and virtually dust-free. There is no need for additional attachments to bag your flour simply put a plastic bag in the canister and grind – easy, clean and at no additional cost to you!
Using the WonderMill Electric Grain Mill
Watch this video demonstration for an introduction to using the WonderMill Electric Wheat Grinder.
Wonder Junior (Basic/Deluxe)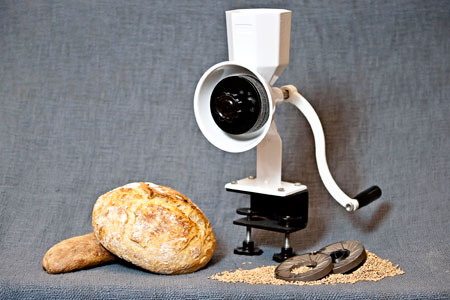 The Wonder Juniorgrain mill is the highest quality most versatile hand mill available. You can create super fine flour or coarse cracked grains for cereals.
You can also make delicious peanut butter or other nut butters, you can grind flax or any other oily or wet grains, you can grind herbs and spices, soy beans, and legumes. And you can even grind fresh coffee.
The Wonder Junior Basic model includes Stone Burrs and can be easily bolted to a surface.
The Basic Model does not include clamp and stainless steel burr heads.
The Wonder Junior Deluxe hand flour mill has a strong and secure table clamp that blows its competition away, and it now comes with a flour guide and cleaning brush to keep grinding mess to a minimum. This makes cleanup a breeze. This NEW flour guide effectively guides the flour to fall into you container, instead of all over your table.
Wonder Jr. Deluxe Mode lincludes the Clamp and Stainless Steel Burr Heads.
Using the Wonder Jr. Deluxe Hand Grinder
Watch this video to learn how to use the Wonder Jr. Deluxe.
Ordering a Grain Mill
We like this bread mill so much, we decided to become an authorized dealer. What does this mean for you? It means you get the best price.
Click on the image below to order a grain mill and start milling your own flour.