This 100% Whole Grain Sourdough Spelt Oatmeal Bread, made with a "wild yeast' starter and whole grain spelt, is based on my family's favorite oatmeal bread recipe.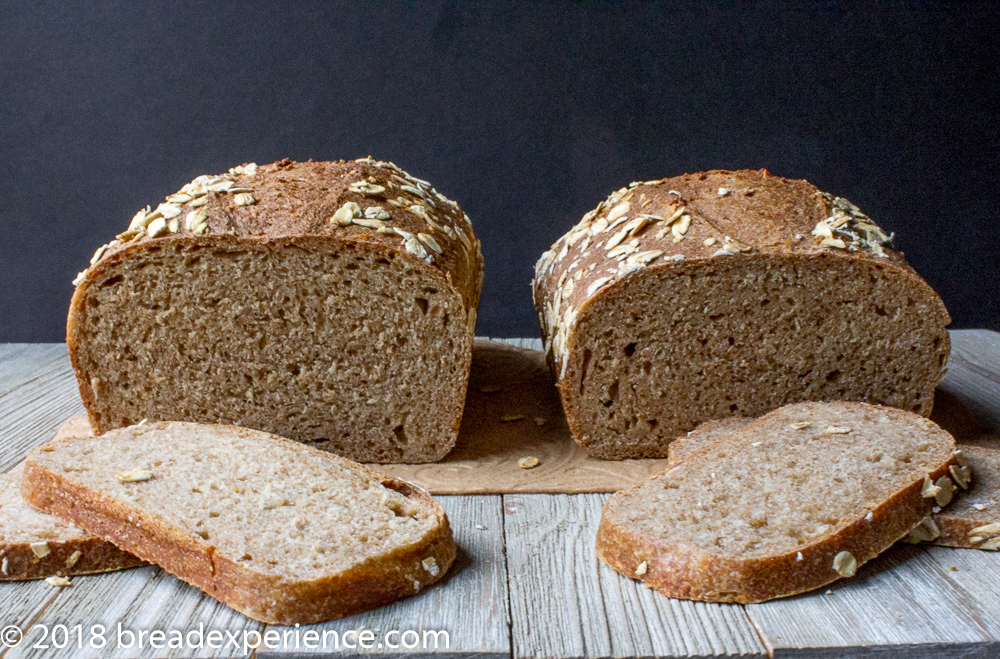 I created this bread for National Oatmeal Month which was in January. I baked the loaves in January, but didn't have time to post about them until later. However, this bread is good anytime whether it's National Oatmeal Month or not so don't let that stop you.
The original recipe is made with all white flour and baked in a bread machine. My sons still love the original oatmeal bread, but I like to mix things up. So each year or so, I make a new version of this bread using a different technique or grain.
Last year, I converted this loaf to sourdough.  This year, I decided to make a sourdough version using all whole wheat flour. My whole wheat flour of choice for this test was spelt.
For the first couple of loaves, I used spelt grains that Brian with Belle Valley Ancient Grains graciously sent me for testing.  For the other two loaves, I used spelt grains from my storage supply of grains.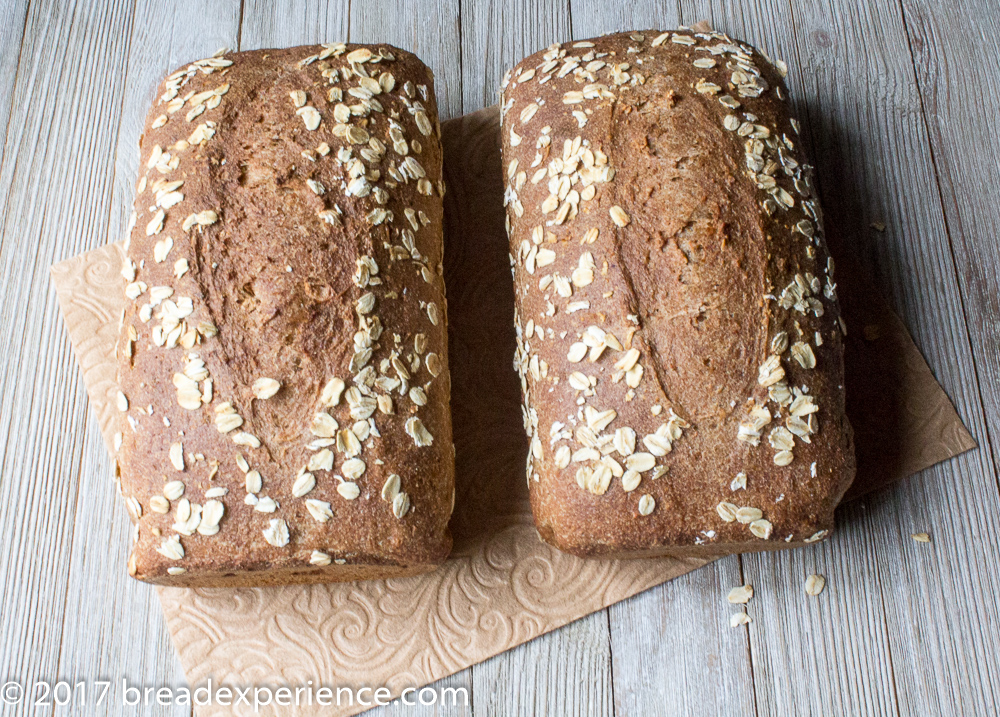 I conducted experiments over the course of several weekends and made two loaves each time using flour milled in my WonderMill Electric Grain Mill for one loaf and flour milled in my MockMill 100 for the other loaf keeping all of the other variables the same.
I'm continuing to work with flour ground in both of these grain mills so I will post about my results in a separate post. However, one thing I will mention is that depending on the coarseness/texture of whole grain flour you use, you may need to add more hydration.
The first batch of loaves turned out to be the best of the three experiments I've completed so far. However, the issue with the other two wasn't because of the grains. It was cold in my kitchen, and I had to adjust to working with the dough in a cold and dry environment.  This is something we don't experience very often in the South.  I'm used to working in a humid environment.  As a result of the colder weather, my proofer and I have become friends again, and I've been adding more hydration to loaves.

100% Whole Grain Sourdough Spelt Oatmeal Bread
This 100% Sourdough Whole Grain Spelt Oatmeal Bread, made with a "wild yeast' starter and whole grain spelt, is based on my family's favorite oatmeal bread recipe.
Recipe type:
Bean Sandwich Loaf
Ingredients
Per Loaf:
120 grams sourdough starter, active and fed
300 grams water + 50 - 100 grams additional, if necessary
60 grams honey
40 grams / 2 T milk, scalded, then cooled
40 / 3 T grams butter, melted
480 grams whole wheat spelt
75 grams rolled oats
8-9 grams sea salt
Instructions
First Day:
Feed your starter the day (or evening) before you plan to make this bread.
Second Day:
The next afternoon or evening, place 120 grams of the fed starter in a large bowl.
In a glass measuring cup, heat the milk to boiling, then add the butter, water and honey to cool it. Stir to fully incorporate.
In a separate bowl, whisk together the flour, oats, and salt.
Pour the cooled milk mixture over the starter and stir to break it apart using a wooden spoon or Danish dough whisk. Blend until the starter is completely incorporated into the wet milk mixture.
Add the flour mixture to the wet ingredients and mix thoroughly.
Cover the bowl and let the dough rest for 30 minutes.
After 30 minutes, adjust the hydration if necessary by adding 50 -100 grams additional water. Using wet hands, squish the dough and make imprints in it using your fingertips to allow the water soak in. Mix thoroughly until all of the water is incorporated into the dough.
Cover the bowl with plastic wrap or a kitchen towel. Let the dough proof in the bowl for 3 hours at room temperature.
Fold the dough at 30 min, 1 hour, and 2 hour intervals.
After the final fold, cover the bowl tightly with plastic wrap and place it in the refrigerator overnight.
Third Day:
Remove the bowl from the refrigerator and allow the dough to warm up to room temperature for 2-3 hours, depending on the temperature in your kitchen. It took 3 hours at 65 degrees F. for my dough to warm up to room temp.
Shape the dough into a loaf and place in a 9x5-inch loaf pan.
Proof the loaf for 1-2 hours, depending on temperature in your kitchen. Since my house was cold, I put the loaf pan in a proofer at 70 degrees F. It still wasn't warming up so I turned the proofer up to 75 degrees F. The dough never reached the top of the pan but it was finally fully proofed when I gently pressed on it. It took several hours.
Preheat the oven to 375 degrees F.
Place the loaf in the oven and immediately turn down to 350 degrees F.
Bake the loaf at 350 degrees F. for 40 - 50 minutes.
Remove the loaf to a wire rack to cool completely before slicing.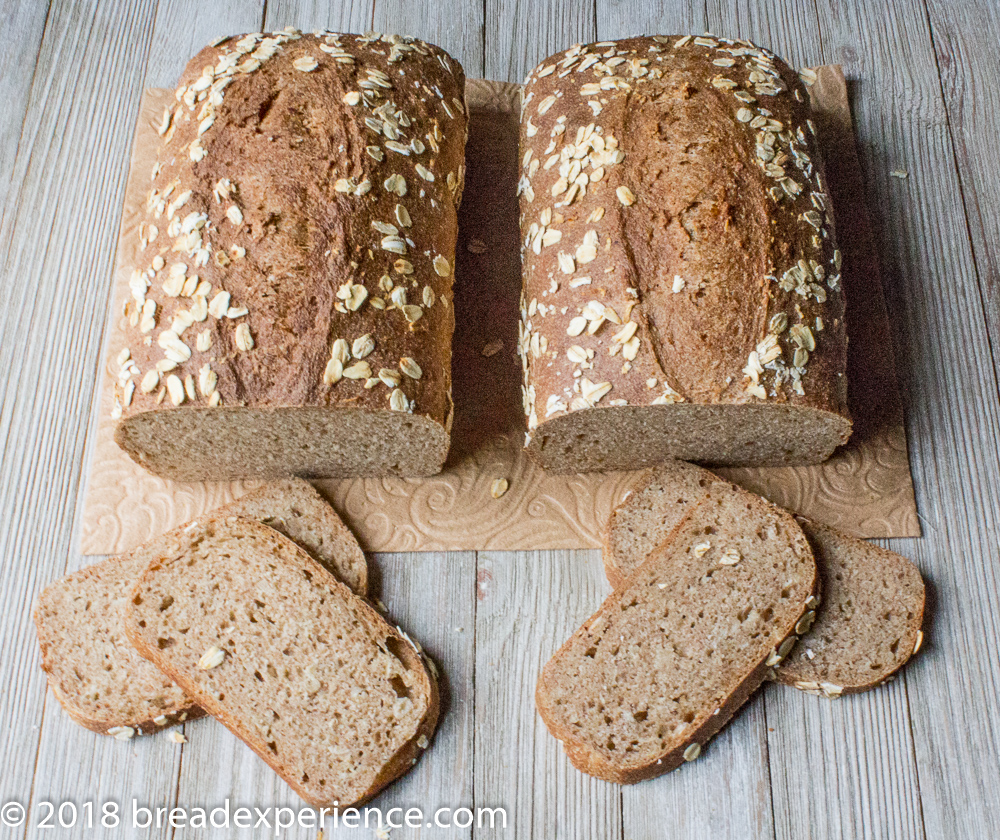 If you like oatmeal bread, you might also like:
Einkorn Bread Machine Oatmeal Bread
Happy Baking!
Cathy
Note: I want to thank Brian of Belle Valley Ancient Grains for providing some spelt grains for this experiment.

Thank you for following my blog and joining me in my bread baking exploits. I appreciate your comments. You can also find me on Twitter: @breadexperience, Pinterest: breadexperience, Facebook: breadexperience