For this month's Food in Jars' mastery challenge, we had the choice of making jelly or a shrub.  I've made jelly before so I decided to try my hand at making a shrub.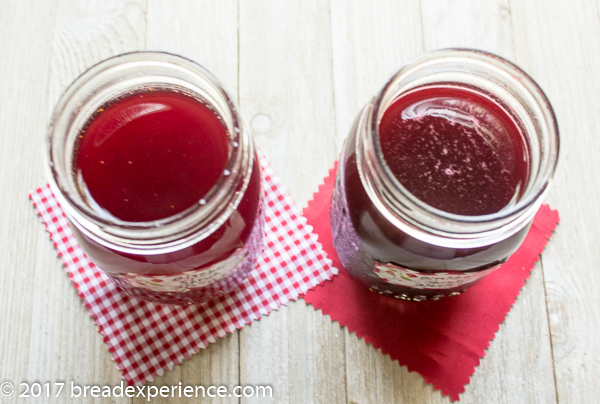 What is a shrub? 
That's a good question and one I had to ask myself. The shrubs I'm familiar with are bushy, have leaves and are growing in my front lawn. The only shrub that is edible in my yard is the rosemary bush.
I did a bit of research and found that there is another, drinkable type of shrub.  According to Wikipedia, the term shrub is a variant of the word shurb which is derived from the Arabic word sharāb meaning "to drink."
A type of  shrub beverage was popular in England in the 17th and 18th century but fell out of fashion by the late 1800s.  A vinegary-syrup type of shrub was also popular in Colonial America around the same time.
The vinegary-syrup shrub made a comeback a few years ago in restaurants and bars as an enrichment to cocktails. However, they can also be added as a flavor enhancer to still or sparkling water and salad dressings.  I enjoy berry-flavored vinaigrette so this is the reason I was most interested in learning how to make shrubs.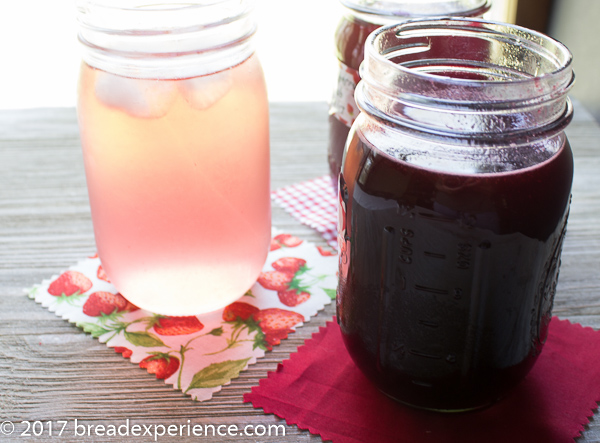 How to make a shrub:
Shrubs are easy to make and keep a long time.  The basic process for making a shrub involves equal parts fruit, sugar and vinegar.  You can use berries and other fruit and enhance them with herbs, lemon zest, grated ginger and lemon juice.
In my research, I found methods for making shrubs which require heating and those which don't. As you can imagine, there are different schools of thought as to which method should be used. I had read that the flavor is fresher when not heated so I went with that method.
Because this was my first time making a shrub, I opted for simplicity.  I made a basic version using only berries, sugar and vinegar and no herbs or lemon zest.   I used the non-heated method which involves macerating the berries in the sugar and vinegar and letting them rest in the refrigerator for a day or two.
I couldn't decide whether to make a blueberry or blackberry shrub so I made both.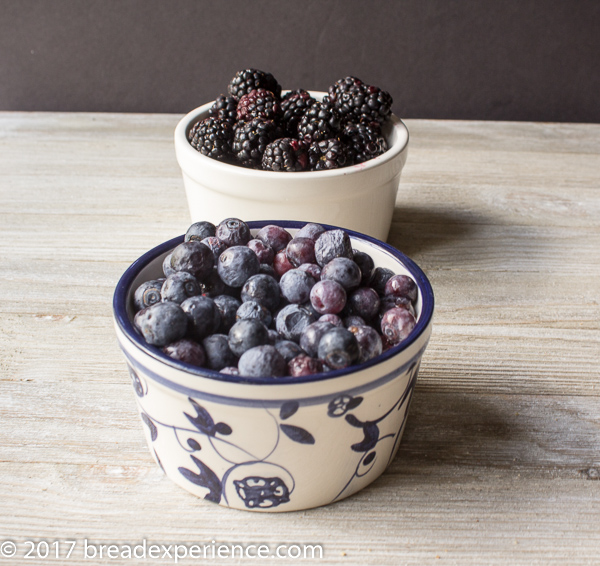 Making a Berry Shrub Syrup
Makes 2 cups

Ingredients:
8 ounces washed berries (blueberries, blackberries, or raspberries)
8 ounces sugar (more or less, if desired)
8 ounces cider vinegar
Equipment needed:

Pint and quart-sized canning jars or other glass container with a lid or cap
Measuring cups
Potato masher or muddler
Scale (I weighed my ingredients)
Funnels
Strainers or cheese cloth
Glass bowl
Method:
Place the berries in a glass bowl or quart-size canning jar and cover with sugar.  Muddle (smash) the berries until they are a pulpy mess. Since I don't have a muddler, I used a potato masher.  
If you used a bowl for the first step (as I did), transfer the berry/sugar mixture to a quart-size canning jar.
Pour the apple cider vinegar over the fruit mixture. Stir together, cover and let the mixture rest overnight in the refrigerator.
In a day or two, when there are no signs of bits of granulated sugar, remove the jar from the fridge and stir the mixture to make sure that all the sugar has dissolved into the fruit juice.
Set a fine mesh sieve (or cheesecloth) over a bowl and pour the macerating fruit and syrup through.
Use a silicone spatula and really work the seeds around in the sieve so that you get all the liquid into the bowl.  I ran it through two different size sieves in order to remove as much of the seeds as possible.
Pour the liquid into a lidded jar or in a clean canning jar. I ended up with 2 cups of liquid that fit nicely in pint-size canning jars. 
Seal the jar with the lid and place in the refrigerator.






Once the shrub is finished, it will keep in the refrigerator for about 3-4 weeks. Some ideas for use are to pour it into sparkling water, drizzle it on fruit, use it on top of ice cream, or make a vinaigrette out of it.
I enjoyed some blackberry shrub-infused water for a change of pace, but I'm looking forward to using these shrubs in some vinaigrette as well.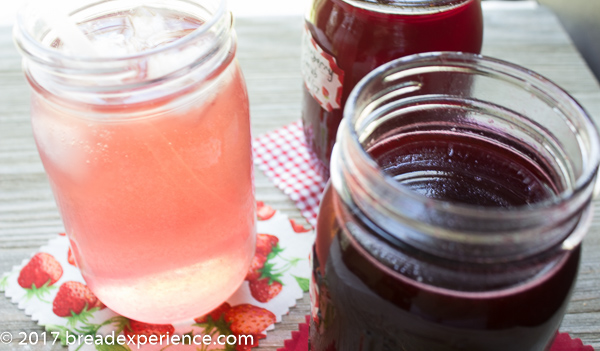 Now that I've made a basic version, I'm envisioning lots of different variations of shrubs.
After reading several of Marissa of Food in Jars' posts on making shrubs, I like her idea of adding lemon juice and lemon zest to temper the vinegar flavor.  I definitely plan to make these again with some fresh herbs and lemon once my herb garden starts producing again.
Happy Canning!
Cathy

Thank you for following my blog and joining me in my bread baking exploits. I appreciate your comments. You can also find me on Twitter: @breadexperience, Pinterest: breadexperience, Facebook: breadexperience