Home > Bread Recipes > Oatmeal Bread Recipes
Oats are sweet, earthy-flavored grains. They are low in fat and cholesterol free. They are also easily digestible and provide a great source of protein.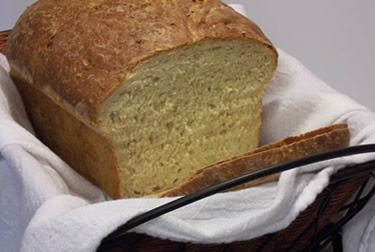 Using oats or oatmeal in breads
Oats have almost no gluten so flour made from oats needs to be mixed with white or whole wheat flour for yeast breads. The more oats you use, the denser and more crumbly your bread will be.

Make Your Own Oat Flour
Oat flour is ground from the endosperm. Make your own oat flour by processing 1 1/4 cups rolled oats in a food processor until finely textured. This will yield 1 cup. The flour will be a little coarser than commercial oat flour but will still work in bread recipes.
Try one of these Oatmeal Bread Recipes
Enjoy some of these recipes or feel free to submit your Oatmeal Bread Recipes.
Caraway Oat Bran Bread – Combining caraway seeds and oat bran may seem unusual, but this recipe (from Rod in Dallas), creates a very pleasing rye bread substitute.
Cinnamon Raisin Bread with Oatmeal and Sprouted Wheat – Oatmeal with cinnamon and raisins is delicious in and of itself… add the combination to bread and throw in some sprouted wheat flour and you've got yourself a pretty awesome treat.
Cranberry Oatmeal Pumpkin Bread – This cranberry and pumpkin bread is made with the Oatmeal Pumpkin Bread dough.
French Toast with KAMUT, Oatmeal Date Bread – This KAMUT, Oatmeal and Date Bread makes delicious French Toast.
Einkorn Oatmeal Bread – This bread can be made completely in the bread machine or use the dough setting to prepare the dough, then bake it in a conventional oven.
Honey Graham Oatmeal Bread – This Honey Graham Oatmeal Bread is a delicious and homey bread made with white bread flour, graham flour and old-fashioned oats.
Maple Oatmeal Bread – This Maple Oatmeal loaf is very fluffy and has a delicious and light sweetness due to the maple syrup.
3,2,1 Oat Bran Bread – This 3-to-1 basic oat bran bread recipe (from Rod in Dallas) minimizes the difficulty in working with a larger quantity of oat bran, which can easily become too dense to knead.
Oat Bran Cocobana Bread – This yeast bread recipe (from Rod in Dallas) was inspired by Mexican sweet breads (noticeable yet mild flavor and gentle sweetness) but offers the familiar texture and nutrition of oat bran with subtle coconut chewiness and mild banana flavor.
Oat Bran and Flax Bread – This recipe, submitted by Rod in Dallas, is an updated version of a popular Oat Bran Health Bread which was described on one site as "nutty, but not heavy like some multigrain bread" – this description still applies!
Old Fashioned Oatmeal Bread Recipe – This is a very simple and delicious oatmeal bread recipe that you can make in your bread machine. It is one of the first breads I ever made in the bread machine and it's still one of our favorites.
Oatmeal Breakfast Bread
– This is a delicious bread for breakfast or a mid-morning snack. The cinnamon and maple syrup give it a unique flavor and the nuts and raisins add crunchiness and texture.
Oatmeal Pumpkin Bread –
This delicious Oatmeal Pumpkin Bread is made using the Artisan Bread in Five Minutes method.
Seeded Oat Bread – I had some oat flour that I wanted to experiment with so I adapted the Seeded Oat Bread recipe from Healthy Bread in Five Minutes to include rolled oats as well as oat flour.
Whole Wheat Oatmeal Waffles – The combination of oatmeal and whole wheat makes these waffles very nutritious. They taste especially good topped with fresh berries and a drizzle of maple syrup.

Do you have a favorite Oatmeal Bread Recipe?
Do you love to bake a special bread? Share your favorite recipe and we'll highlight it on the site for other home bakers to enjoy.
What Other Visitors Have Said
Click below to see contributions from other visitors to this page…