These No Knead Sourdough English Muffins include kefir milk and whole grain emmer flour for added flavor and benefit from an overnight cold-ferment in the refrigerator.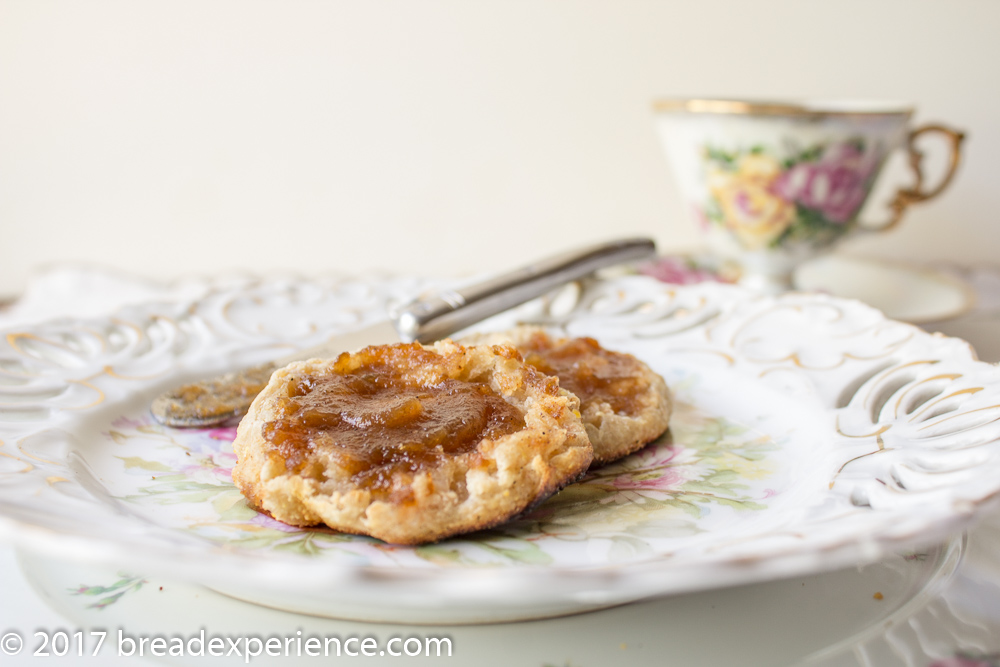 They are actually very easy to make.  Most of the time is spent on the bulk ferment on the counter or the cold ferment in the refrigerator.  The hands on time is only about 20 – 30 minutes to prepare the dough and the time spent griddling the muffins.
The original recipe calls for a 4-5 hour bulk ferment on the counter and a cold ferment for 12 -42 hours.  Since I used sourdough instead of yeast, I let the dough bulk ferment for about 6 hours before shaping the muffins.  Then I placed them in the refrigerator and let them cold-ferment for about 18 hours.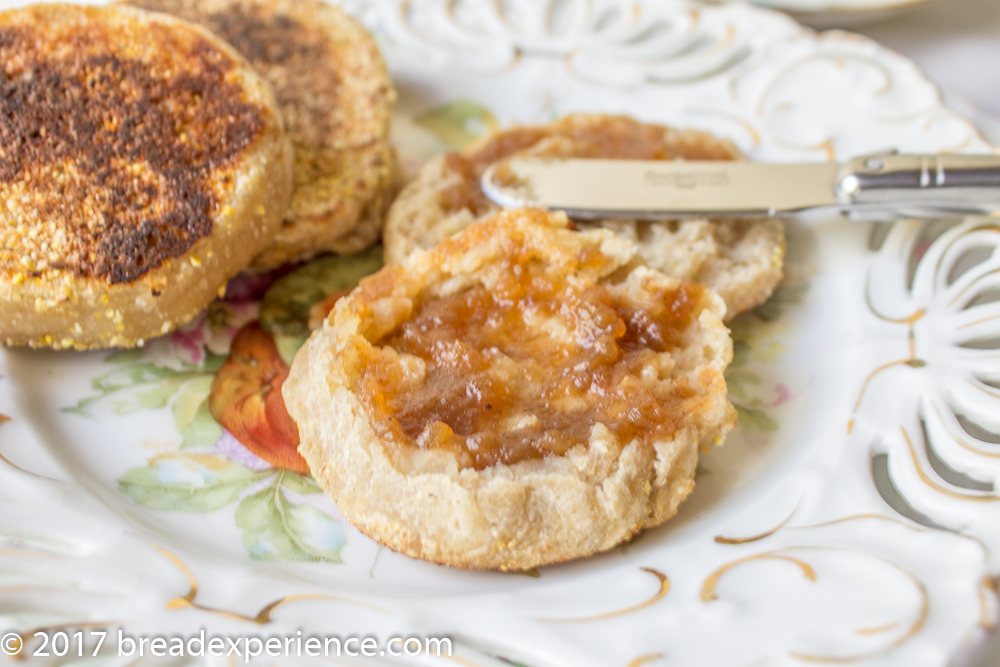 The trickiest part of this whole process was finding the right temperature so I didn't burn them.  The first time I made these muffins, I used my griddle.  I followed the directions and added butter to the griddle.  That didn't work so well.  The butter on the griddle smoked up the whole kitchen and came close to setting off my smoke alarm.  Opening doors and windows prevented a noisy experience.
My griddle was too hot (as well as smoky) so the muffins got burned on the bottom before they cooked all the way through.  And this was even after letting them rest in the cornmeal all night.  I think I need a new griddle.
I decided to go for round two.
For the second batch, I opted to use my cast iron skillet instead of the griddle.  I liked the cast iron skillet method a lot.  I found that cooking the muffins in batches of two at a time worked the best.  That way, I was able to flip the muffins without them sticking together.
These sourdough English muffins seem to get better with age. They have a nice chew and taste really good toasted and spread with  homemade Crockpot apple butter.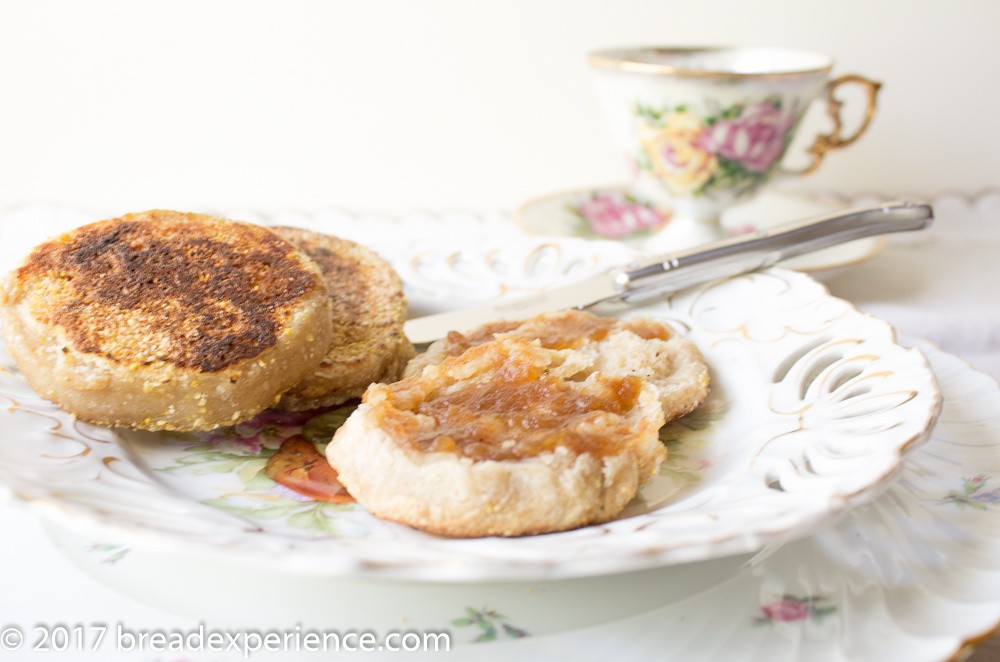 Notes from the host kitchen:
Something to remember about this recipe is that it takes some time. The dough sits for 4-5 hours before you scoop it onto the cornmeal lined baking sheet(s). Then there is a resting period in the fridge of 12-42 hours.
Since you don't weigh the dough as you are portioning it, it takes some doing to have them all the same size. Doesn't matter in the end…the large and smaller are all great.
Plan to use a good bit of cornmeal. The cornmeal is important because it softens a bit while the muffins are in the fridge and provides a sort of insulation to keep the bottom from burning while the muffins are on the griddle.
Except if your griddle is too high, they might still burn even with the cornmeal.  
Special Equipment: Flexible spatula, rimmed baking sheet, griddle (electric or cast iron) or 12-inch cast iron skillet, square-end spatula, wire rack
No Knead Sourdough English Muffins
These no knead Sourdough English Muffins include kefir milk and whole wheat emmer for added flavor and utilize an overnight cold-ferment.
Recipe type:
English Muffins
Ingredients
275 grams (~2 cups) all-purpose flour
125 grams (~1 cup) whole grain emmer flour or whole wheat (makes a more tender interior)
9 grams kosher salt (for table salt, use the same weight or half as much by volume)
25 grams (~2 T) sourdough starter (active, fed)
340 grams (1½ cups) cold kefir milk or regular milk (helps create nooks and crannies)
30 grams honey
1 large egg white, cold
Cornmeal for dusting - don't skip this
Roughly 1 ounce bacon fat, unsalted butter, non-dairy margarine, or oil (2 tablespoons; 30g), for griddling
Instructions
Make the Dough and Let Rise:
In a large bowl, mix bread flour, whole grain emmer (or whole wheat) flour, and kosher salt together until well combined. Add kefir milk, sourdough starter, honey, and egg white, stirring with a wooden spoon or flexible spatula until smooth, about 5 minutes.
Cover with plastic and set aside until spongy, light, and more than doubled, 4-6 hours at 70°F. (The timing can be flexible depending on your schedule.)
For the Second Rise:
Thickly cover a rimmed aluminum baking sheet with an even layer of cornmeal. With a large spoon, dollop out twelve 2⅔-ounce (75g) portions of dough; it's perfectly fine to do this by eye. If you'd like, pinch the irregular blobs here and there to tidy their shape.
Sprinkle with additional cornmeal, cover with plastic, and refrigerate at least 12 and up to 42 hours.
Instead of forming blogs with a spoon, I shaped the very sticky dough into balls using wet fingers, and placed them on a cornmeal-dusted rimmed baking sheet. I ended up with 11 muffins.
To Griddle and Serve:
Preheat an electric griddle to 325°F or warm a 12-inch cast iron skillet or griddle over medium-low heat. When sizzling-hot, add half the butter and melt; griddle muffins until their bottoms are golden brown, about 8 minutes. Flip with a square-end spatula and griddle as before.
Transfer to a wire rack until cool enough to handle, then split the muffins by working your thumbs around the edges to pull them open a little at a time.
Toast before serving and store leftovers in an airtight container up to 1 week at room temperature (or 1 month in the fridge).
Notes
Adapted from Serious Eats No Knead English Muffins by Stella Parks

ACTIVE TIME: 20 minutes - TOTAL TIME:16 to 30 hours






Would you like to bake along with us?
Elle is the host kitchen this month and we're making no knead English muffins.  Come on it's fun!  Look for the details on her blog Feeding My Enthusiasms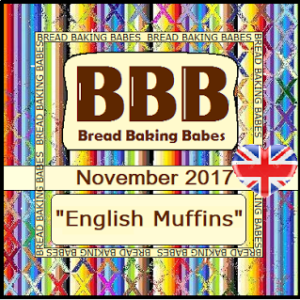 Be sure to visit all of the Bread Baking Babes and check out their version of this month's recipe:
Happy Baking!
Cathy

Thank you for following my blog and joining me in my bread baking exploits. I appreciate your comments. You can also find me on Twitter: @breadexperience, Pinterest: breadexperience, Facebook: breadexperience