These Sourdough Hungarian Kürtőskalács are hollow Chimney Cakes or Funnel Cakes which are made from a slightly sweet enriched elastic yeasted dough and cut into strips or rolled into long ropes.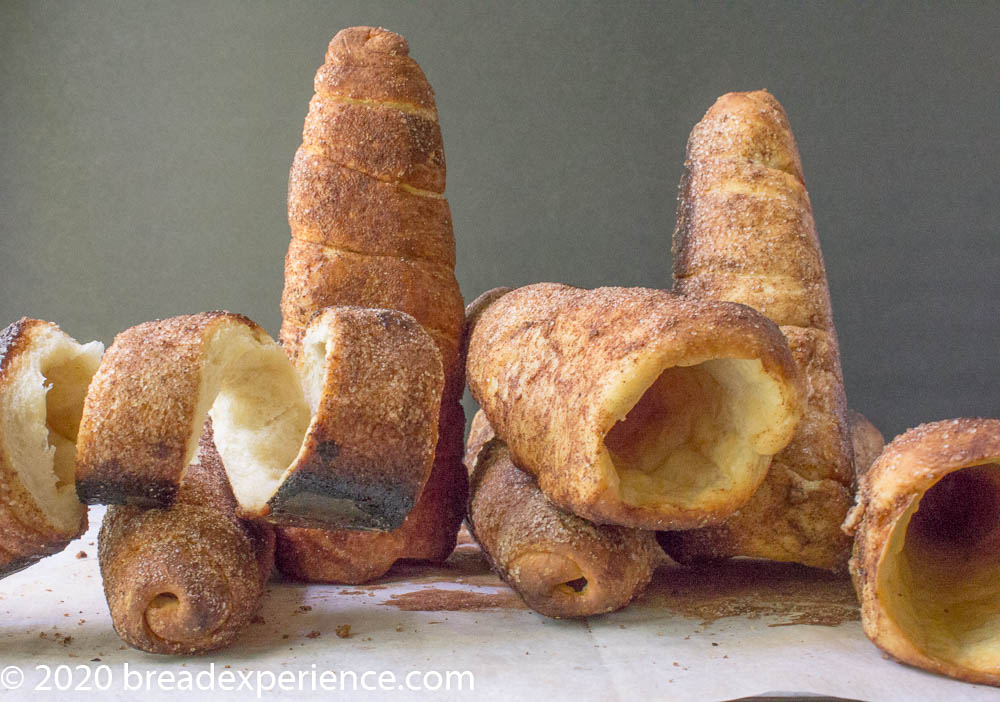 Traditionally, each strip is wrapped around a wooden dowel, brushed over with melted butter and rolled in granulated sugar. The dough encased dowels are turned and slow roasted over charcoal until they turn crisp and a shiny golden brown. These treats can be further sprinkled with cinnamon, finely chopped nuts, chocolate, sprinkles, or a variety of toppings.
The hollow middle of the pastry can be filled with whipped cream, if desired. The pastry is unraveled into strips and eaten. It is crunchy on the outside and soft and cake-like on the inside. They were originally made for special holidays and celebrations but today, are an everyday treat. You can find them in shops, on street corners, at carnivals and fairs.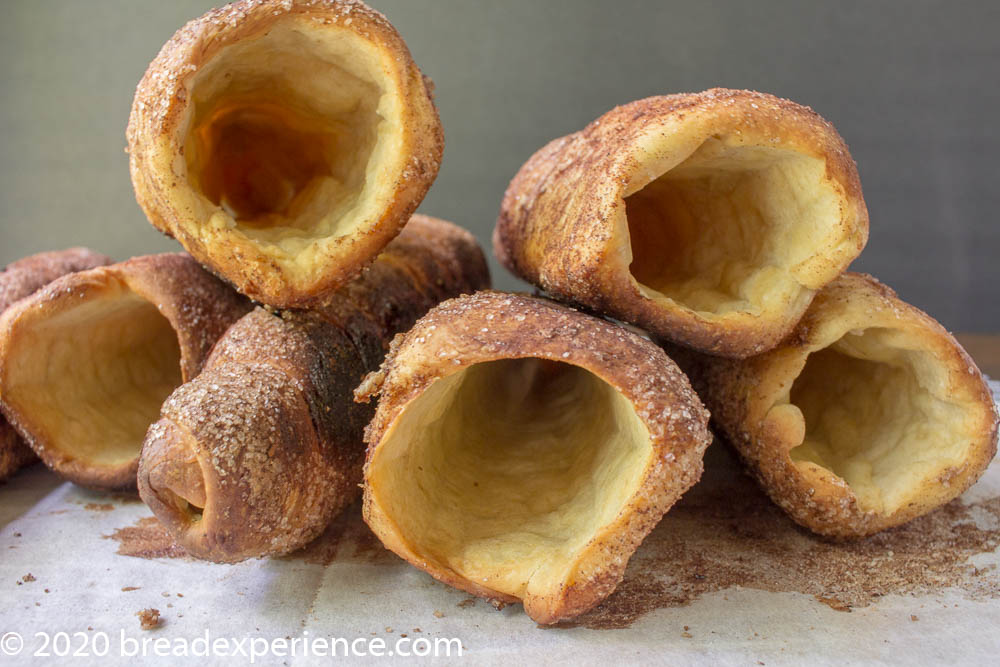 These delicious funnel cakes are the monthly bake for the Bread Baking Babes.  Aparna of My Diverse Kitchen challenged us to make these pastries.
I had a lot of fun baking these chimney cakes once I stopped stressing over what type of mold to use.  I decided to make things really easy and go with a paper/aluminum foil mold.  Turning the molds over in the oven proved a bit tricky because I put too many pastries on the baking sheet, but other than that, they worked really well and didn't require any special supplies I didn't have on hand already.
I used a slightly different recipe than the one Aparna posted.  Since a lot of bakers are having trouble finding yeast these days, I converted my version to sourdough.  I used discarded sourdough and spiked it with a bit of yeast, but you could use recently fed sourdough and omit the extra yeast if you don't have any yeast.  I also used about 20% white whole wheat flour, but you could probably use more whole wheat flour if you are running low on white all-purpose or bread flour.
I rolled my dough into long ropes instead of rolling the dough out and cutting it into strips.  Forming the ropes was rather therapeutic.  I think the ropes could be a little longer, but I ran out of work space so I made them as long as I could given the space I had to work with.
This is a fun project to do with kids of all ages.  Getting flour and cinnamon sugar all of the place is optional, but recommended.  You need to sweep anyway, right.
I recommend making the molds the day before you plan to bake the chimney cakes.  This way, you have a fun craft project one day and a baking adventure the next day.
Origins of Hungarian Kürtőskalács
(from Aparna's research)
Hungarian spit cakes are known to be Hungary's oldest pastry. Kürtős refers a stovepipe/ chimney referring to the shape of the pastry. Kalács means sweet pastry. These Chimney Cakes are more specific to Transylvania in Hungary and Szeklerland, the Hungarian-speaking region of Romania. They're also known as Cozonac Secuiesc in Romania.
Kürtőskalács can be found in other parts of Europe. German-Saxons call this pastry Schornstein Kuchen. A variation that is baked without the caramelized sugar glaze is made the Czech Republic and Slovakia called Trdelník. It's called Kurtoszkalacz in Poland.
This Hungarian Chimney Cake's origins go back to medieval times. The first known recipe can be traced back to a 1784 cookbook written by Transylvanian Countess Mária Mikes de Zabola. The pastry was called Kürtős kaláts' à la Mrs Poráni! This recipe does not mentioning sweetening the dough. However, folklore says they were around much before that. A manuscript from Heidelberg of the 1450s mentions a similar type of spit cake.
The scholar writer Balázs Orbán in 1868, wrote that Kürtőskalács were first made during the Mongol invasion of Szeklerland in 1241! The story goes to say that the Mongols drove the natives into caves in the surrounding hillside. They couldn't follow them so laid siege and tried to starve the Seklers out. Eventually both sides started running out of food.
So the Sekler women in the caves decided mix what little flour they had with water and ash from the fireplace. This made it seem like they had more food. They supposedly rolled the dough on a long wooden pole and baked it. The bread looked large but was hollow inside. They showed this to the Mongols creating an impression they had plenty of food. The Mongols apparently left as they had no food left but the Seklers seemed to be getting well fed. This story isn't very believable but makes for interesting story telling.
What type of mold should you use?
The type of mold you use will determine what your Chimney Cakes look like. Traditionally, the Hungarians use special wooden dowels that you can see in this video (https://www.youtube.com/watch?v=N-xwRCzf_5c )
If you don't have any wooden dowels, here are some other options:
Use multiple wooden rolling pins.  Brush them with oil and after wrapping the dough around them, rest the handles on the short edges a loaf tin. This will help you turn them as they bake for uniform cooking and browning. Refer to this video (https://www.hefe-und-mehr.de/en/2013/11/baumstriezel/ )
Make your own molds from paper and aluminium foil.  Refer to this video (https://www.youtube.com/watch?v=F1MaXOxBZKQ ) 

This is the method I used.  It was easy and kind of fun!

Use empty slim soft drink cans (13cm tall x 5cm diameter). Cover them with foil and oil them before wrapping dough.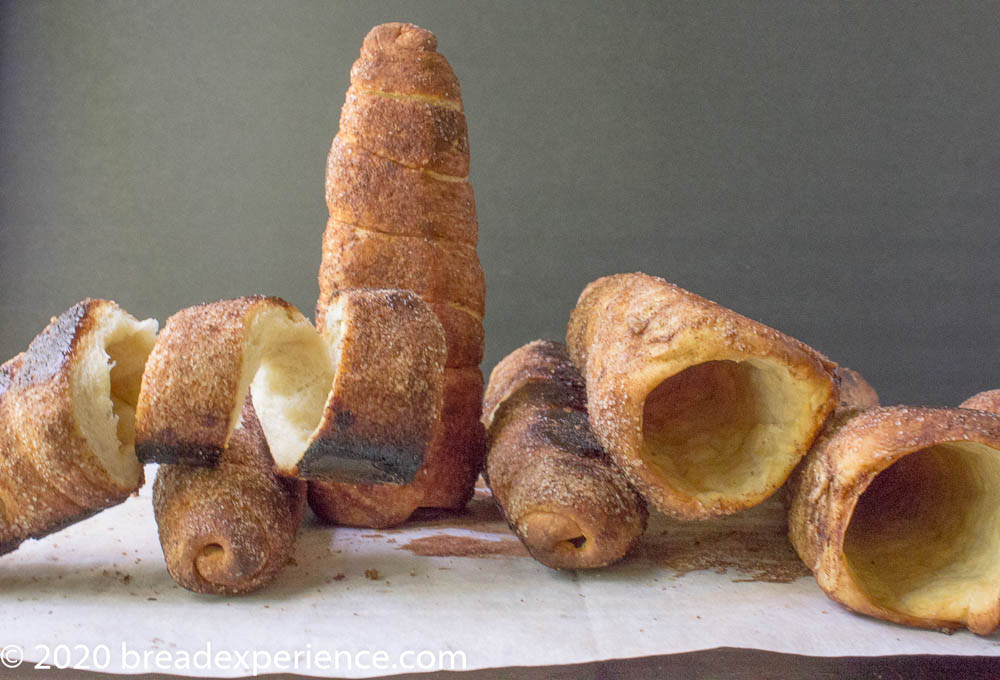 This dough is really easy to mix by hand. I've provided the instructions for mixing by hand below.  However, feel free to mix the dough using a stand mixer, if you prefer.

Sourdough Hungarian Kürtőskalács Chimney Cakes
These Sourdough Hungarian Kürtőskalács are hollow Chimney Cakes or Funnel Cakes which are made from a slightly sweet enriched elastic yeasted dough, rolled into long ropes and wrapped tightly around a mold.
Recipe type:
Sourdough Chimney Cakes
Cuisine:
Hungarian Pastry
Ingredients
120 grams (1 cup) sourdough starter, 100% hydration (discarded or recently fed)
350 grams (slightly less than 3 cups) all-purpose flour
90 grams (3/4 cup) white whole wheat flour
½ tsp instant yeast (omit if using fresh starter)
30 grams (1/8 cup) sugar
5 grams (1 tsp) salt
1 large egg, well beaten
70 grams (1/3 cup / 5⅓ Tbsp.) melted butter
160 - 220 mL lukewarm milk (I used kefir milk)
Melted butter for brushing, and more sugar for sprinkling
Powdered cinnamon or anything else you would like to flavor your Chimney Cakes with.
Molds to shape the chimney cakes
Instructions
In a large bowl, whisk together the flours, sugar, yeast (if using), and salt. In a separate container, combine the starter, lukewarm milk, beaten egg, and melted butter. Put the milk mixture over the flour mixture and mix thoroughly to combine. Knead it for a few minutes in the bowl.
Cover and let the dough rest for 20 to 30 minutes. Stretch and fold the dough. It should begin to feel soft, smooth and elastic. Shape into a ball and place it back in the bowl. Cover loosely and let it rise for about 2 hours until it is double in size. Perform another stretch and fold after 30 minutes. Then leave it to rest the final 1 ½ hours.
Lightly knead the dough and divide into 8 equal pieces. Roll each piece into a ball. The total weight of my dough was 918 grams so the divided pieces weighed about 115 grams each. Work with one piece at a time. Cover the rest of the balls so they don't dry out while you're rolling out the ropes.
Lightly dust your working surface with flour. Take one dough ball and roll it out into a long rope about 25 – 30 inches or longer, if desired. Beginning at the tip of the mold, tightly wrap the dough rope around the mold without gaps, slightly stretching the dough to keep it thin. Lightly roll the wrapped mold on the counter to press the dough on the mold.
Brush the shaped mold lightly with melted butter. Dredge with sugar or cinnamon sugar to coat completely. Place funnels on a baking tray (or two) or rest them on the short edges of loaf tins.
Bake the funnels at 190C (375F) for about 20 to 25 minutes till done, golden brown and sugar has caramelized. Turn the molds every 5 minutes or so for even baking. Take out of the oven and let it sit for 5 minutes. If your pastries don't come off easily, you may use the blunt edge of a knife to slide the pastry off the mould. Let them cool.
The pastry should be crunchy on the caramelized sugar outside and soft on the inside. Serve warm with coffee, tea or hot chocolate.










Would you like to bake with us?
I encourage you to bake these Hungarian Chimney Cakes.  They are easy to make and taste great!
Our Kitchen of the Month is Aparna of My Diverse Kitchen. Please visit Aparna's blog post to read her instructions and notes.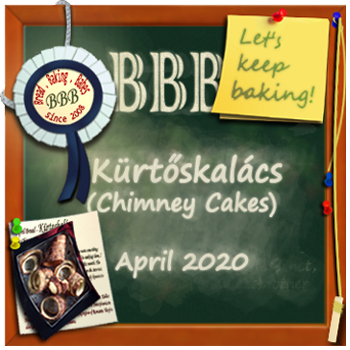 Check out the other Bread Baking Babe's posts for inspiration:
Remember, new recipes are posted every month on the 16th.  Check the Bread Baking Babes Facebook group to see the participants' baking results during that time.
Happy Baking!
Cathy