Did you know you could make delicious bread using leftover vegetables?
Well you can, and this bread is the proof.  These Sourdough Rosemary KAMUT Emmer Loaves are made with leftover roasted vegetables.
If making bread that tastes great is not enough to get you motivated, then how about a showcase bread that uses a mixture of grains, includes leftover veggies, and tastes great.  Would that interest you?  I thought so.
The idea for these loaves came about as I was enjoying some roasted vegetables one evening and thinking about the next bread I was going to create.
I wanted to make a roasted potato and onion bread using KAMUT and Emmer; however, rather than cook a few potatoes and onions to use in the bread, I decided to take some of the leftover roasted vegetables, mash them up and incorporate them into the loaves. My roasted vegetable medley included potatoes, onions and a few bits of carrots — just enough to impart a lovely color to the loaves.
Of course, you can always cook or roast a few vegetables when you plan to make bread, and I do this from time-to-time, but using leftovers reduces waste and time.
I'm all about efficiency so the fact that these vegetables were already prepared when I was ready to make the bread, was definitely a plus.
I was extremely pleased with the appearance, texture, and flavor of these loaves.  I formed two loaves into an oval shape and the third one into a triangle shape and baked all three in a preheated ceramic cloche bread baker.  Who says you can't fit an oval or triangle shape in a round form?



Equipment used to make these loaves:
I baked these loaves in my Emile Henry Ceramic Bread Cloche, but you could also use a preheated baking stone, a stoneware cloche or a Dutch oven baker.  I also used a couple of my new proofing basket sets and a curved lame to score each loaf, but you could use any type of  lame or a serrated knife.
Baker's Scale
Measuring Spoons
Mixing Bowl
Parchment Paper
Burgundy Bread Cloche
Oval Banneton Set
Triangle Banneton Set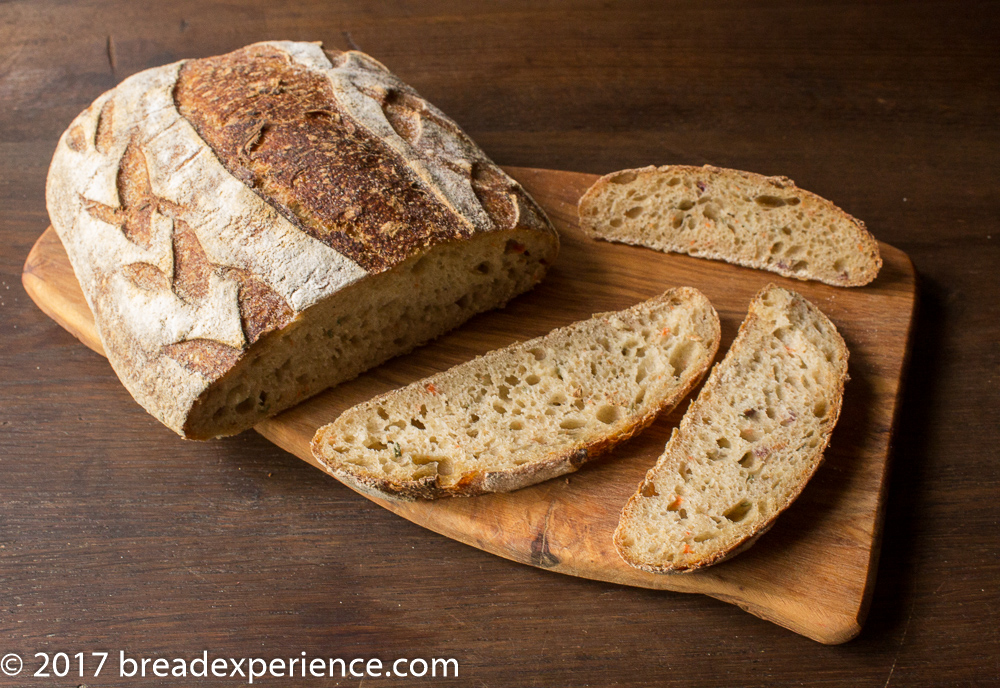 These loaves benefited from a cold ferment in the refrigerator on day two and then baked on day three, but you could bake the loaves on day two if you omit the cold ferment and allow a longer final proof at room temperature.
Sourdough Rosemary KAMUT Emmer Loaves using leftover roasted vegetables
These Sourdough Rosemary KAMUT Emmer Loaves are made with leftover roasted vegetables, and baked in a ceramic bread cloche.
Serves:
3 Small or 2 Medium Loaves
Ingredients
Pate Fermentee
9.6 oz / 272 grams bread flour
7.2 oz / 204 grams water
1 teaspoon / 4-5 grams sea salt
25 grams sourdough starter
Final Dough:
17.6 oz / 400 grams bread flour
137 grams whole grain KAMUT – freshly milled
100 grams whole grain Emmer – freshly milled
13.3 oz / 377 grams water
0.4 oz / 11 grams salt (reduce if veggies are already salted)
8 oz / 226 grams roasted potatoes (194 grams potatoes/onions, 32 grams carrots)
2 -3 tablespoons chopped fresh rosemary
Pate Fermentee, all of the above
Instructions
Day One: Prepare Pate Fermentee
Prepare the Pate Fermentee the day before you plan to make the bread. Add all of the ingredients in a medium bowl and mix using a wooden spoon or Danish dough whisk until just smooth. Allow the preferment to sit at room temperature for 14 - 16 hours.
Day Two: Make Final Dough
The next day, add all the ingredients to bowl of a stand mixer (except for the preferment) and mix at first speed for three minutes. While the dough comes together add the preferment in small chunks. Then mix on second speed for 4 minutes. The gluten will be moderately developed and the dough should be supple.
Let the dough bulk ferment for 90 minutes, and complete one fold after 45 minutes.
Shape loaves into round, oval or triangle loaves. Proof the loaves in lined or unlined proofing baskets 1- 2 hours then place in the refrigerator overnight.
Day Three: Bake the Loaves
The next day, 45 minutes before you plan to bake the loaves, preheat the oven to 450 degrees with a baking stone, cloche or other type of Bread Pot or Dutch oven on the bottom rack.
Remove the baskets, one at a time, from the refrigerator and carefully turn them out from the proofing basket onto parchment paper sprinkled with cornmeal. This will be your parchment sling. Score the loaves using the pattern of your choice. Work with one loaf at a time and bake the cold loaf straight from the refrigerator.
Using heavy-duty oven mitts, carefully remove the preheated cloche from the oven and place the lid and base on heavy towels or potholders to protect them from temperature changes.
Place one scored loaf (on the parchment sling) on the base of the cloche. Place the cloche on the bottom rack in the oven and cover with the lid.
Bake the loaf for 15 minutes with the lid on. Remove the lid and bake for an additional 10-15 minutes or until the loaf is a medium dark brown.
If you're baking two larger loaves, extend the baking time by about 5-15 minutes. You can remove the parchment paper partway through the bake cycle if desired to let the bottom firm up, but be careful not to burn the bottom of the loaves.
Repeat the baking process with the remaining loaves. If you turned the oven temp down, preheat it again to 450 degrees F. before baking the remaining loaves.
Place the loaves on a wire rack to cool. You'll also want to place the cloche lid and bottom on a thick towel to cool down to keep them from cracking due to extreme temperature change.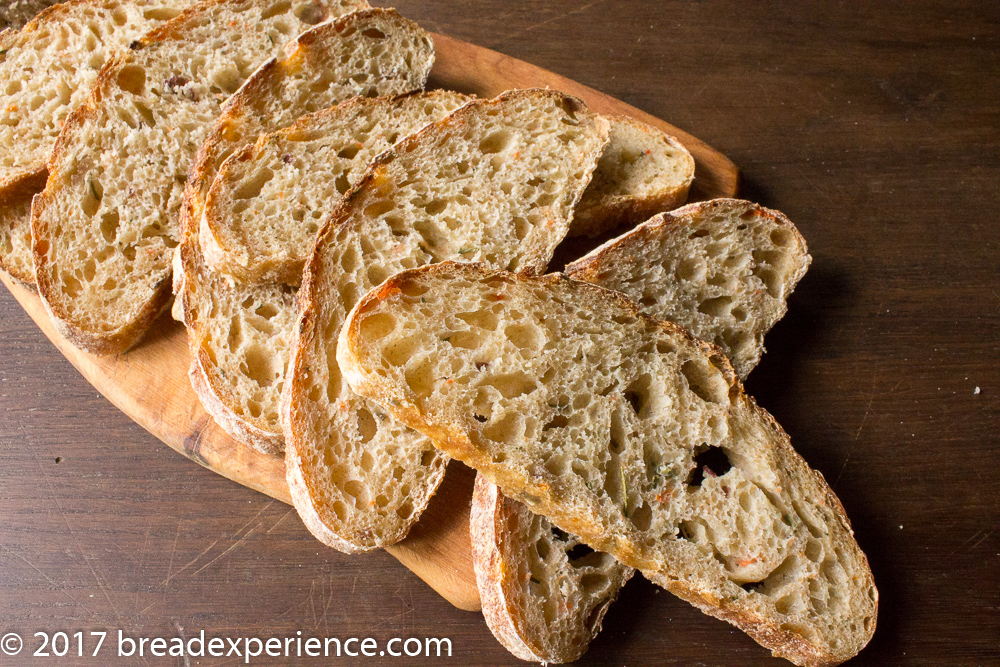 This post is the first in my series on making bread using leftovers.  I'm going to be making loaves and rolls using different types of vegetables, beans and who knows what else.  Look for more posts but not necessarily in sequential order.
Happy Baking!
Cathy

Thank you for following my blog and joining me in my bread baking exploits. I appreciate your comments. You can also find me on Twitter: @breadexperience, Pinterest: breadexperience, Facebook: breadexperience