Have you heard of Macular degeneration? It's an incurable eye disease that is the leading cause of vision loss for those aged 55 and older in the United States. It affects more than 10 million Americans.
Macular Degeneration is caused by the deterioration of the central portion of the retina, the inside back layer of the eye that records the images we see and sends them via the optic nerve from the eye to the brain. The retina's central portion, known as the macula, is responsible for focusing central vision in the eye, and it controls our ability to read, drive a car, recognize faces or colors, and see objects in fine detail.
The good news is that a diet rich in key nutrients for eye health may delay the onset and progression of age-related macular degeneration.
Source: https://www.macular.org/what-macular-degeneration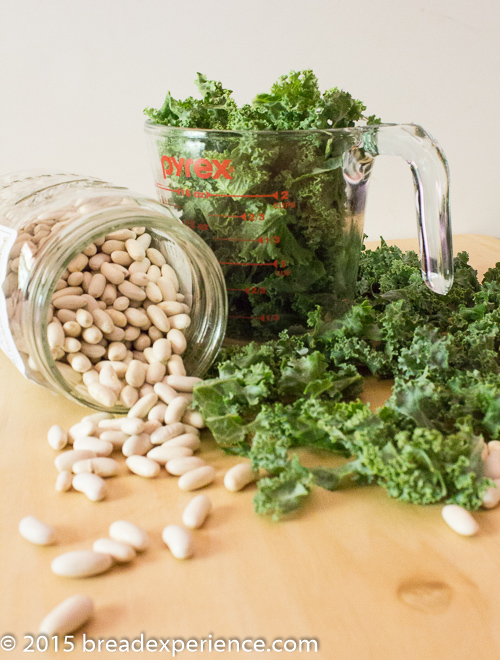 Learn how to eat right for your sight
When I was asked to review the book Eat Right for Your Sight, I almost passed on the opportunity, but then I took a closer look and realized how important this topic is. I decided that I needed to learn more about it and share this information with visitors to my blog.
I just recently started wearing prescription glasses for the first time in my life so the content in this book is really important to me. I really enjoyed reading it and learning more about macular degeneration and how to delay it's onset by eating the right types of food.  I highly recommend this book.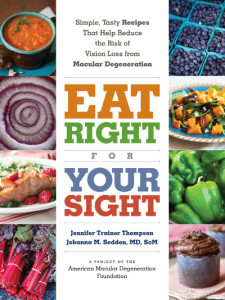 Proper nutrition is critical to eye health, and it's important to know not only what to eat, but also how much.  Eat Right for Your Sight incorporates the science behind vision health and general well-being into daily life.
Did you know that whole grains are good for your eyes?  Sure enough. Wheat, in addition to brown rice, eggs, and tuna, are a few of the foods that contain selenium, a trace mineral absorbed into proteins which helps protect cells from damage caused by free radicals.
Kale, that leafy green vegetable that we love to hate, has been widely publicized and overused (it seems) over the past few years.  However, there's a reason for all of the attention that kale has been receiving recently. It contains a powerhouse of nutrients.  In case you are not familiar with kale, it is a leafy green vegetable that grows like spinach.  I have it growing in my garden.  I planted it last Fall and it's still growing strong.

According to the book, kale is a carotenoid which is high in lutein and zeauxanthin, pigments that give certain plants their color. The body converts carotenoids to retinol (a type of vitamin A) in the small intestine. Who knew?

The book includes a variety of soups, stews, and salads as well as main courses, appetizers, side dishes and even desserts.  It also includes a section on making your own smoothies and vegetable juices.  Oh my!  My eyes and stomach are looking forward to working through this cookbook. The recipes are so simple. There are 85 recipes, including one for pizza baked on a baking stone, that will benefit your eyes as well as satisfy your palate.
The book also includes a helpful index with metric conversion charts for vegetables, fruits, grains, nuts and nut butters, dairy, butter and miscellaneous pantry items. It also provides charts to convert weights, temperature, and lengths. The nutrition information for all of the recipes was analyzed by the ESHA and the methodology is very interesting.  You'll find that in the back of the book.
Here are some other recipes I look forward to trying:
Succotash Ragout
Sweet Pea Guacamole
Spinach Salad with Walnuts and Goji Berries
Grilled Vegetable Salad
Spicy Fish Tacos
Garlic-Lime Pork Chops
Macaroni and Cheese (yes, this one is good for your eyes)
Jacques Pepin's Provence Pizza
Mango Sorbet
Pear-Raspberry Galette
Blueberry Smoothie
Watermelon Citrus Cooler
There are so many delicious-sounding recipes in this book, I could go on and on, but instead I'll just say, "get the book!"  You'll be glad you did and your eyes will thank you.  I'm already enjoying the benefits of the information and recipes included in this book.
The recipe I chose to test for this review is the White Bean Soup with Kale. I added some sausage to bump up the flavor and to make sure my son would eat it.  He walked in the door and said, "that smells so good!"  Trust me. It tastes as good as it looks and smells.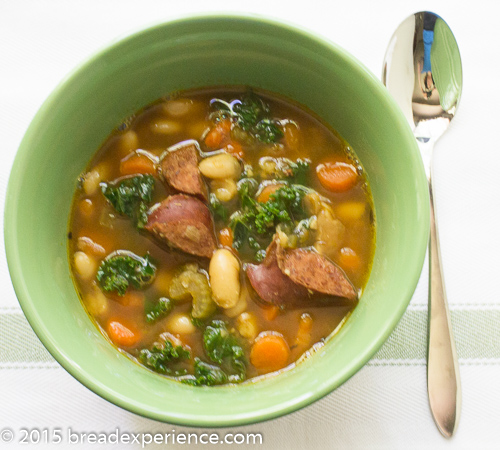 Source: Recipe from Eat Right for Your Sight: Tasty Recipes That Help Reduce the Risk of Vision Loss from Macular Degeneration, copyright © American Macular Degeneration Foundation, 2015. Reprinted by permission of the publisher, The Experiment. Available wherever books are sold. www.theexperimentpublishing.com

White Bean Soup for Healthy Vision #EatRightForYourSight
Kale turns an ordinary white bean soup into a lutein and zeaxanthin powerhouse. (As a rule, the darker the green, the higher the lutein.) As an alternative, add 6 to 8 ounces of chopped smoked sausage, such as Andouille or chorizo, for a meatier dish with a kick.
Ingredients
2 tablespoons vegetable oil
11/2 cups chopped onion
11/2 cups chopped carrot
½ cup chopped celery
2 garlic cloves, finely chopped
2 teaspoons freshly chopped thyme
8 cups reduced-sodium chicken or vegetable broth
11/2 cups dry navy or great northern beans, soaked overnight
1 teaspoon sea salt
1 teaspoon freshly ground black pepper
4 cups chopped kale leaves, tough stems removed
Instructions
Heat the oil in a stockpot over medium-high heat. Sauté the onion, carrot, and celery for 7 to 10 minutes, or until softened. Add the garlic and sauté until fragrant, 1 minute. Add the thyme and sauté for 30 seconds. Add the broth, beans, salt, and pepper and stir to combine. Bring to a boil. Reduce the heat, cover, and simmer for 11/2 hours, or until the beans are tender, stirring occasionally. Cool slightly.
Partially purée the soup with an immersion blender or transfer half the soup to a blender or food processor and purée before adding back to the stockpot. Add the kale and cook for 5 minutes. Season to taste. Ladle into warm bowls and serve immediately.
Notes
I didn't purée any of the soup. I wanted to enjoy the vegetables whole.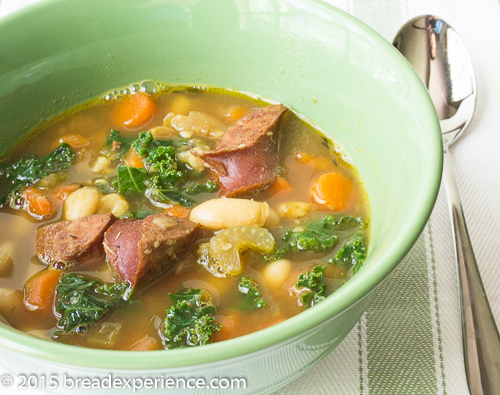 Disclaimer: I received a book from the publisher for this review. I really enjoyed this book and I look forward to trying more of the recipes.

Thank you for following my blog and joining me in my bread baking exploits. I appreciate your comments. You can also find me on Twitter: @breadexperience, Pinterest: breadexperience, Facebook: breadexperience