These Whole Grain Einkorn Coconut Rolls, made with whole grain pastry flour and filled with a paste of brown sugar and flaked coconut, can be served with breakfast, tea, coffee or for any occasion for that matter.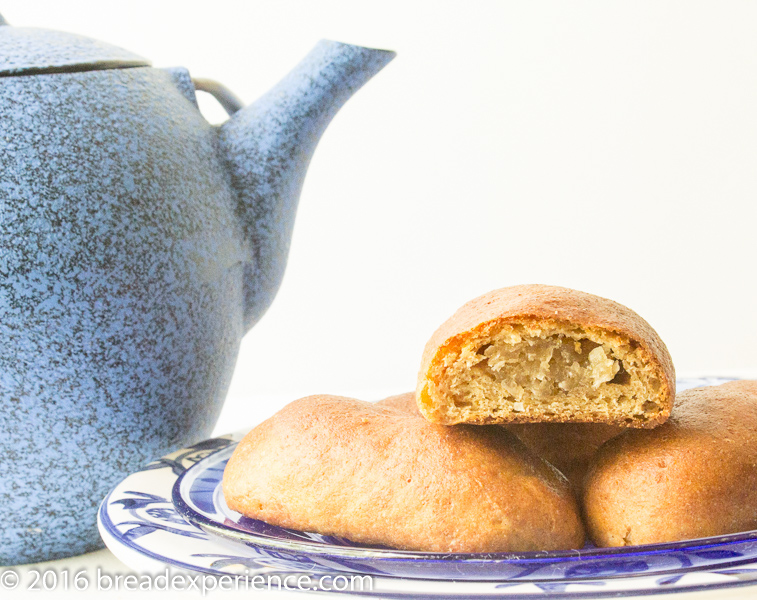 These delightful rolls were the monthly bake for the Bread Baking Babes.
Lien, the host kitchen for September, chose a recipe she considered to be uncomplicated and fun to bake.  She was right, these rolls are simple to bake, but don't let the simplicity fool you, the flavor is exceptional, especially if you are a coconut lover like me.
I chose to make my version with home-milled Einkorn pastry flour so the rolls would be a bit lighter, but still retain the benefits of the whole grain. I also added a bit of orange zest to the dough.  Since these buns are 100% whole grain, they have a rich and nutty flavor, and although they aren't as light and fluffy as ones made with white flour, the combination of Einkorn and coconut is outstanding.
My dough was still a bit sticky after letting it rise on the counter for 2 hours so I placed it in the refrigerator overnight. I rolled out the dough cold and it was much easier to work with.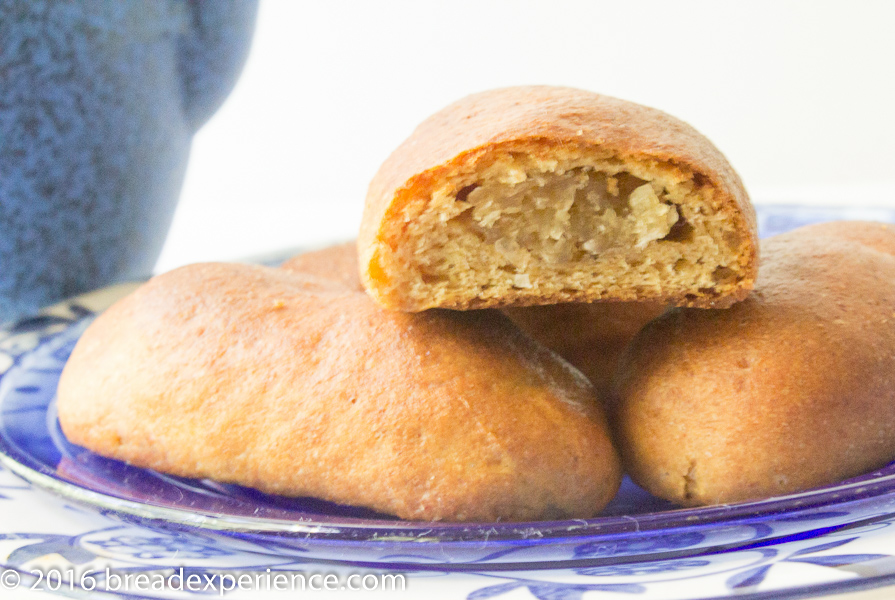 These rolls taste best eaten warm and fresh, but I still enjoyed them reheated over the next few days.  A little goes a long way with these delicious morsels.
Whole Grain Einkorn Coconut Rolls
Adapted from: "De kunst van het bakken" – J. Alfort & N. Duguid
(makes 12)
Dough:
2 tablespoons organic sugar
175 ml lukewarm water
1 teaspoon dry instant yeast
300 grams whole grain Einkorn pastry flour
75 ml vegetable oil
1 teaspoon orange zest
3/4 teaspoon sea salt
Filling:
80 grams + 2 tablespoons/15 grams dried, sweetened, grated coconut (if using unsweetened coconut, increase the light brown sugar by 4 Tbsp/40 grams)
120 ml boiling water
110 grams light brown sugar
36 grams / 4 tablespoons corn starch
2 tablespoons butter
Day 1: Make the Dough and Filling, Refrigerator Overnight
Combine all the dough ingredients and stir them together. Knead the dough until smooth and supple. At first it's very sticky, but after kneading it shouldn't be very sticky anymore. Place the dough in a lightly greased bowl, cover and leave to rise fora bout 1½ – 2 hours or until doubled in volume.
Now make the filling. When using dried coconut (80 grams), it needs to soak in a bowl with boiling water. Leave soaking for 10-15 minutes.
Mix the cornstarch and sugar in a separate little bowl before adding it to the coconut.
Melt the butter in a saucepan, add the coconut-sugar mixture and keep it on a low heat until it thickens, a few minutes. Keep stirring to avoid it burning.
Take it off the heat and leave to cool. When cooled, place in the fridge.
After the 2-hour bulk ferment, I also covered the bowl with the dough in it tightly with plastic wrap and placed it in the refrigerator overnight.
Day 2: Roll out the Dough, Fill and Bake
The next day, remove the dough from the refrigerator and work with cold dough.  I used additional flour to sprinkle the counter, to keep the dough from sticking, but working with the cold dough made it much easier. It was a bit sticky due to the Einkorn flour, but still manageable.
About 30 minutes before assembling the roll, take the filling out of the fridge.
Stir in the remaining 2 tablespoons of coconut. At first the filling might be a bit stiff, but a little stir will soften it enough. Set aside
Divide the dough in two parts. Start with one piece, and roll it out into a rectangle of approximately 6 x 12 inches. Now cut it length wise in two equal parts, so you have two long thin strips.
Place a quarter of the filling evenly over the middle of the strip. The filling should be fairly dry, don't place wet filling on the dough.
Flip over one long side of the dough over the filling, then flip over the other side. The two sides should slightly overlap. Close the seam by pinching the dough together.
Turn the roll seam side down. Cut the roll into equal parts. I ended up with 6 rolls on each log.  You can cut the pieces as big or small as you want them. Push the filling back a little, so you can close the cut sides, so the filling is no longer to be seen and can't leak out.
Repeat with the other three strips (the one that you have rolled out and the two strips you make of the remaining dough). Place the rolls, 2 inches apart, on parchment paper placed on two baking sheets. Cover them with lightly greased plastic and leave to rise for 35-45 minutes. They are ready when a light indentation, you make with a finger, stays visible.
While the dough proofs you should preheat the oven to 350ºF.
Bake the rolls for about 15-18 minutes until they are golden brown. (If you bake on two sheets, exchange them after 8 minutes, so they bake evenly)
Let the rolls cool on a wire rack. Eat them lukewarm or at room temperature.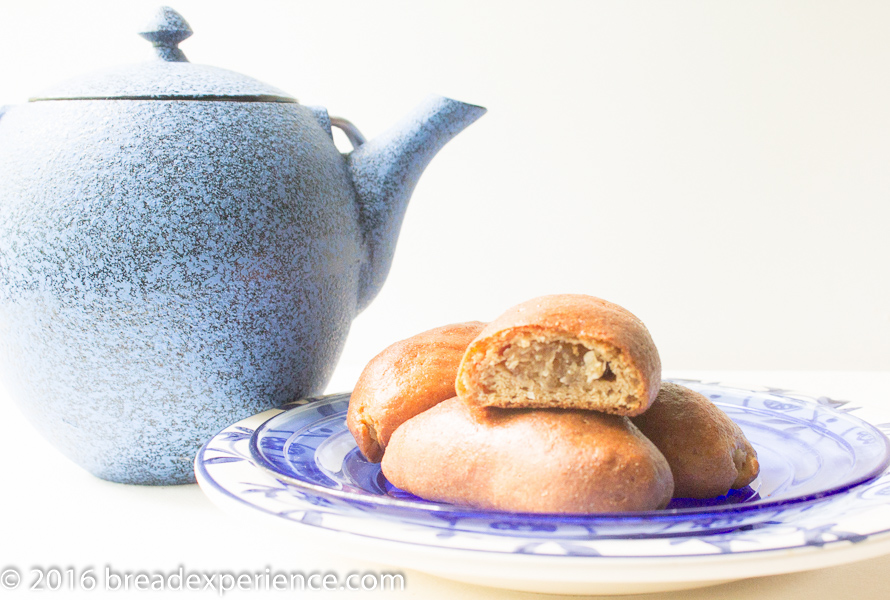 Would you like to bake Coconut Rolls with us this month? You're invited to bake along with us as a Bread Baking Buddy! Lien is the host kitchen this month and you'll find the details on how to participate on her blog Notitie Van Lien.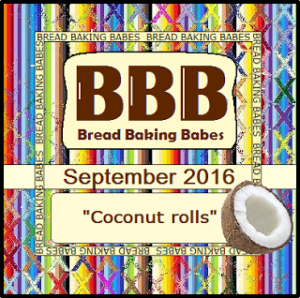 I'm sure you'll also want to check out the Coconut Rolls the other Babes made.
The Bread Baking Babes are:
Bake My Day – Karen
blog from OUR kitchen – Elizabeth
Bread Experience – Cathy
Feeding my Enthusiasms – Elle
Judy's Gross Eats – Judy
Karen's Kitchen Stories – Karen
My Kitchen In Half Cups – Tanna
Notitie Van Lien – Lien
Thyme for Cooking – Katie (Bitchin' Bread Baking Babe Bibliothécaire)
A Messy Kitchen – Kelly
Happy Baking!
Cathy

Thank you for following my blog and joining me in my bread baking exploits. I appreciate your comments. You can also find me on Twitter: @breadexperience, Pinterest: breadexperience, Facebook: breadexperience