This Rosemary Orange Poolish Baguette, flavored with orange citrus salt and dotted with rosemary, was created to fit snugly inside a 17-inch baguette proofing basket. If you're looking for a simpler way to shape and proof a baguette, and achieve uniform results, this method is for you.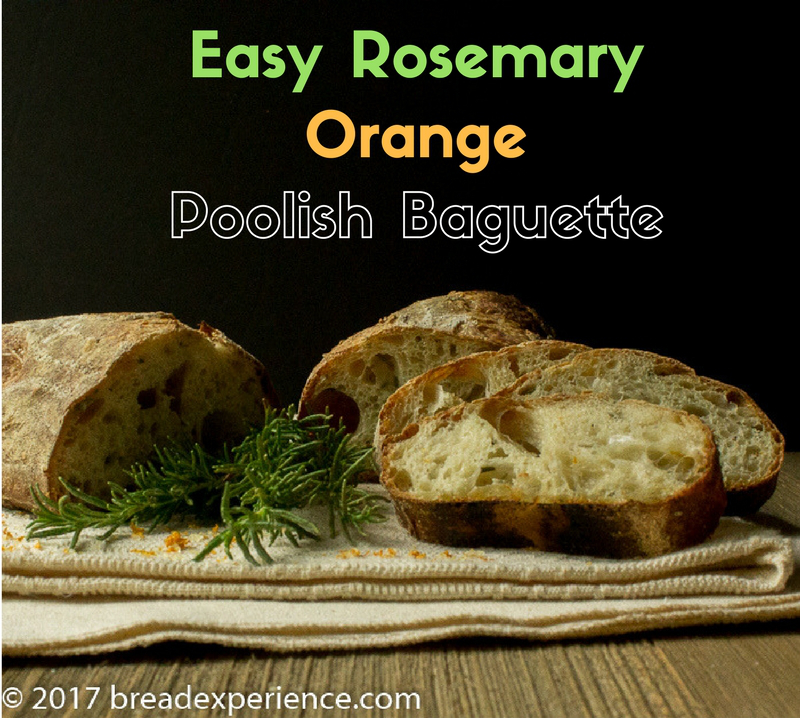 I started working on this bread a couple of months ago after I made orange citrus salt for the Food in Jars monthly challenge.  I had posted a photo of the citrus salt on Facebook and wondered out loud what bread I could make with it. Nancy Ann suggested rosemary and orange baguettes. I thought that was a lovely idea and thus, the concept for this poolish baguette was born. Thanks for the inspiration Nancy Ann!
If the citrus salt wasn't inspiration enough, I also had the brilliant notion to use one of my 17-inch baguette proofing baskets. This alleviated the necessity to attempt a perfectly shaped baguette, proof it on a baker's couche, and flip it from the couche to the baking stone (and potentially deflate it) before baking.  Although I do still enjoy employing that method from time-to-time, I decided this baguette would utilize a simpler method.
As it turns out, using the baguette proofing basket makes things really easy.  It is a great way to make a baguette if you are a little intimidated by the whole process of shaping and forming the long pointed type-loaves.  The dough fits completely in the basket and holds it shape during the final proof.
The loaf kept its shape even when I flipped it over onto parchment paper and scored it.  This is an extra win if you have a tendency to deflate the dough when you score it.  Ask me how I know?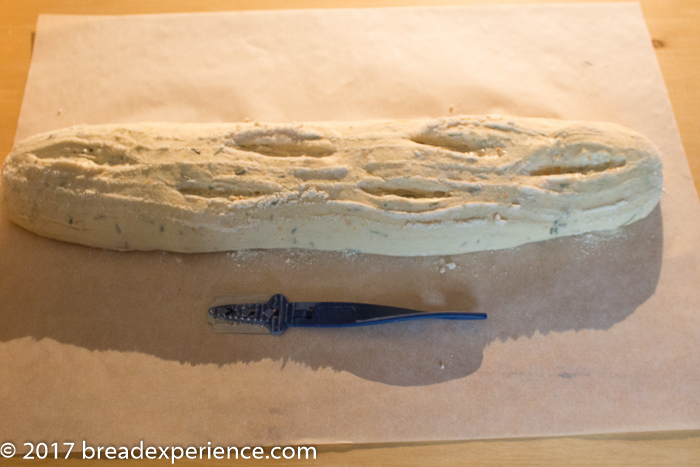 Here is a list of the equipment I used to make this baguette:
Mixing bowls
Bowl Scraper
Baking Steel or Baking Stone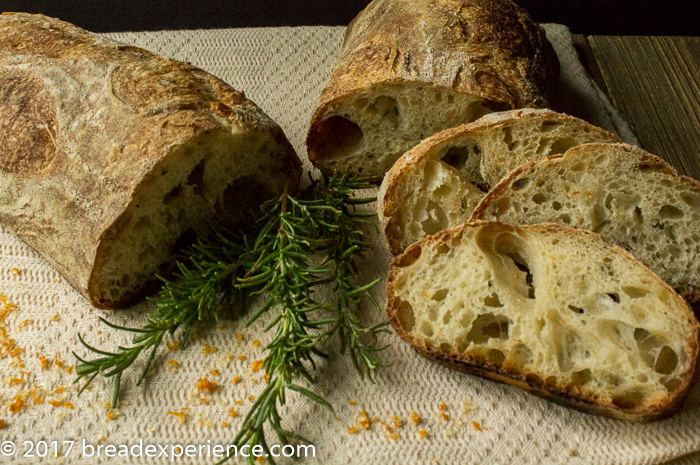 I enjoyed the heavenly rosemary aroma that wafted through my kitchen while the loaf was baking and the hint of citrus was a very nice addition indeed.
The thing I liked the most about using the dried citrus salt is that once you make the orange salt, you don't have to zest the orange the next time.  Just use the same amount of citrus salt as you would regular salt in the recipe to add an extra boost of flavor.
The baguette got a little charred on the bottom but I just scraped that part off.   Just be sure to keep your eye on it during the bake cycle.
Easy Rosemary Orange Poolish Baguette
This Rosemary Orange Poolish Baguette, flavored with orange salt and dotted with rosemary, was created to fit snugly inside a 17-inch baguette proofing basket. If you're looking for a simpler way to shape and proof a baguette, and achieve uniform results, this method is for you.
Ingredients
Poolish
90 grams all-purpose or bread flour
90 grams water
Pinch of yeast
Final Dough:
210 grams all-purpose or bread flour
110 - 125 grams water
180 grams Poolish (all of the above)
2 grams instant yeast
10 grams orange salt * + 25 grams water
2-3 tablespoons chopped fresh rosemary
Instructions
Prepare the Poolish:
Combine the poolish ingredients in a mixing bowl. Beat with a spoon or whisk about a minute, until the batter is mixed thoroughly and is pretty smooth. Cover the bowl with plastic wrap or a kitchen towel. Let rest at room temperature for 12 to 15 hours.
Final Dough:
When the poolish is ready, combine the flour, yeast, water, and poolish in a large mixing bowl. Mix until the dough forms a ball.
Knead the dough on a floured surface for 3-5 minutes until smooth. Work in the orange salt and rosemary as you knead. The dough should be shiny and smooth and little bit tacky, but not sticky.
Place dough in a clean bowl, cover with a towel, and let it proof for 2 hours. After the first hour, fold the dough by pulling it up from each corner and folding it back onto itself like an envelope. Re-shape it into a ball and place it back in the bowl. The dough should be about 1½ times its original size after 2 hours.
Shape the dough into a rough log and place it on a lightly-floured counter. Mist it lightly with spray oil and cover with plastic wrap. Let it rest for 30 minutes. Shape into baguette and place seam side up in proofing basket heavily floured with rice flour. Cover the basket with a kitchen towel. Let loaf proof for 2 hours at room temperature, or until nearly doubled in size.
One hour before the loaf is ready to be baked, prepare your oven for hearth baking by placing a baking stone or baking steel on the middle rack and an empty steam pan on the bottom rack. Preheat the oven to 475⁰ F.
Carefully flip the loaf from the proofing basket onto a baking sheet lined with parchment paper. Score the baguette by making ½" cuts in the dough using a lame or serrated knife.
Pour 1 cup of hot water into the steam pan and immediately slide the loaf from the baking sheet (parchment sheet an all) onto the baking stone or steel. Steam the loaves again by spritzing the loaves with a spray bottle. Close the oven door and repeat the spraying process again after 2 minutes.
Bake for 25 - 30 minutes, or until loaf is golden brown in color and sounds hollow when tapped on the bottom. Remove the parchment paper partway through baking and rotate the loaves for even baking and to ensure the bottom firms up.
Transfer loaf to wire rack and allow to cool for at least 30 minutes.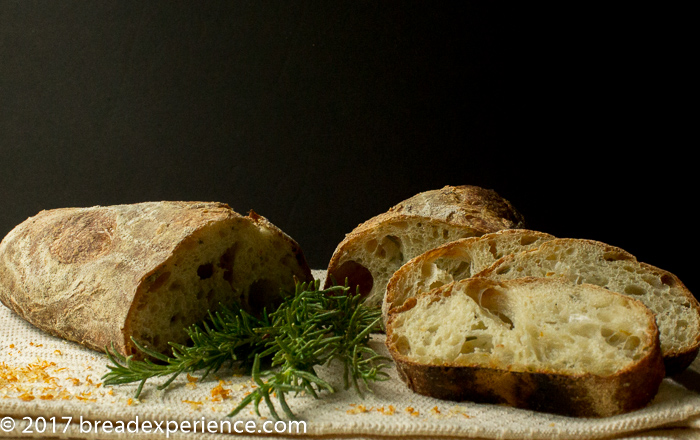 Happy Baking!
Cathy

Thank you for following my blog and joining me in my bread baking exploits. I appreciate your comments. You can also find me on Twitter: @breadexperience, Pinterest: breadexperience, Facebook: breadexperience