This post features my second experiment with Butterfly Gluten Free Flour Blends.
My goal for these gluten free bagels was to prove they could be made with a gluten free flour blend instead of wheat flour using my regular bagel recipe. I had fun with this one!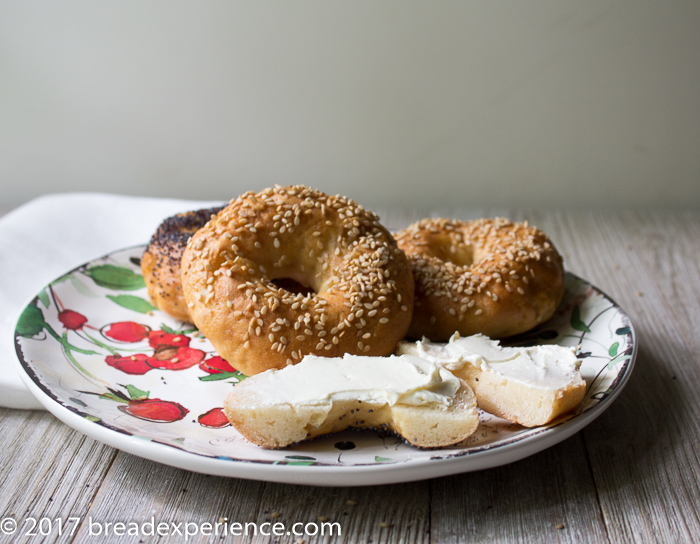 Disclosure: I received a box of Butterfly gluten free all-purpose flour and a box of gluten free bread flour to test.  My first post showcased Gluten Free Banana Bread made with the all-purpose blend. This post features bagels made with the bread flour blend.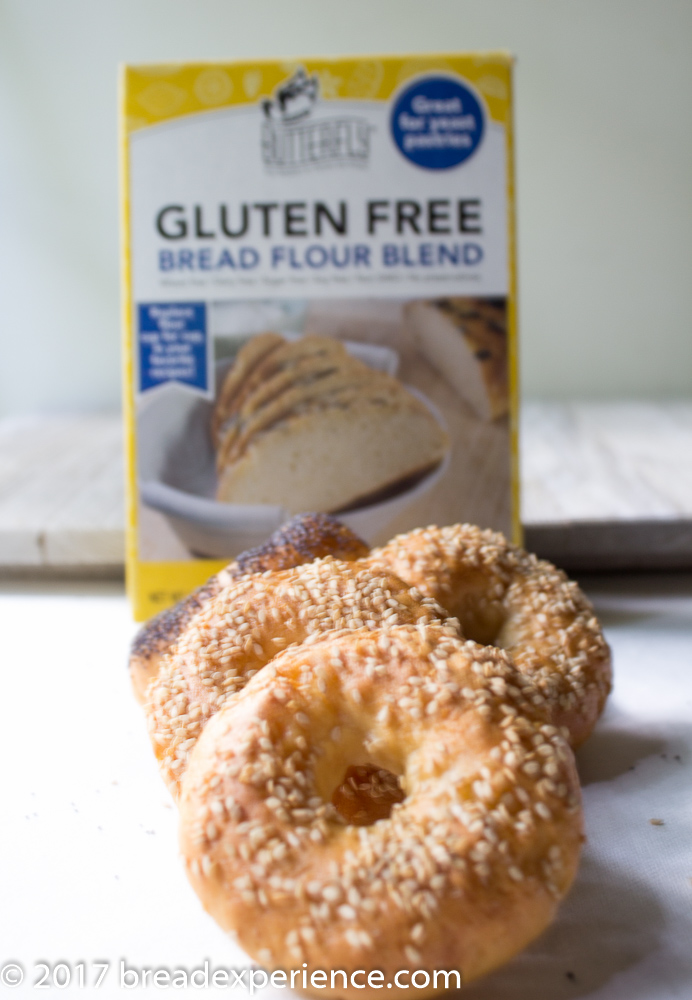 As I mentioned in my previous post, I am not a gluten-free baker; however, I have some friends and family members who are gluten-free.
Because I do not typically bake with gluten free flour, I thought I would make a good tester for these products.  You are supposed to be able to use these flour blends cup-for-cup in regular bread recipes so that's what I did.  I replaced this flour blend cup-to-cup (or gram-for-gram, rather) for my regular wheat flour.
The first time I made these bagels, I used the bread flour blend and fermented the dough with kombucha.  However, I made the bagels a little smaller than I normally do. I liked the texture and the color of the kombucha bagels, but I decided they needed to be a bit bigger.  So went back to the baking board.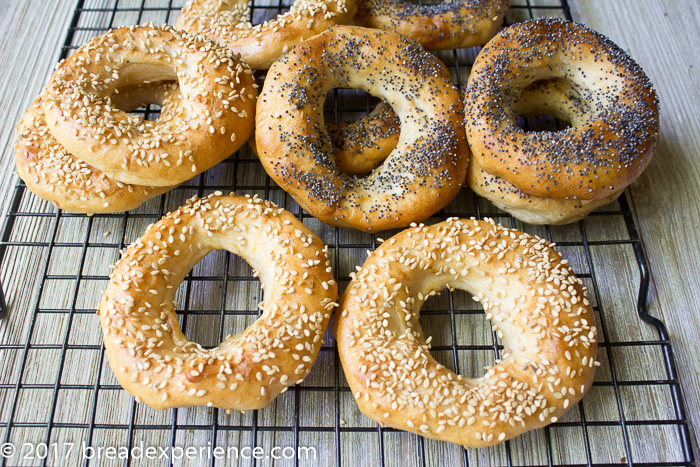 The next time I made these bagels, I used kefir water and a mixture of the all-purpose blend and bread flour blend, mainly because I didn't have enough of the bread flour blend.  I used kefir water to ferment the dough because it allowed me to start the process one evening and finish a day or two later when I had more time.  If you don't have kefir water, feel free to use regular water or kombucha.  I also made fewer, but bigger (fluffier) bagels the second time.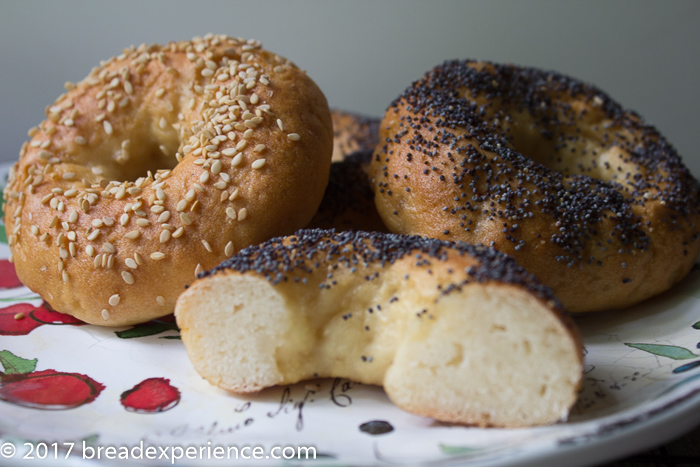 These bagels have a slightly different texture than bagels made with wheat flour, but I enjoyed them nonetheless. They taste best the day they are boiled and baked; but I also enjoyed them toasted a day or two later and spread with cream cheese.

Gluten Free Bagels with Kefir Water or Kombucha
My goal for these gluten free bagels was to prove that they could be made with a gluten free flour blend instead of wheat flour using my regular bagel recipe.
Ingredients
Bagels:
3 cups / 375 grams Butterfly gluten free bread or all purpose flour blend
1 cup / 225 grams kefir water or kombucha
¾ teaspoon instant yeast
1¾ teaspoons / 10 grams fine sea salt
Sesame and poppy seeds for sprinkling, or the seeds of your choice
For boiling the bagels:
2 quarts water
1 tablespoon baking soda
½ teaspoon salt
Instructions
In a large bowl, whisk together all of the dry ingredients: gluten free flour blend, yeast and salt.
Add the kefir water or kombucha to the dry ingredients and mix thoroughly using a Danish dough whisk or wooden spoon. Continue mixing with your hands until there are no dry bits of flour.
Form the dough into a ball and place it back in the bowl. Cover with plastic wrap or a kitchen towel and let it proof in the bowl for a total of 2 hours.
After the first hour, work the dough lightly in the bowl. Form the dough into a ball again and place the dough back in the bowl; recover.
After the 2nd hour, cover the bowl tightly with plastic wrap and place in the refrigerator to retard overnight.
The next day, or up to 48 hours later, remove the bowl from the refrigerator. Sprinkle your work surface with the gluten free flour blend or some rice flour.
Divide the dough into 6- 8 balls depending on how big you want the bagels. Let the dough balls rest for 15 -20 minutes.
Shape the balls into bagels by poking a hole in the middle of the ball with your finger. Gently widen the hole until it forms a ring. Place the shaped bagels on a lightly greased baking sheet or a baking sheet covered with parchment paper. Set them aside for 30 minutes to 1 hour.
Preheat the oven to 375 degrees F.
Check to see if the bagels are ready to be boiled by performing a "float" test after 30 minutes. To do this, fill a small bowl with water and place one of the bagels in the water. If it floats, the bagels are ready to be boiled, if not, wait another 20 to 30 minutes. (This test works even with gluten free bagels. I didn't perform this test with the first batch and ended up boiling the bagels too much)
Prepare the poaching liquid by filling a large pot halfway with water and bringing it to a boil. Reduce to a simmer. Add 1 tablespoon baking soda, and ½ teaspoon salt.
Using a large slotted spoon or tongs, gently lower a bagel top down into the simmering water. Let it simmer for 45 seconds, then flip over with the slotted spoon and let it simmer on the other side for about 30 seconds. Longer boiling results in a chewier bagel.
Place the bagels on a wire rack to drain for a few seconds before placing them top side up on the baking sheet. Continue with the remaining bagels.
Sprinkle the tops of the slightly wet bagels with the seeds of your choice.
Transfer the baking sheet to the oven and bake for 8-10 minutes. Rotate the baking sheet and bake another 10 or so minutes until browned on top.
Remove the bagels to a wire rack to cool slightly before slicing and serving.
Notes
Prep time includes mixing, proofing on the counter, shaping and resting, and prepping for the boil, but does not include the 12 -48 hour cold ferment in the refrigerator.

Bake time includes 15 - 20 minutes for boiling and 25 minutes for baking the bagels








As I mentioned earlier, my goal was to prove that I could make my regular bagels using the Butterfly Gluten Free Flour Blend instead of wheat flour.  I'm delighted to say that it worked!  This should make my gluten-free family members happy.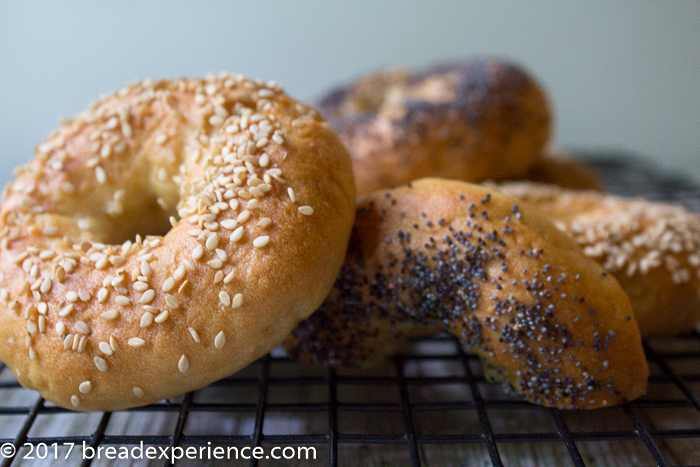 Happy Baking!
Cathy
Sponsored Post: This is my second post on Butterfly gluten free products. I want to thank Chef Mazor for providing me with some BUTTERFLY™ All-Purpose Flour Blend and Bread Flour Blend to test.

What are Butterfly Flour Blends?
Butterfly Gluten Free Flour Blends were created by Chef Einat Mazor.  The flour blends are GF Certified, wheat free, sugar free, dairy free, soy free, non GMO and Kosher.
Chef Mazor, a pastry chef and certified chef, created these gluten free flour blends after she discovered her daughter was celiac.  She experimented for years and finally came up with the exact gluten-free flour combinations that produce baked goods that have good texture and flavor with no after taste. BUTTERFLY™ gluten free flour blends can be used to replace wheat flour cup for cup in regular recipes.
For more information about Chef Mazor, the BUTTERFLY™ flour blends, and her gluten-free cookbooks, check out butterflyglutenfree.com.

Thank you for following my blog and joining me in my bread baking exploits. I appreciate your comments. You can also find me on Twitter: @breadexperience, Pinterest: breadexperience, Facebook: breadexperience