Shubbak el-Habayeb, the bread of the month for the Bread Baking Babes, is a delightful and aromatic Iraqi Sweet Bread. Translated, it means The Lover's Window.
The dough is shaped into square buns and scored with vertical cuts that go all the way through the dough. Now whether the cuts stay that way is another matter altogether. Bread has a mind of its own so the slits may close back up like mine did, but don't let that bother you, these buns are fabulous!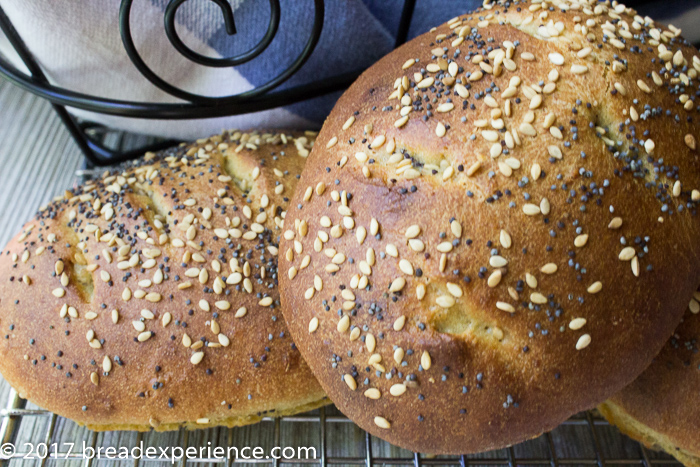 Karen of Karen's Kitchen Stories, chose this fragrant bread as the monthly bake. I really enjoyed the blend of spices and flavors used in this bread.  Each bun is infused with orange blossom water, rose water, cardamom, and mahleb to create a delicious and aromatic experience.
If you aren't familiar with Mahleb (or mahlab), it is a powder made from the seeds of the St. Lucy's cherry. I didn't have any, but as it turns out, there is a very simple substitute for Mahleb that you can make with spices you probably already have in your spice cabinet.
Just blend together a mixture of ground cinnamon, allspice and bay leaves (refer to the note in recipe).  I had ground cinnamon and ground allspice and some dried bay leaves. So I ground the bay leaves in my coffee grinder and mixed the powdered bay leaves with the other spices, and voila! That was easy!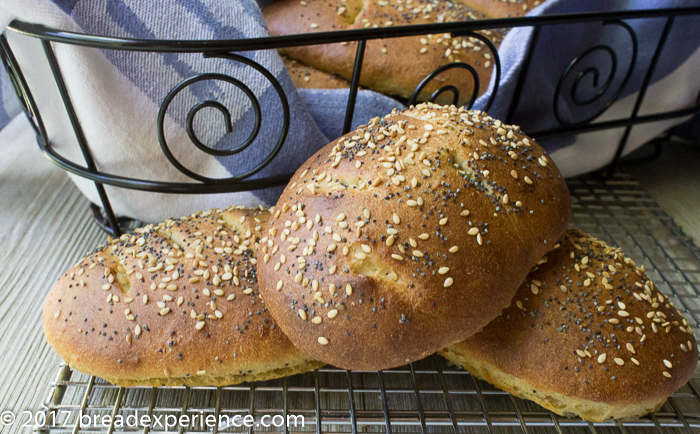 My version of this Iraqi Sweet Bread is made with all-purpose and whole grain einkorn flours.  As such, I adjusted the hydration and reduced the amount of yeast used, accordingly.
On bake day, I was in a hurry to bring them to a Mother's Day dinner so I ended up with round and oval buns instead of square, but they were delicious nonetheless. I scored some vertical slits, but due to the stickiness of the einkorn dough, I ended up with some other more creative cuts.
These buns were a big hit with everyone who attended the dinner party. Even though these spiced buns are a bit sweet, they complimented the savory main dish very nicely.

Einkorn Shubbak el-Habayeb | Iraqi Sweet Bread #BreadBakingBabes
Shubbak el-Habayeb, the bread of the month for the Bread Baking Babes, is a delightful and aromatic Iraqi Sweet Bread. The dough is shaped into square buns and scored with vertical cuts that open up allowing you to see through.
Ingredients
480 g/ 4 cups all purpose einkorn flour
120 g/ 1 cup whole grain einkorn flour
2 g/ 1 tsp instant yeast
100 g/ ½ cup sugar
225 g / 1 cup milk, scalded then cooled, divided *
2 large eggs
½ teaspoon orange blossom water
½ teaspoon rose water
½ teaspoon ground cardamom
½ teaspoon ground mahleb (see notes at end)
12 grams/1 tablespoon salt
50 grams/3 tablespoons butter, melted and cooled
* Since I used einkorn, I wasn't sure about the hydration so I started with about ¾ cup of milk, then added an additional ¼ cup during kneading
For the Glaze
1 egg **
1 tablespoon water
Pinch of salt
Pinch of sugar
Sesame seeds, poppy seeds
**I omitted the egg and just brushed the tops with a water/sugar mixture.
Instructions
Pour the flour into a bowl, and create a well in the middle. Sprinkle the yeast and sugar into the well, and add ¾ cup of milk. Cover the milk with some of the flour from the sides. Cover the bowl with plastic wrap or a towel, and let rest for one hour.
Add the eggs, flower waters, cardamom, mahlab, and salt to the mixture in the bowl and mix with your hands to form a rough dough. Add additional ¼ cup milk as needed to ensure the dough isn't too dry.
Turn it out onto an unfloured counter, and knead for 10 minutes. Add the butter, and knead for 5 more minutes or until the butter is thoroughly incorporated throughout the dough.
Let the dough rest for 15 minutes, then fold and turn the dough. Place the dough into a clean bowl and let rise in a warm spot, covered, for about two hours, until doubled. Fold the dough in the bowl after the first hour, then let it rest for the remaining hour.
Turn the dough out onto a clean work surface. Divide the dough into 12 equal pieces and form them into balls. Cover with a towel or oiled plastic wrap, and let rest for 15 minutes.
Roll each ball with a rolling pin into a square that is about ½ inch thick. Cut the dough with a sharp knife to make short vertical cuts in each quadrant of the dough. Open the slits with your hands to make sure they are cut through.
Place the squares on baking sheets (you will need two sheet pans, prepared with parchment or Silpat), six squares per pan. Cover each sheet pan with oiled plastic wrap, and let rise for one hour.
In the meantime, preheat the oven to 425 degrees F (220 degrees C) with a rack in the middle of the oven.
Whisk together the glaze ingredients and brush the glaze over the rolls on one of the sheet pans. Sprinkle with sesame seeds or the seeds of your choice.
Bake the first pan of rolls for 12-15 minutes, until golden. Remove the buns from the oven and cool on a wire rack. Repeat with the second pan of rolls.
Notes
Adapted from The Book of Buns by Jane Mason

The rose water, orange blossom water and Mahleb can be found at a Middle Eastern market. However, if you can't find them, feel free to add a bit of orange zest and some vanilla to the dough.

To make your own Mahleb (per Jane Mason's Book of Buns): Use ½ teaspoon of this blend: 1½ teaspoons ground cinnamon, ¼ teaspoon ground cloves, ¼ teaspoon ground bay leaves.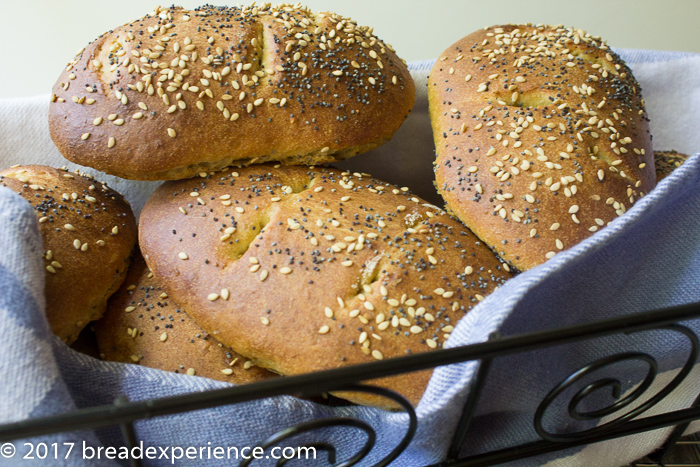 These buns taste best on the day they are made; however, I found that they lasted for a couple more days. They go really well with butter and/or jam.
It is recommended that you wrap any leftovers individually and freeze, but I chose not to freeze them. I made egg salad sandwiches with them instead. I really enjoyed the spiciness of the buns and the egg salad combo.
I liked these buns so much for sandwiches that I plan to make them again using different types of fermentation.  I'm thinking sourdough and/or kefir milk buns would be divine and would increase the shelf life a little bit.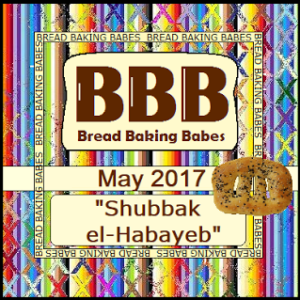 The Bread Baking Babes is a group of bloggers who love baking bread. Each month, one of the Babes chooses a new (to us) recipe, and we all post our results on the 16th of the month.
This month, the Bread Baking Babes is hosted by Karen of Karen's Kitchen Stories and we are baking Shubbak el-Habayek. If you'd like to bake along with us, refer to the submission instructions on Karen's blog post.
Please visit all of the Bread Baking Babes and check out their versions of this month's recipe:
Happy Baking!
Cathy

Thank you for following my blog and joining me in my bread baking exploits. I appreciate your comments. You can also find me on Twitter: @breadexperience, Pinterest: breadexperience, Facebook: breadexperience