This Gluten Free Banana Bread is based on a favorite banana bread recipe, but instead of using wheat flour, it is made with a gluten-free all-purpose flour blend.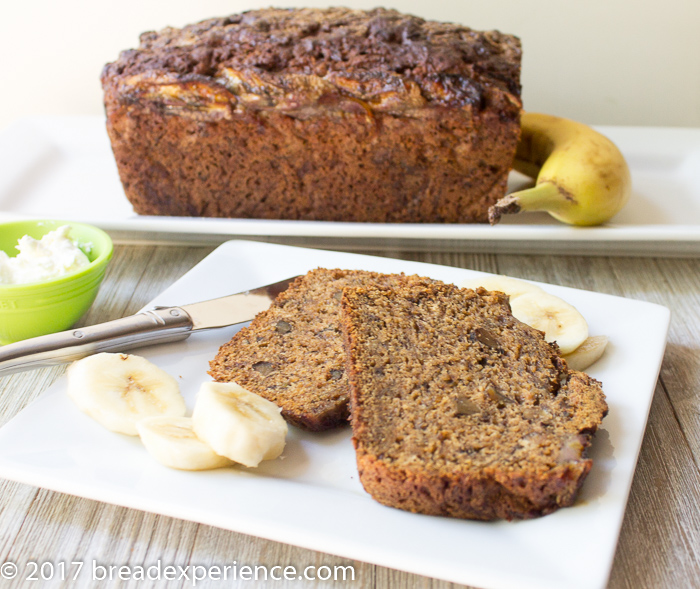 Disclaimer:  This is a sponsored post. I received a free box of Butterfly Gluten Free All Purpose Flour Blend to test.
I am not a gluten-free baker so when I was contacted about testing the Butterfly products, I was a little hesitant.  However, I decided it was a unique opportunity to get out of my baking box and try something different.
There is a segment of the population that isn't able to tolerate gluten at all. In fact, I have some family and friends who have become gluten-free so they aren't able to enjoy the wheat breads I create.
So although I'm not a gluten-free baker, I do enjoy working with different types of grains, and recognize the importance of providing an alternative for those who aren't able to tolerate gluten at all.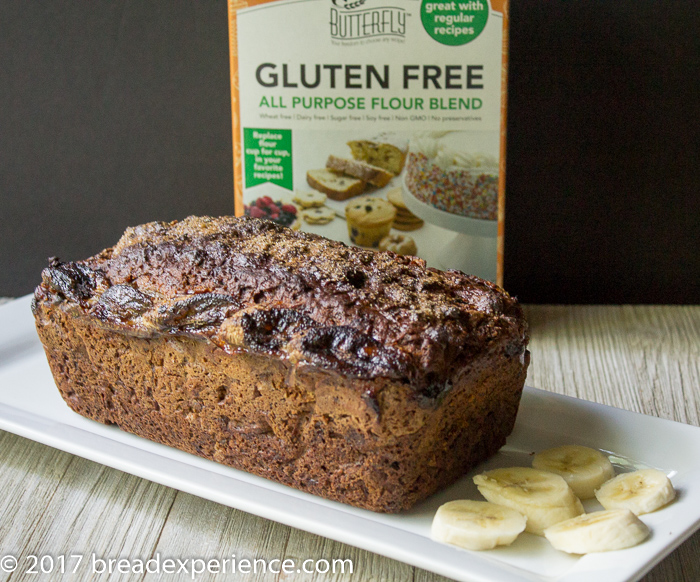 What are Butterfly Flour Blends?
Butterfly Gluten Free Flour Blends were created by Chef Mazor.  The flour blends are GF Certified, wheat free, gluten free, sugar free, dairy free, soy free, non GMO and Kosher.
Chef Mazor, a pastry chef and certified chef, created these gluten free flour blends after she discovered her daughter was celiac.  She experimented for years and finally came up with the exact gluten-free flour combinations that produce baked goods that have good texture and flavor with no after taste. BUTTERFLY™ gluten free flour blends can be used to replace wheat flour cup for cup in regular recipes.
For more information about Chef Mazor, the BUTTERFLY™ flour blends, and her gluten-free cookbooks, check out butterflyglutenfree.com.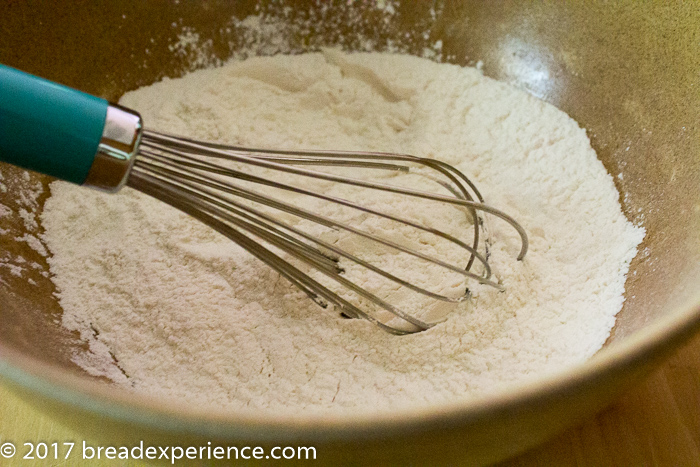 What caught my attention about these gluten-free flour blends is that you can use the blend cup for cup in your regular bread recipes instead of wheat flour. So I set out to prove that this could be done. My first test was to make one of my favorite banana breads.
I was pleasantly surprised by the results of this test.  The banana bread turned out beautifully! I couldn't even tell that it was made with gluten-free flours.  However, it didn't hurt that I conducted this test using a method that typically produces excellent banana bread with tons of flavor and no gumminess.
This is an easy bread to make, but it does require the use of several mixing bowls.  Don't let that stop you. The extra cleanup is worth it!
This is a delicious banana bread that will last several days.  I stored it in the refrigerator and enjoyed it for breakfast all week.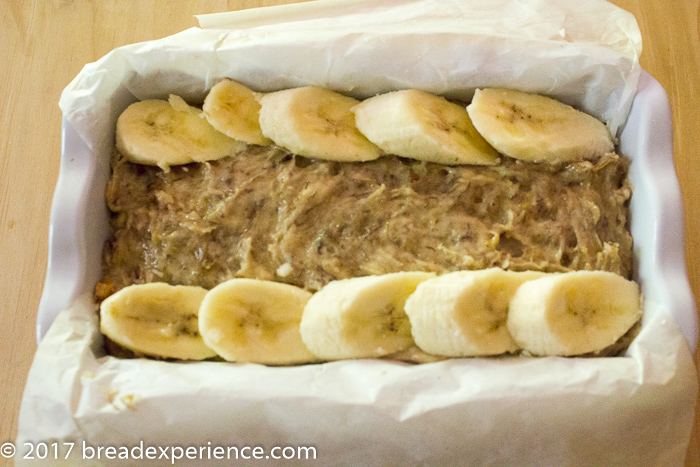 Gluten Free Banana Bread using BUTTERFLY™ All-Purpose Flour Blend
Makes: 1 Loaf
Adapted from: America's Test Kitchen Banana Bread
Note: The flour blend I used is gluten free, wheat free, sugar free and dairy free, but the banana bread contains nuts, eggs and sugar.
Ingredients:
1 ¾ cups BUTTERFLY™ gluten free all-purpose flour blend
1 teaspoon baking soda
1/2 teaspoon sea salt
6 large, ripe bananas *
8 tablespoons (1 stick) unsalted butter, melted and cooled a bit
2 large eggs
3/4 cup packed light brown sugar
1 teaspoon pure vanilla extract
1/2 cup walnuts or pecans, toasted and chopped, optional
2 teaspoons sugar, for sprinkling on top, optional
*Be sure to use really ripe, heavily speckled or black bananas for the batter.  You can use a not quite so ripe banana on top. You can even use frozen bananas for the batter, but not for the slices on top.
Directions:
Preheat the oven to 325 degrees F.  Place a piece of parchment paper or grease an 8½ by 4½-inch loaf pan.
In a large bowl, whisk together the flour blend, baking soda, and salt.
Place 5 of the ripe bananas in a microwave-safe bowl and cover with a paper towel. Microwave on high power until the bananas are soft and have released their liquid, about 5 minutes. Transfer the bananas to a mesh strainer and place it over a small bowl to drain. Stir the bananas until you have ½ to ¾ cup liquid.  This will take about 10-15 minutes.
Transfer the banana liquid to a small saucepan and cook over medium-high heat until the liquid is reduced to ¼ cup.  Remove from heat, and stir the reduced liquid into the bananas. Use a potato masher to mash the mixture until it is smooth.
Whisk the butter, eggs, brown sugar, and vanilla into the banana mixture. Add the banana mixture to the flour mixture and stir just until blended. There should still be some streaks of flour remaining. Gently fold in walnuts or pecans, if using.
Transfer the batter to the prepared pan using a spatula. Slice the remaining banana diagonally into ¼-inch-thick slices. Shingle the banana slices on top of either side of loaf, leaving 1½-inch-wide space down center to ensure that the loaf rises evenly. Sprinkle the granulated sugar evenly over loaf, if desired.
Bake until a toothpick inserted in center of loaf comes out clean, 55 to 75 minutes. Cool the bread in the pan on wire rack for 10-15 minutes, then remove the loaf from pan and continue to cool on wire rack. Serve warm or at room temperature.  Or, store it in the refrigerator and reheat as I did.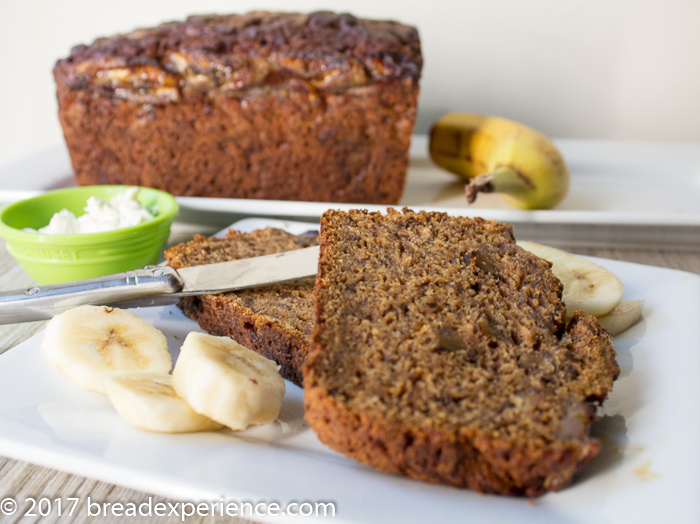 I really enjoyed this banana bread.  I let a friend of mine try it as well and he wouldn't have known it was gluten-free if I hadn't told him.  I told him after he took a bit.  He liked it and had lots of questions about whether it was truly gluten-free.  I took that as a good sign from someone who enjoys gluten.
Happy Baking!
Cathy
Sponsored Post: This is my first post on Butterfly gluten free products. I want to thank Chef Mazor for providing me with some of the BUTTERFLY™ All-Purpose Flour Blend to test.  I also received some gluten-free bread flour and will post about that experience in a separate post.

Thank you for following my blog and joining me in my bread baking exploits. I appreciate your comments. You can also find me on Twitter: @breadexperience, Pinterest: breadexperience, Facebook: breadexperience